Southern California gets hit with powerful storm bringing rain, mountain snow, gusty winds
LOS ANGELES - The coldest storm of the season hit Southern California Thursday bringing gusty winds, rain, and snow into the region – even the area's first Blizzard Warning in over three decades.
RELATED: California rain timeline: Dangerous winter storm to bring snow, frigid temps
The winter storms shut down multiple roads and freeways due to snow and flooding. 
"Do not travel on any of the mountain roads unless it's absolutely essential," warned FOX 11 meteorologist Rick Dickert. "And bring your chains."
RELATED: Rare Blizzard Warning to go into effect for parts of Southern California
Models show there will be a break in the storm Sunday before rain chances return Monday.
Here's what happened across Southland.
Los Angeles County
In Los Angeles County, some of the major roads were flooded by the heavy rain Friday.
In North Hollywood, multiple cars were stuck in floodwaters, unable to move for hours. The flooding shut down Vineland Avenue between Vanowen Street and Sherman Way Friday night. 
Some parts of LA even saw sleet and snow. FOX 11's Phil Shuman took a video of sleet coming down in Studio City while FOX 11's Chelsea Edwards saw hail and a small amount of snow at the Hollywood sign. 
RELATED: Hollywood sign sees snow, hail during coldest storm in years
Dangerous rip currents are expected along the coast with large breaking waves of four to seven feet. Beachgoers are asked to stay out of the water due to dangerous surf conditions and the risk of ocean drowning. 
On Saturday afternoon, all LA County beaches closed due to lightning strikes but reopened a few hours later. 
Weather Alerts
The Los Angeles County Public Works declared a Phase 2 Mud and Debris Forecast through the weekend for fire burn areas under three years of recovery. This includes parts of Azusa, Duarte, Glendale, Monrovia, the city of Los Angeles, La Tuna Canyon, and Sunland-Tujunga. 
A winter weather advisory is in effect for the Antelope Valley until 4 a.m. Sunday
A winter weather advisory was also issued through 11 p.m. Saturday for Santa Clarita Valley as well as elevations above 1200 feet for San Fernando/San Gabriel Valleys.
Residents can report storm-related damage, traffic signal outages, flooding or other weather-related concerns to LA County Public Works by calling 1-800-675-4357.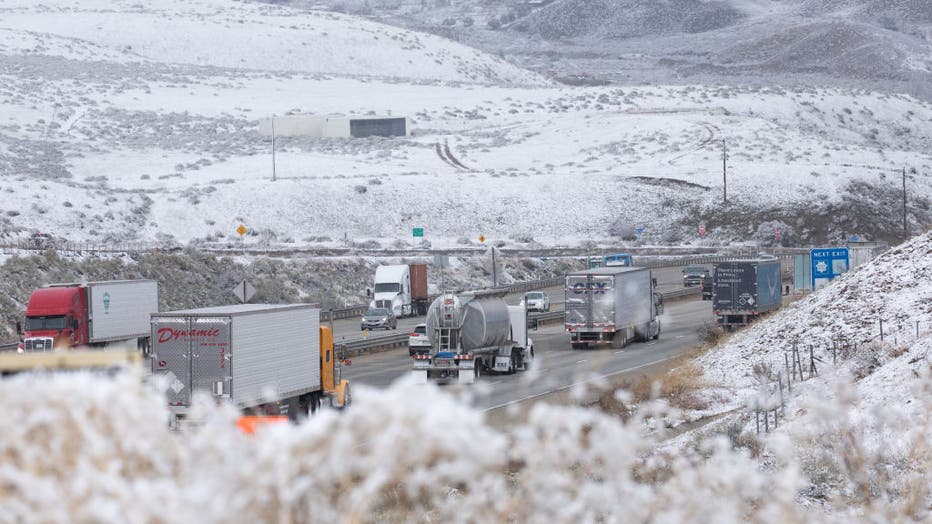 LA's mountain communities will get hit the hardest with continuous snow expected through Saturday night. On Friday, NWS said wind gusts have the potential to reach 70 mph. With the mix of heavy snow and gusty winds, a Blizzard Warning goes into effect starting Friday morning.
A Blizzard Warning was in effect before expiring Saturday
San Bernardino and Riverside counties 
Inland Empire communities above 2,000 first experienced the storm's impact over the course of the week.
Residents in Yucaipa saw a rare blanket of snow that started early Thursday morning.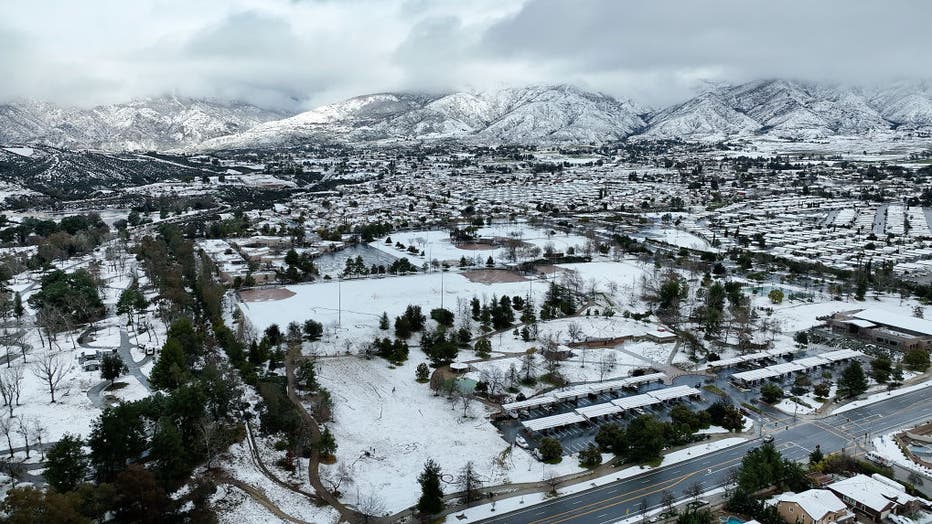 Yucaipa, CA - February 23: Youth revel in the rare snowfall in Yucaipa with a view of the San Bernardino County mountains,(Allen J. Schaben / Los Angeles Times via Getty Images) (Getty Images)
The snow hit Highway 18 between Crestline and Lake Arrowhead and for now, the roadway remains open. On Highway 189, one of the steepest in the area, over two dozen vehicles became stuck after a multi-car pileup.
For those who don't reside in the mountains in cities such as Ontario and Corona, showers hit Thursday, then heavy rain on Friday and Saturday. On Friday night, wind gusts reached up to 35 mph. 
Weather Alerts
Orange County
Orange County residents saw showers Thursday before heavy rain hit Friday and Saturday, with a punch of gusty winds. NWS said precipitation amounts will be between a half and three-quarters of an inch. 
Weather Alerts
Ventura County
Ventura County saw heavy rainfall Friday and Saturday. Wind gusts reached up to 30 mph Friday night, with lows in the 30s.
Weather Alerts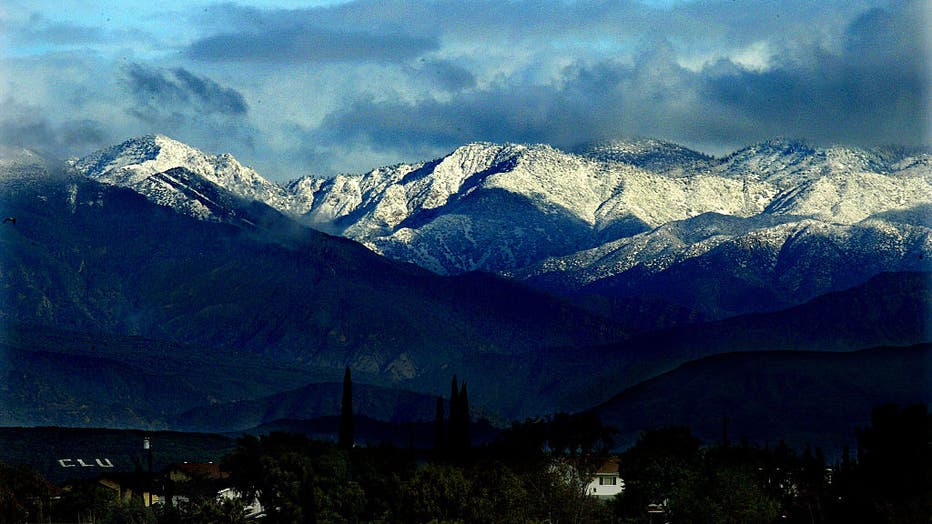 For all of the Ventura County mountain communities, including the Santa Susana Mountains, strong winds and cold wind chills will come with the snow. A Blizzard Warning went into effect at 4 a.m. Friday and will last to 4 p.m. Saturday. The NWS predicts total snow accumulations between 6 and 12 inches for elevations between 2,000 and 4,000 feet and up to 5 feet for higher elevations.
Weather Alerts
Evacuation Warnings 
The following areas were under an evacuation warning from Thursday, February 23rd at 3 p.m. through Saturday, February 25th at 10 a.m.
Matilija Canyon Road in areas north of Fairview Road, including North Fork and Camino Cielo, Ojai
Creek Road near San Antonio Creek and Old Creek Road, Ojai
Camp Chaffee at Casitas Vista Road near Camp Chaffee
Ventura Beach RV Park, Ventura (through 6:00 p.m. Friday)
Officials said travel is not recommended and should be restricted to emergencies only.
After a break in the storm Sunday, another one will make its way into the region.