SoCal hit with more rain, mountain snow as another storm system arrives
LOS ANGELES - As Southern California was beginning to dry out Sunday after a historic storm, more rain is in the forecast over the next three days.
Crews continue to clear mountain roads after last week's icy storm. Residents and vacationers are trapped in the San Bernardino Mountains and homes in La Cañada Flintridge were damaged due to a mudslide. 
Here's a recap of the historic storm.
Rain totals
The powerful winter storm dumped 10.79 inches of rain on Woodland Hills through Sunday morning, 9.29 inches in La Canada Flintridge, 8.38 inches in Newhall, 8.11 inches in Pasadena, 6.88 inches in Burbank, 6.76 inches in Bel Air and 4.49 inches in downtown Los Angeles, according to the National Weather Service.
Mountain High received 93 inches of snow, and Mount Wilson got 40 inches.
>> CLICK OR TAP HERE TO SEE A FULL LIST OF RAIN AND SNOW TOTALS <<
This weekend was the first time downtown Los Angeles received at least 2 inches of rain on consecutive calendar days since Feb. 28 and March 1 of 1978, according to the NWS.
The weather service added that Friday was the wettest February day at Burbank Airport since records began there in 1939, beating the previous record of 4.50 inches set on Feb. 8, 1993.
Power outages
Several thousand people remained without electricity Monday due to weather-related outages.
The LADWP said 49,000 of its 1.5 million electric customers were still without power late Sunday morning. Since the start of the storm Friday, crews had restored power to more than 98,000 customers.
The remaining outages were spread across LADWP's service area with some of the hardest hit communities being Glassell Park, Green Meadows, Hancock Park, Hollywood, Studio City, Chatsworth, Mission Hills, North Hollywood, Sun Valley, Tarzana, Van Nuys and Woodland Hills.
The time frame for crews to respond to an outage increased to 24-48 hours early Saturday, up from the previous 12-24 hours, when it became clear that continued wind and rain would result in additional outages even as crews continued to restore power.
Meanwhile, Southern California Edison's outage map showed 33 outages affecting more than 4,800 customers in Los Angeles County as of 11 a.m. Sunday, and five outages in Orange County affecting more than 1,300 customers.
Firefighters and paramedics performed the latest of several water rescues Sunday in a remote section of the Tujunga Wash in Sunland. Two people and a cat who were camping inside a vehicle in a remote section of the wash were rescued by helicopter after the area filled with storm water. The two people were being treated for hypothermia.
More rain forecasted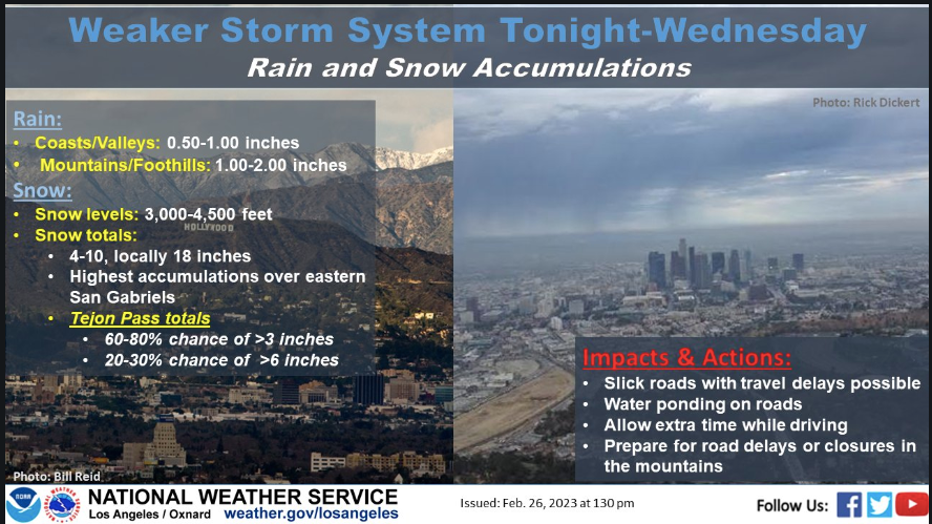 Another storm system was expected to bring periods of rain and mountain snow to the Southland late Sunday through Wednesday. Gusty winds are possible for periods of time, especially Monday, before a warming and drying trend takes shape later in the week.
Scattered showers, isolated thunderstorms and some hail were expected Sunday afternoon and evening and early Monday, with the potential for minor urban flooding. For the first wave of the storm, NWS models suggested 0.25 to 0.50 inches of rain across coastal and valley areas with 0.75 to 1 inch in the mountains.
The following two waves are predicted to be much lighter, forecasters said, with sunny skies returning on Thursday.
Temperatures continue to be well below normal. Daytime highs on Sunday were 54 degrees in downtown Los Angeles, 52 in North Hollywood, 51 in Pasadena and 49 in Valencia. Those numbers were expected to be roughly the same over the next few days.
Lows are mostly in the 30s, dropping to the 20s in some mountain areas and in the 40s in Orange County.
Snow levels Sunday morning were hovering in the 1,500-2,000 foot range, and were expected to increase slightly to the 2,000-3,000 foot range in the afternoon.
A winter weather advisory was in effect until 10 p.m. Wednesday in the mountains.
Winds were relatively light Sunday, but gusts were expected to reach 40 mph in the mountains and 45 mph in the Antelope Valley.
City News Service contributed to this report.