La Cañada Flintridge homes damaged by mudslide
LA CAÑADA FLINTRIDGE, Calif. - A mudslide caused damage to several homes in La Cañada Flintridge Sunday after a weekend of heavy rains and winds swept through the area. 
The mudslide was reported around 4 p.m. Sunday in the backyard of a home on Paulette Place near Paradise Canyon Lane. Images from SkyFOX showed the mudflow coming down from a hill on Noren Street north of Paulette Place. According to officials, a 40-foot section of the hill gave way.
 The families of the affected homes were evacuated, and their homes were yellow-tagged Sunday night. Thankfully, no injuries were reported. 
George Terteryan lives with his family in the house into which the mud slid. He said the experience was one of the most terrifying of his life. He first noticed it about 2 a.m. 
"[It was like] the sound of an explosion; literally and it lasted like five seconds," Terteryan said. "The first thing, I ran to my son's room. Saw the mud like three feet away from his bed. Thankfully he was still asleep. He didn't wake up."
He, his wife and son took what they could grab and left the rest.
One of the Terteryans' neighbors took cell phone video of the mudslide. He told FOX 11 what he saw. 
"There are holes in the wall itself in the back. So, a whole part of the structure was knocked down the roof collapsed. But there's holes in the structure where boulders came down," said R.T. Van Valer. "There's a lot of rock in the mountain up there and so if that boulder cam down and goes flying through your house, that's terrifying."
Assistant Chief Pat Sprengel with the Los Angeles County Fire Department said that there was major damage to one home, while another at the bottom of the hill suffered minor damage. The home at the top of the hill lost part of its patio and retaining wall.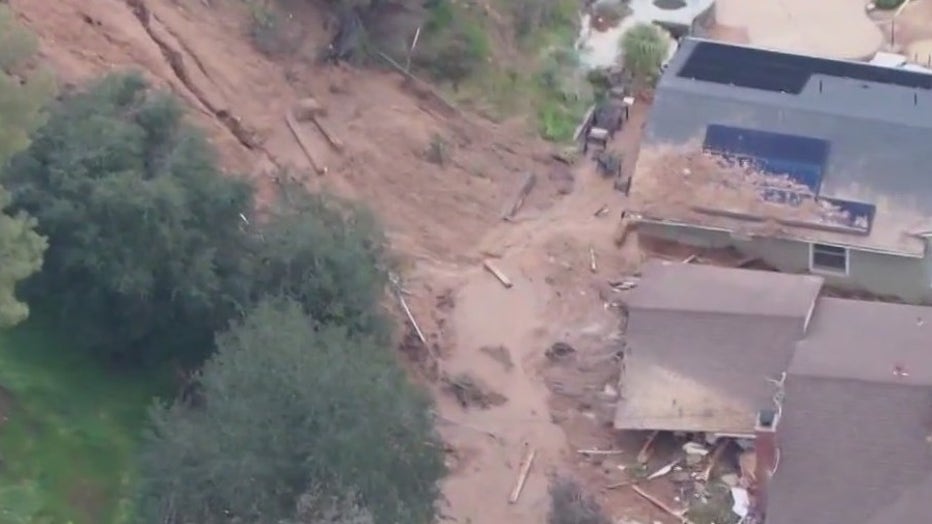 "There's always a concern with a hillside, especially with the oversaturation of the soil," Sprengel said. "That's why we'll continue to watch it just out of precaution. We've warned the residents here, we've moved the residents we feel need to be moved out, and we'll continue to assess it."
SUGGESTED: More rain, snow to batter SoCal as another storm system looms
Crews remained on the scene around the clock.
As of Monday morning, La Cañada Flintridge had received more than nine inches of rain over the weekend, with more rain expected through Wednesday morning.