'Saving' or 'Silencing'? LGBTQ+ groups clash with parental rights protestors in DTLA rally at LAUSD offices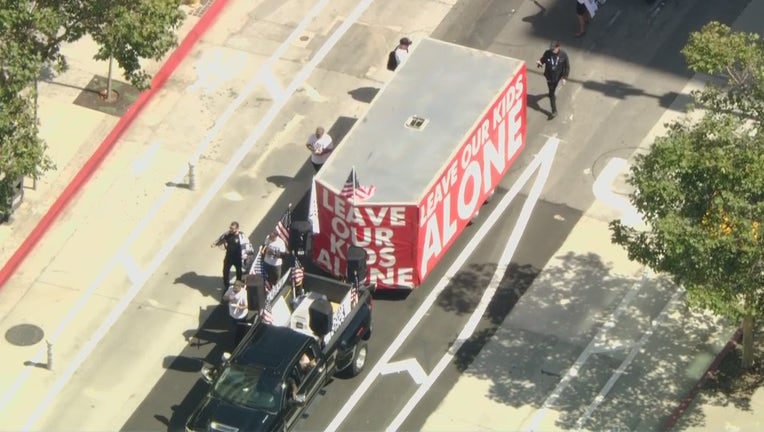 article
LOS ANGELES - About 200 people gathered in downtown Los Angeles Tuesday morning in support of parental rights and notification policies in schools, while a smaller, counter-protest group in support of LGBTQ+ youth rallied nearby. The Los Angeles Police Department declared the assembly to be unlawful, and arrested at least two in the early afternoon.
Organizers of the parental rights rally called on the Los Angeles Unified School District to adopt parental notification policies, similar to those passed by some Inland Empire school districts. These policies require schools to notify parents if their children identify as transgender or try to identify as a gender other than the one listed on their birth certificate.
"Teach the Bible, not porn," read one parental rights protestor's sign. The social media campaign turned real-life protest was born out of the Instagram handle @leave_ourkidsalone. The group aims to "protect children from over-sexualized school curriculum" in addition to "indoctrination" or "grooming."
But LGBTQ+ youth protestors said no such "grooming" is happening. Only "oppression."
"Queerness is not a gender expression or sexual expression," said Soma Snakeoil, a speaker for the LGBTQ+ youth counter-protest. "It is our culture."
For Snakeoil, this fight is personal.
"I'm a queer person and a queer mother, with a queer child," she said at the rally. "They aren't saving our children, they are silencing our children. You want to talk about saving our children? Allow them to live without harassment."
The Leave Our Kids Alone group initially assembled outside LA City Hall, but marched through downtown before meeting with LGBTQ+ youth rights protestors outside the LAUSD offices at 3rd St and S. Beaudry Ave, near the 110 freeway.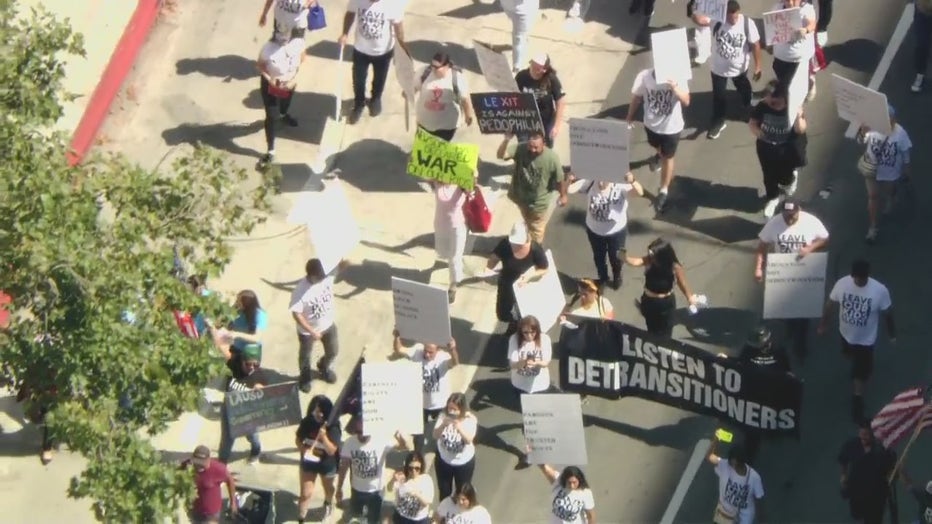 Parental Rights march in DTLA on Tuesday, August 22, 2023.
LAPD officers set up skirmish lines to keep the groups separated, but ultimately declared the assembly unlawful and allegedly attempted to push the "counter-protesters back," resulting in the arrest of two, according to reports.
Opponents of the parental notification policies said that such requirements put LGBTQ+ students at risk, especially if their families aren't accepting of their gender identity.
"Teachers saw me being bullied and did not interfere back then," said Silver Lake Neighborhood Councilmember Maebe A. Girl, at the rally. "That's why we fight for queer students. You say 'let kids be kids'? Then 'let queer kids be queer kids.'"
Ground Game LA and Queer Nation Los Angeles were two of the organizers of Tuesday's counter-protest. Both groups accused the parental rights group of "trying to bring their hate to City Hall," and of promoting a "hate-filled, fascist agenda of fear."
RELATED:
State Attorney General Rob Bonta said earlier this month that he is investigating if the Chino Valley Unified School District violated civil rights of students by adopting a parental-notification law earlier this year. Bonta also denounced the similar rule adopted by Murrieta Valley School Board in Riverside County, calling the requirement "a forced outing policy."
The rally comes just days after local shop owner and LA fashion designer Laura Ann Carleton was shot and killed allegedly over displaying a Pride flag outside her business.
"We will never go away," said Snakeoil. "You cannot erase our history, you cannot erase our community."
City News Service contributed to this report.