'This year, it's going to be different': Key takeaways from Clippers Media Day 2023
LOS ANGELES - Before jet-setting off to Hawaii for training camp, the Clippers held Media Day at the Honey Training Center in Los Angeles' Playa Vista neighborhood on Monday.
The team will surely embrace every second in paradise and enjoy being away from the noise of the City of Angels because they face an uphill battle going into the 2023-24 season - even with a fully healthy roster. That's right – Kawhi Leonard, Paul George, Russell Westbrook and crew are injury-free going into training camp. 
When the NBA schedule was released in August, the league certainly didn't do the Clippers any favors. The Clippers face 15 back-to-back games, but this time, they're not alone. The Clippers, Warriors, Kings, and Jazz are all tied for the most back-to-backs.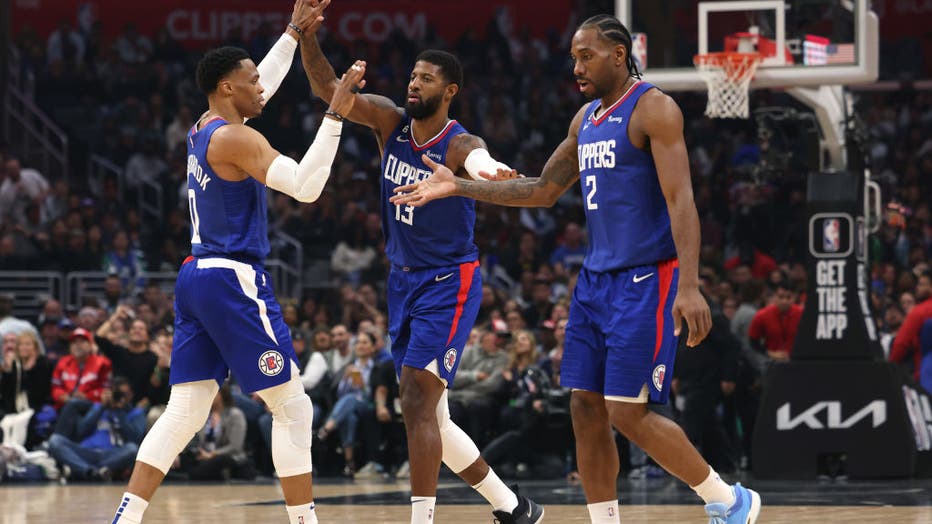 Kawhi Leonard #2, Paul George #13 and Russell Westbrook #0 of the LA Clippers. (Photo by Harry How/Getty Images) (Getty Images)
This season, the Clippers are determined to set a different tone and hit the ground running. Lawrence Frank, the Clippers' President of Basketball Operations, emphasized that one of the team's biggest priorities will be taking the regular season more seriously. "We have to get back to honoring and respecting the regular season," Frank said following yet another early playoff exit in late April. 
Head coach Tyronne Lue was in great spirits Monday, which he attributed to a fresh start and a great summer coaching Team USA basketball. Lue said he's optimistic the Clippers getting time together to start the season will help things gel. 
SUGGESTED: 
As the season is set to start in three weeks, Clipper Nation remains divided. Despite a relatively quiet offseason, optimistic fans believe the current roster has all the right pieces to win a championship. 
Even Coach Lue himself said he's not focused on trades or outside noise and wants to focus on the guys on the current roster.
Then, there are the fans who have grown increasingly frustrated during the 213 era and believe that a healthy trio of PG, Kawhi, and Russell Westbrook is not enough to compete in the West, let alone the entire league. More on that later.
Now, it's all about moving forward and getting it right.
A new season brings new opportunities and a chance for things to finally align for the Clippers. With a roster that packs a punch, they should not be counted out.
Here are some key takeaways from Monday's Media Day.
Changing the Load Management Narrative 
"Our guys want to play and unfortunately, they've had injuries," Coach Lue said.
The NBA recently implemented a new player participation policy, and starting this season, teams will face fines for resting stars in certain situations, such as nationally televised games. As a result, Ty Lue and the coaching staff will have to strategically plan how to manage the workload of their stars and still find ways to win games.
SUGGESTED: LeBron James, Anthony Davis, Kawhi Leonard, Paul George subject to new NBA participation policy
Ty Lue added, "Just staying healthy and making sure we're doing the right thing by our players to make sure we're not causing any other significant injuries by playing them through certain injuries. So, if our guys are healthy, they're going to play and that's all we're really focused on." 
Kawhi Leonard also wants to set the record set. 
When asked his thoughts on the new policy, his response was simply: "What are they?"
Clearly, it's playing and not resting that's top of mind for the two-time Finals MVP.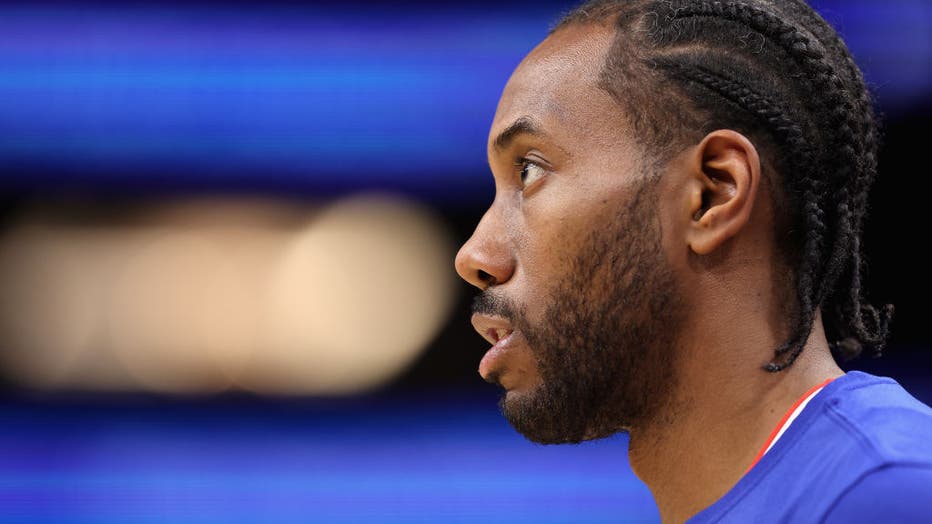 Leonard said while the last two seasons haven't gone as planned for him, he truly wants to play and injuries are part of the game. 
"You're either going to get hurt or you're going to get lucky enough to play games throughout the playoffs and the whole regular season." 
Bonus: Leonard said wanted to play with Team USA this summer and would accept an offer to play in the 2024 Summer Olympics in Paris. 
The Russell Westbrook Effect
Russell Westbrook's impact on the game is undeniable and Media Day had more of a Hollywood flair with one of the league's biggest stars in the building. 
Coach Lue and those who took the podium sang his praises and said his energy and leadership are crucial for the team. 
On Monday, Westbrook reemphasized he took a pay cut to remain in Los Angeles to stay close to his family. "It doesn't get much better than that," he said. 
The Final Season in Downtown Los Angeles
Construction for the Intuit Dome, the Clippers' new home in Inglewood beginning in the 2024-25 season, is moving along nicely. 
Finally, the Clippers will have a chance to continue branding themselves with their own identity. 
SUGGESTED: LA Clippers celebrate major milestone at Inglewood's Intuit Dome
"I could speak for the unit and say we're tired of all these early games," Paul George said. "It'll be nice for the schedule to be a little bit more in our favor." 
"Growing up a lifelong Kobe fan, and what Staples, now Crypto meant to me and being able to play in there. It was awesome but that was short-lived…it'll be nice to have our own space next year." 
It's Not Just About the Superstars
While Norman Powell says his goal is to be an All-Star this year, his biggest priority is the team, and everything he's working toward involves winning another championship.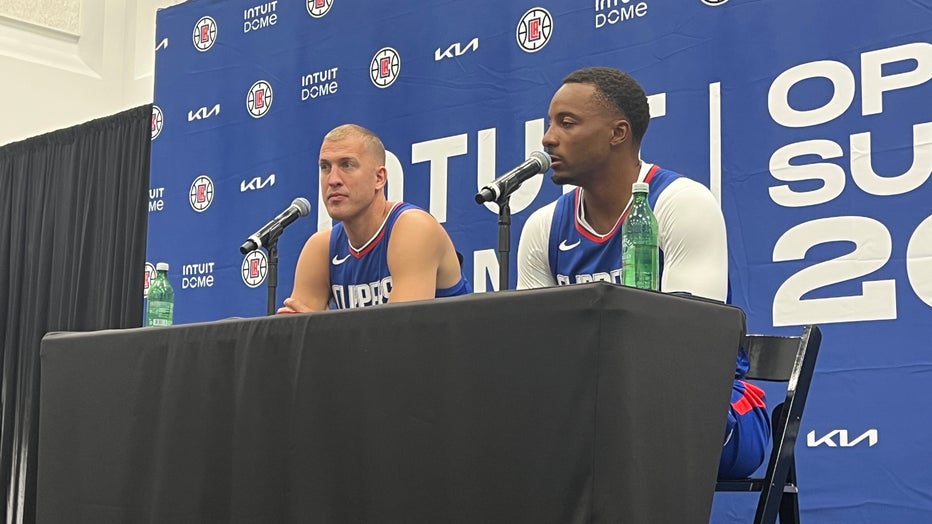 Mason Plumlee and Norman Powell at Clippers Media Day (KTTV: Kelli Johnson)
Coach Lue said having Mason Plumlee, Russell Westbrook and Bones Hyland at the start of the season will make a big impact. 
Overall, the players remain selfless and are willing to jump in when asked.
When Terance Mann was asked what he believes his role is on the team is, he replied "Wherever." 
Ivica Zubac's Sweet Message to Fans: 'We're going to be sure that we do you guys proud'
Ivica Zubac has been there every single year in the 213 era and knows what a roller coaster ride the fans have been on. 
"We want to apologize to them for getting their hopes up and then falling short every year," the 7-footer said. 
He continued to say, "We're going to try it again. We're going to try to go out there and try to win that championship for the Clippers. It never happened before. I know it's been tough staying with us and supporting us."
"I know we disappointed a lot of people," he said. "This year, it's going to be different. We're going to be sure that we do you guys proud."