LA Clippers 2023-24 season schedule released: Key dates for the team's final season in downtown LA
LOS ANGELES - Perhaps no team in the National Basketball Association would be considered an enigma quite like the Los Angeles Clippers.
Despite the bad luck and horrifically timed injuries of their star players, Clipper Nation aims to persevere and get it right this season. What's done is done and its players, coaching staff, front office, and fans just want to look ahead to what could be a beautiful season with health on their side.
The Clips are entering the 2023-24 season following a relatively quiet offseason, while other teams in the division made quite a splash, including Phoenix who managed to pull off a blockbuster trade for Bradley Beal, joining Kevin Durant and Devin Booker. For their hallway rivals, the LA Lakers, they had a solid playoff run going all the way to the Western Conference Finals and their front office added even more depth to the Lake Show roster during the offseason.
SUGGESTED: Lakers free agency: Keep track of who's in and who's out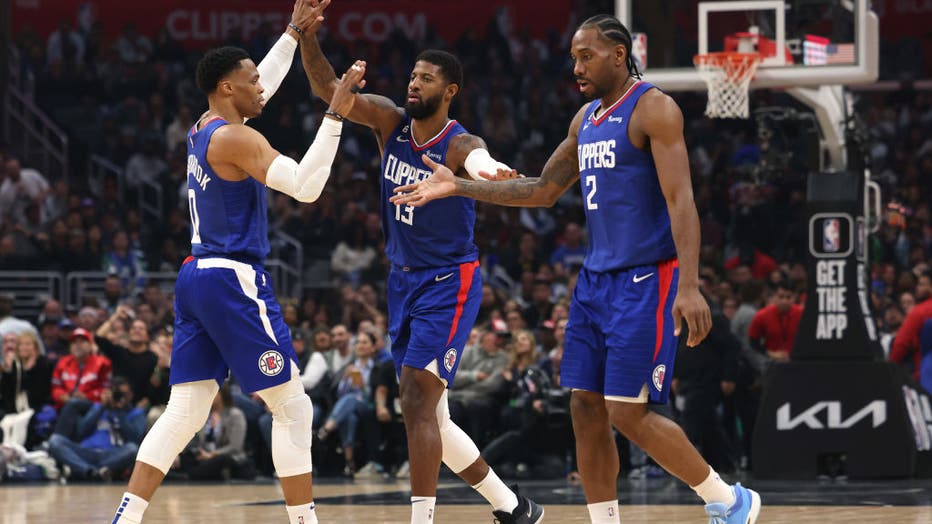 Kawhi Leonard #2, Paul George #13 and Russell Westbrook #0 of the LA Clippers.. (Photo by Harry How/Getty Images)
It's also worth noting this will be the Clippers' final season played at the Crypto.com Arena before they move into Inglewood's Intuit Dome next fall.
RELATED: LA Clippers celebrate major milestone at Inglewood's Intuit Dome
Clippers rookie and Mizzou alum Kobe Brown was impressive during Summer League and the front office got a steal for KJ Martin. Naysayers may argue the Clippers shouldn't have played hardball with Philadelphia who wanted star power to pair with Joel Embiid in his prime in exchange for James Harden, or even another veteran who is less injury-prone.
RELATED: James Harden calls Daryl Morey 'a liar' after Clippers trade talks fail
For believers, the Clippers already have everything they need to win the franchise's first championship. They do have three All-Stars in Paul George, Russell Westbrook, and two-time NBA Finals MVP, Kawhi Leonard – who are notably all native to LA County.
Westbrook re-signing with the Clippers, even on a massive discount, came as a relief to Clipper Nation. With "Mr. Triple Double" returning, they have a high-energy player helping pick up the pace and firing up the locker room as the team's much-needed vocal leader.
Ahead of the 2023 FIBA World Cup, Ty Lue told reporters in Las Vegas that Kawhi Leonard is on pace to be ready for the start of training camp. As for George, he put the league on notice in an episode of his successful podcast called "Podcast P," saying he'll be on his "bully s--- next season."
This week, Nico Batum's wife, Lily, announced the upcoming season will be his last. If all goes according to plan, the Clippers can salute the "Batum Battalion" with a ring. 
On Thursday, the NBA released its schedule for the upcoming season, and below are some key dates for the Clippers:
Home Opener
The Clippers will have their final home opener at the Crypto.com Arena on Wednesday, Oct. 25 against Portland. 
Big home matchups 
Clippers vs. San Antonio (Victor Wembanyama's LA debut) on Sunday, Oct. 29
The Clippers will host the Lakers on Saturday, Jan. 23 and Wednesday, Feb. 28
The Clippers will host Golden State on Saturday, Dec. 2 and Thursday, Dec.14
The Clippers will host Denver on Monday, Nov. 27 and Thursday, April 4
Clippers vs. Mavericks on Saturday, Nov. 25
Clippers vs. Celtics on Saturday, Dec. 23
Clippers vs. Phoenix on Monday, Jan. 8
Holiday Games
Clippers vs. New Orleans on Black Friday 2023
The Clippers have an away game against Charlotte on Easter Sunday (March 31)
The Clippers will have 22 nationally televised games and 15 back-to-back games for the upcoming season. 
For those wanting to see the Clippers' final regular-season home game at Crypto.com Arena, that is scheduled for Sunday, April 14 against Houston.
Clippers In-Season Tournament 
Inspired by NBA Commissioner Adam Silver's admiration for European sports leagues, the NBA will introduce an in-season tournament. For the NBA Cup, the league's 30 teams will be split into six five-team groups. The Clippers are in Group B, along with Denver, Dallas, and New Orleans. 
The teams will have an incentive to not only win the games but play their stars since the tournament will be factored into a tiebreaker playoff scenario. There's a financial incentive as well. Each player on the winning team will be rewarded with $500,000 apiece. Players on the runner-up tournament team, along with teams that make it to the semifinals and quarterfinals will get a financial bonus as well.
The championship games, beginning with the quarterfinals, will be played at the T-Mobile Arena in Las Vegas in the fall.
The Clippers in-season tournament schedule is as follows:
Friday, Nov. 10 Clippers at Dallas
Tuesday, Nov. 14 Clippers at Denver (TNT)
Friday, Nov. 17 Clippers vs. Houston
Friday, Nov. 24 Clippers vs. New Orleans
Can the Clippers finally get it right in the 213 era? We'll have to wait and see.