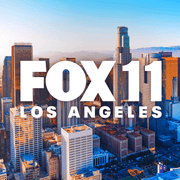 Kelli Johnson
Digital Content Creator
Kelli Johnson is living her ultimate dream by living and working in Los Angeles. The Arizona native began her career in journalism at Arizona State University's Walter Cronkite School of Journalism and Mass Communication. However, her desire to enter the field started years before when she got up early to watch the weather report on the morning newscast to pick the proper outfit for the day or to watch the latest happenings in the world of sports watching Stuart Scott on ESPN's "SportsCenter."
Before her senior year in college, she took an entertainment news internship with ABC7's George Pennacchio where she fell in love with the City of Angels. During her senior year in college, she reported for ASU's student newscast "Cronkite NewsWatch," where she discovered her passion for weather forecasting. 
After graduating from college, she took a pause from news to work in the hospitality industry, working at well-known resorts in Scottsdale, Arizona and West Hollywood.
She then moved to Bakersfield where she worked as a weather anchor and multimedia journalist (MMJ) at KERO-TV. She also worked at CW6 Phoenix as a host and MMJ, and at FOX 5 San Diego where she pioneered the station's digital-only newscast on weekend mornings.
She is thrilled to have made it back to LA and cherishes the diversity of the city. Kelli loves the NBA and is a diehard Clippers fan, as coined by family members, colleagues and Steve Ballmer himself. Having grown up watching Kobe Bryant, she uses her "Mamba Mentality" to honor his legacy through her work. Overall, she considers Kawhi Leonard and Shaquille O'Neal her favorite all-time players, with a soft spot for Charles Barkley and the early 2000s Detroit Pistons. In terms of the future, she looks forward to what Terance Mann and Brandon Boston will accomplish.  
She also has a passion for bodybuilding and loves to compete, so if there's a local gym, hiking trail, or new fitness trend she should check out, please send recommendations her way! 
 
The latest from Kelli Johnson