Parts of California now drought-free amid recent storms, data shows
Southern California was drenched by heavy rain, graupel, and even snow in a series of storms, and now, some parts of the Golden State are now drought-free.
The U.S. Drought Monitor released its latest report Thursday and shows parts of California along the coast and in the Central Valley are no longer considered to be in a drought.
Meanwhile, the latest figure shows the majority of the Southern California region is "abnormally dry" or is in a "moderate" drought, while the desert communities remain in a severe drought.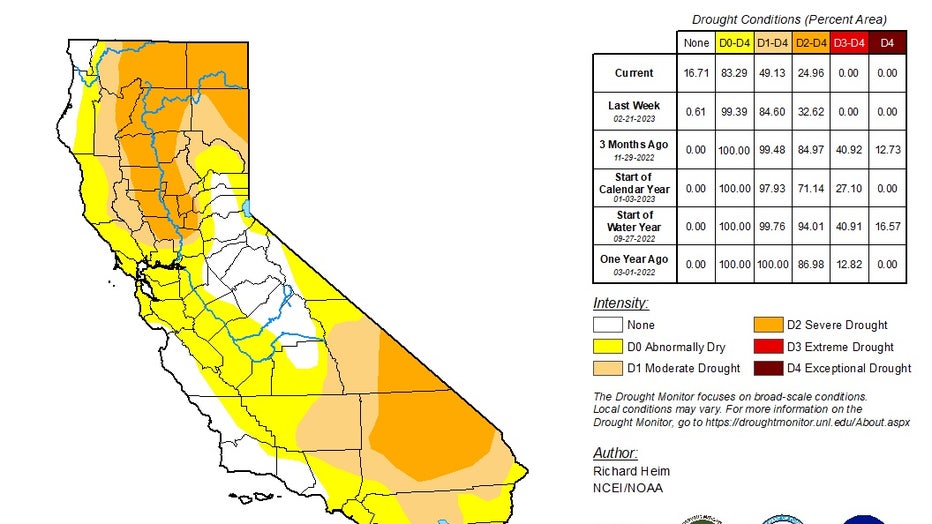 Recent data shows some parts of California are now drought-free. (U.S. Drought Monitor)
While that's encouraging news, the state continues to deal with the storms' aftermath including numerous sinkholes on roads across Los Angeles County. In the snowy San Bernardino County Mountains, residents and visitors have been trapped for days.
In response, Gov. Gavin Newsom declared a state of emergency for 13 counties, including LA and San Bernardino.
RELATED:
Southern California also saw a series of storms earlier this year. In mid-January, the majority of the state was out of the "extreme" drought category.