Southern California storm: Region hit with heavy rain, mountain snow, gusty winds
LOS ANGELES - Another storm moved through Southern California Wednesday, bringing rain, wind and even snow to some neighborhoods that wouldn't normally see it. 
The storms led to power outages and school closures in mountain communities. Homes in La Cañada Flintridge and Beverly Crest were damaged by mudflow and debris resulting in evacuations for some residents. A rock and mudslide also prompted the closure of Malibu Canyon Road, south of Piuma Road.
The winter storm is the second of three pushing through Southern California this week, bringing more rain and snow to an already soaked region and prompting the National Weather Service to issue a winter weather warning for Los Angeles County mountains.
Snow and hail was seen in Santa Clarita, La Habra, Rancho Cucamonga, Yucipa, Brea, Lancaster, Playa del Rey, Van Nuys and Granada Hills. 
But the more significant issue Wednesday afternoon was the wind. Strong gusts knocked down large trees in Northridge, Inglewood, Glendale, Brentwood and Laurel Canyon. No injuries were immediately reported due to any of the downed trees.
As California deals with the wrath of the winter storms, Governor Gavin Newsom issued a state of emergency for 13 counties, including Los Angeles and San Bernardino.
RELATED: Newsom declares state of emergency for 13 counties, including LA and San Bernardino
Los Angeles County
Los Angeles County health officials continued to warn people to avoid going into the ocean near discharging storm drains, creeks and rivers due to the storms. The water might contain bacteria, chemicals, debris, trash and other health hazards.
This weekend was the first time downtown Los Angeles received at least 2 inches of rain on consecutive calendar days, a first since Feb. 28 and March 1 of 1978, according to the NWS.
The weather service added that Friday was the wettest February day at Burbank Airport since records began there in 1939, beating the previous record of 4.50 inches set on Feb. 8, 1993.
Scattered showers began Tuesday morning and picked up Tuesday night; while the rain will end by Wednesday night, cold temperatures will continue and are expected to be below 32º F.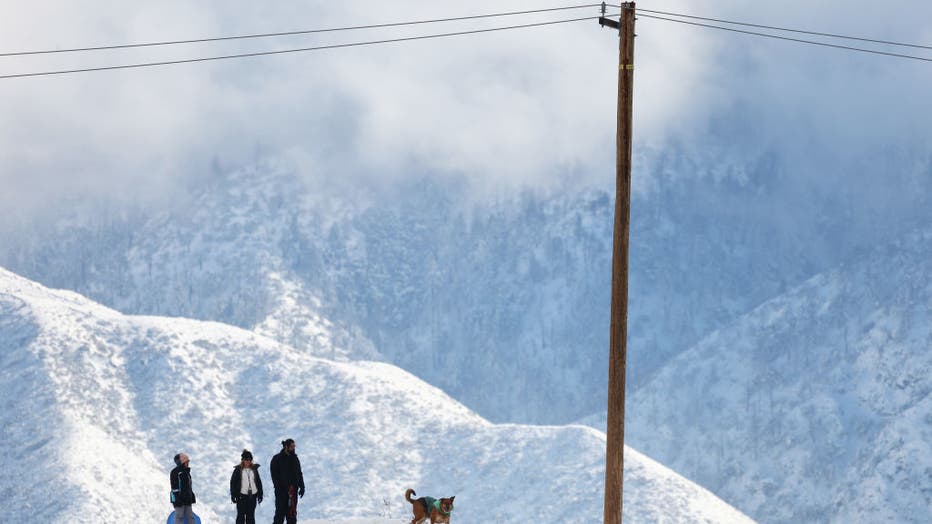 ACTON, CALIFORNIA - FEBRUARY 26: People prepare to sled down a snowy hillside in Los Angeles County on February 26, 2023 near Acton, California. (Photo by Mario Tama/Getty Images) (Getty Images)
Weather Alerts
A Cold Weather Alert was issued for parts of LA County till March 6.
A Frost Advisory was in effect through Thursday 10 a.m.
Orange County
Cool, wet, and windy conditions hit Orange County. Residents received consistent rainfall measuring between a quarter and half an inch Tuesday, and between a tenth and a quarter of an inch on Wednesday.
Weather Alerts
A Frost Advisory was in effect through Thursday, 8 a.m.
San Bernardino and Riverside counties
Consistent rainfall and even snow hit the Inland Empire Tuesday afternoon through Wednesday morning. NWS said new rainfall amounts were less than a tenth of an inch on Tuesday and between half and three-quarters of an inch Wednesday. Not only will it be rainy, but wind gusts also intensified Wednesday.
A Winter Storm Warning was in effect before expiring late Wednesday night.
Weather Alerts
A Freeze Warning was in effect through Thursday, 8 a.m.
Meanwhile, the mountain communities got buried in snow. Residents and visitors remain trapped in the San Bernardino County Mountains due to road closures and more snow is on the way. 
RELATED: San Bernardino County declares state of emergency as people remain trapped after storm
Mountain High received 93 inches of snow, and 40 inches dropped on Mount Wilson. The area won't see a Blizzard Warning this time around, but visibility will be limited with snow showers and areas of fog.
Weather Alerts
A Winter Storm Warning was in place until Wednesday at 4 p.m.
Ventura County
Rain increased Tuesday night as wind speeds kicked up, with wind gusts reaching 30 mph. Rainy and breezy conditions started to fade Wednesday.
Weather Alerts
A Wind Advisory was in place before expiring 4 p.m. Wednesday
City News Service contributed to this report.