California mostly out of 'extreme' drought category thanks to recent storms
LOS ANGELES - A parade of powerful winter storms with more rain on the way has pushed most of California out of the "extreme" drought category, according to the latest data from the U.S. Drought Monitor.
Released Thursday, the map shows most of California now categorized in the "moderate" drought level. A small portion of Northern California is still listed in the "extreme" category. "Severe" drought conditions are still evident in parts of the state as well, including the Antelope and Coachella valleys.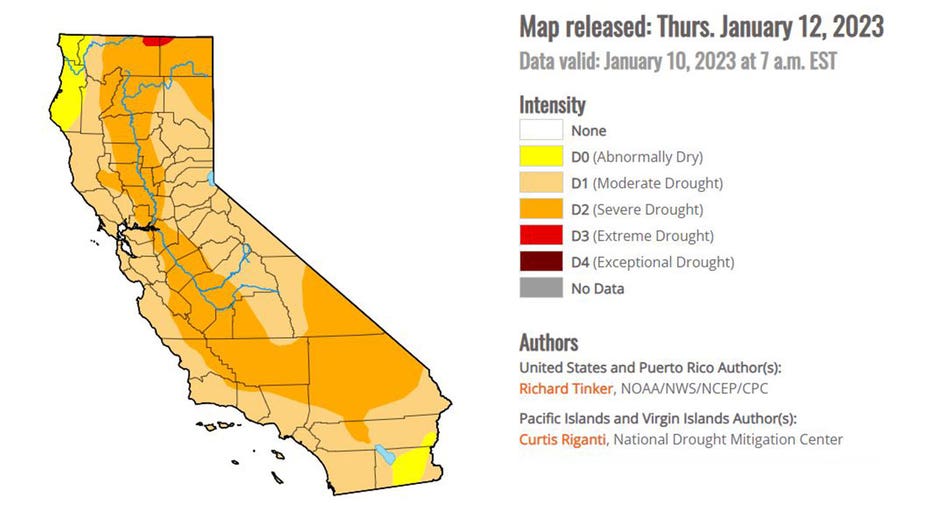 Credit: U.S. Drought Monitor
California has experienced six atmospheric rivers in recent weeks and is bracing for as many as three more, with the wild weather set to continue for at least another week, Gov. Gavin Newsom said Tuesday from Santa Cruz County, where raging ocean water damaged an iconic wooden pier.
The storms have poured a tremendous amount of water on the state, especially in central California, including the San Francisco Bay Area and Sacramento Valley. Precipitation is 138% of average for this time of year, officials said. The storms have also dumped snow on the Sierra Nevada that run along California's eastern border.
Most of the state's reservoirs remain below average for this time of year, but some have begun to fill, especially those close to the hard-hit Sacramento region and along parts of the Sierra Nevada. The reservoirs are essential for irrigating the Central Valley, a productive stretch of farmland that grows large amounts of fruits, nuts and grains. The reservoirs also supply water to millions of people living in coastal cities.
The Associated Press contributed to this report.