'Disneyland Forward' expansion plans revealed for Anaheim theme parks
ANAHEIM, Calif. - Plans for the future expansion of both Disney theme parks in Anaheim were revealed Wednesday. 
Disney continues to work with the city on the plan dubbed "DisneylandForward," which would include new attractions, themed lands, a possible third park, and expanded entertainment.
The project emphasizes urban planning for the entire Disneyland Resort, including the current Toy Story Lot, hotels, and a large parcel of land behind the hotels on Harbor Boulevard.
Rendering of a possible theme park expansion around the Disney-owned hotels west of Disneyland during an OC Forum luncheon at the Grand California in Anaheim, CA, on Wednesday, May 17, 2023. (Photo by Jeff Gritchen, Orange County Register/SCNG)
Some of the ideas being considered for that space include a shopping zone or special attraction for either theme park.
SUGGESTED:
Renderings shared by officials showed the re-purposed space will be home to several attractions, shopping venues, dining options, and hotels.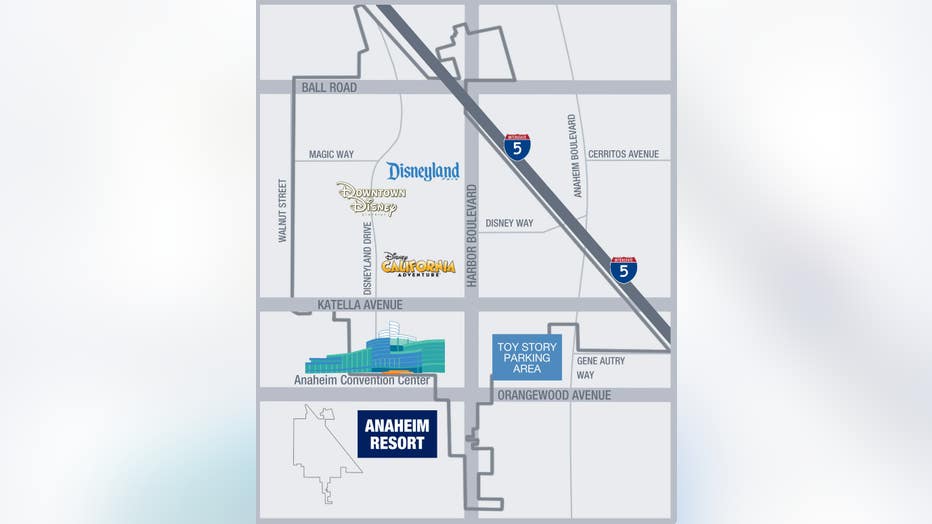 The proposal is expected to go before the Anaheim Planning Commission before the end of the year and the City Council in early 2024.
Disney is hosting a series of community sessions to discuss the project with Anaheim residents and businesses. You can learn more about DisneylandForward at any of the following sessions: 
June 3
9-11 a.m.
Walnut Grove Park
905 S. Anaheim Blvd.
June 10
9-11 a.m.
Boysen Park
951 S. State College Blvd.
June 24
9-11 a.m.
Stoddard Park
1901 9th St.
July 22
9-11 a.m.
Chaparral Park
1770 W. Broadway
Aug. 12
9-11 a.m.
Juarez Park
841 S. Sunkist St.
To learn more about DisneylandForward, tap or click here.