Atmospheric river batters California with flooding rains, wind
LOS ANGELES - The eleventh atmospheric river of the season made its way to Southern California as heavy rains drenched the region. 
RELATED: California's 11th atmospheric river on the way
Ahead of the landfall, the National Weather Service issued weather alerts across the region as rain poured Wednesday morning.
NOAA's rare "high" or "extreme" risk of flash flooding outlook covers much of the Central and Southern California coast and parts of the Sierra foothills. This highest risk level is only issued for about 4% of storms overall, yet Tuesday's storm was the second time in a week such a dire outlook had been issued.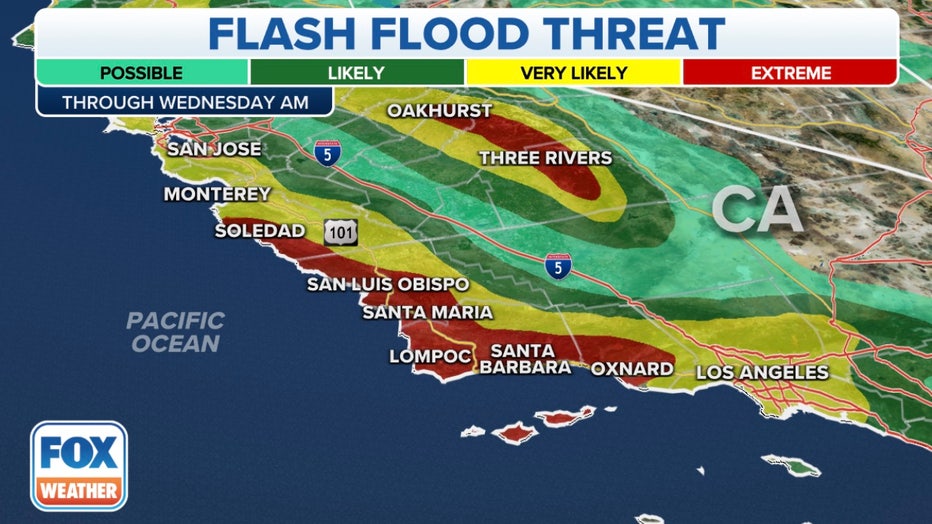 Flood Outlook (FOX Weather)
Mountain communities that received historic amounts of heavy snow last month and have dealt with challenges of buried roads and buildings are now facing the daunting forecast of additional heavy rain, adding overwhelming weight to roofs already struggling to hold too much snow.
Los Angeles County
Los Angeles began to see consistent rainfall on Tuesday afternoon. It picked up intensity Tuesday evening and by Wednesday afternoon the rain moved out, and the sun moved in. The NWS predicted precipitation amounts between one and two inches.
The Los Angeles International Airport set a record Tuesday for rainfall Tuesday date with .61 of an inch, breaking the old record of .43 set in 1982.
Weather Alerts
All weather alerts have expired in Los Angeles County. 
Inland Empire
San Bernardino and Riverside counties saw heavy rain start Tuesday night.
The greatest concern is for residents in the San Bernardino Mountains who continue on a long road to recovery in the aftermath of a series of storms that brought massive amounts of snowfall to the area, leaving residents trapped for over two weeks.
While some are concerned the weight of the rain combined with the snow will damage porches, decks and roofs, others are hopeful it will help melt the remaining snow.
If your home or business was damaged in the storms, you can report it to the San Bernardino Fire Department here.
Resort closures
Mt. Baldy Resort was closed Tuesday and Wednesday.
Mountain High kept its doors closed Tuesday and Wednesday due to inclement weather. 
Orange County
Heavy rains throughout Orange County, prompted flooding concerns. Excessive runoff can flood creeks, streams, and other low-lying areas, according to the National Weather Service.
Weather Alerts
All weather alerts have expired in Orange County.
Road closure
Drivers in Huntington Beach were diverted on the Pacific Coast Highway at Warner Avenue due to flooding.
Authorities in Orange County are also assisting other areas impacted hard by the storm. Four apartment buildings in the 1500 block of Buena Vista in San Clemente were evacuated Wednesday morning due to a landslide in the rear that left some of the structures in danger of sliding down the hillside. Orange County Fire Authority and sheriff's department crews are on the scene, ensuring that all residents have been safely evacuated. Buena Vista was closed from Avenida Florencio to Calle Colina, along with the trail below the landslide. No injuries were reported.
Ventura County
Areas of Ventura County was drenched by heavy rainfall on Tuesday night, causing flooding on some roadways in Camarillo.
Weather Alerts
All weather alerts in Ventura County have expired.
Light rain is expected this weekend and again next Tuesday and Wednesday.   
FOX Weather contributed to this report.