California's 11th atmospheric river on the way
LOS ANGELES - As Southern California dries out from the latest atmospheric river that brought showers mostly on the light side to the region, a stronger storm system is forecast to bring heavier rain to the area in the coming days. 
According to the National Weather Service, the next atmospheric river will bring heavier rain and stronger winds, with the snow level high again above 7,000' and more concerns of snow melt and wet avalanches. 
The brunt of the storm is forecast to slam the region Tuesday afternoon into Wednesday evening.
RELATED: New atmospheric river storm pushes into California
The NWS predicts coasts and valleys will receive between 1.5-3 inches while mountains and foothills could get between 3 and 6 inches.
Peak wind gusts are expected for most mountains as well as San Luis Obispo and Santa Barbara counties and the Antelope Valley between 30 and 50 mph. All other areas are predicted to endure gusts of 20-30 mph.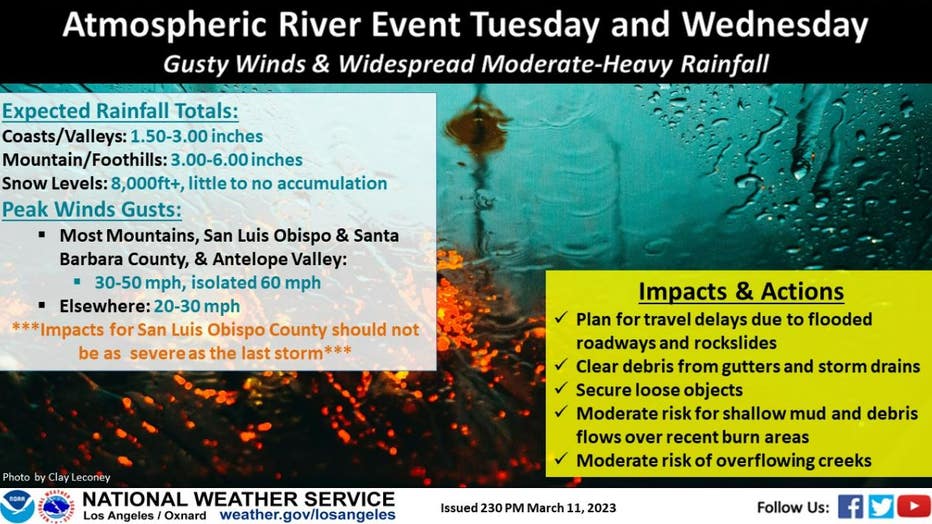 Another atmospheric river is headed towards California in the coming days. / Graphic courtesy National Weather Service
The NWS said impacts for San Luis Obispo County should not be impacted as severely this time around compared to the last storm. 
Due to these recent storms, President Joe Biden on Friday approved an emergency declaration for much of California, including Los Angeles County. 
The president "ordered federal assistance to supplement state, tribal, and local response efforts due to the emergency conditions resulting from severe winter storms, flooding, landslides, and mudslides beginning on March 9, 2023, and continuing," the White House said in a statement. 
RELATED: California snow: Newsom declares state of emergency for 13 counties, including LA and San Bernardino
The declaration came after more than 9,000 California residents were under evacuation orders Friday as an atmospheric river brought heavy rain, thunderstorms, and strong winds, swelling rivers and creeks and flooding several major highways and small rural communities. 
Gov. Gavin Newsom had already declared emergencies in 34 counties in recent weeks.
This upcoming storm will mark the state's 11th atmospheric river of the winter. So far the storms have alleviated drought conditions that have dragged on for three years in California. 
State reservoirs that had dipped to strikingly low levels are now well above the average for this time of year, prompting state officials to release water from dams to assist with flood control and make room for even more rain.
RELATED: California sees further improvements in drought conditions
State transportation officials said Friday they removed so much snow from the roadways in February that it would be enough to fill the iconic Rose Bowl 100 times.
The Associated Press and City News Service contributed to this report.