Anthony Lowe: New footage shows moments leading up to deadly police shooting of double-amputee
HUNTINGTON PARK, Calif. - New audio recordings and video footage were released late Monday morning revealing the moments that unfolded before Huntington Park officers shot and killed a double-amputee, which has created an uproar in Southern California as protests oppose the use of force against a person with a disability.
Officials said moments before the shooting, Anthony Lowe was identified as the suspect in a stabbing that was considered attempted murder. The stabbing victim spoke exclusively with FOX 11's Gigi Graciette, saying "I'm the victim. I did not provoke him."
Lowe was shot 11 times a short time after officers arrived at the scene.
In the newly released 911 call, the victim called authorities around 3:30 p.m. to report that he had been stabbed. A passerby who stopped to help then took over the call and spoke to dispatchers in Spanish. 
RELATED: Anthony Lowe stabbing victim speaks out: 'I'm the victim'
Lowe used a wheelchair, but video from the incident shows he was out of the chair and hobbling on his partially amputated legs with a knife in his hand during the confrontation. Ramiro, who asked to only be identified by his first name, was crossing the street when he and police say Lowe jumped out of his wheelchair and stabbed him.
Ramiro's recollection of the incident matches what was seen in one of the newly released videos Monday. 
The surveillance video taken from a Shell gas station shows Ramiro crossing the street. Lowe is then seen coming up from behind without the use of his wheelchair before he lunges forward and stabs him. 
PREVIOUS COVERAGE:
Ramiro, who officials said was in Huntington Park to look for a job, continues to recover from his injuries at a trauma unit. 
Another surveillance video shows the officers' contact with Lowe. As they attempted to remove him from his wheelchair, Lowe is seen with a knife in his hand as he hobbles away from the scene.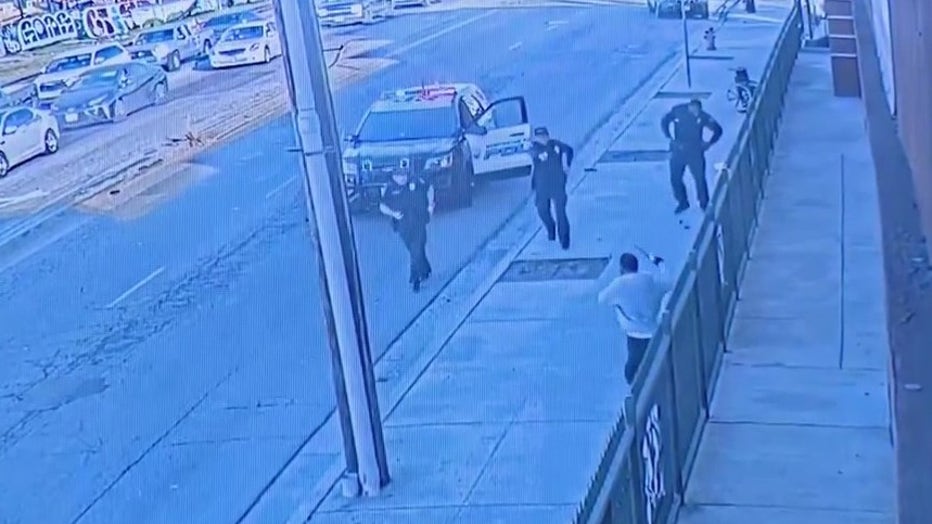 Huntington Park PD also released the officers' broadcast of Lowe being armed with a big knife. Sixteen seconds later, they announced shots were fired. In additional audio from the police radio traffic broadcast, officers are heard rendering aid after the shooting.
Lowe's family reacts: 'I wouldn't wish this feeling for no mother to bear'
Lowe's family remains heartbroken and demands justice for him.
In response to the newly released footage, Annee Della Donna, a lawyer representing Lowe's family said it's time for police to "slow it down, time was on your side, because life matters." 
On Jan. 26, officers responded to a stabbing call. Shortly after arriving at the scene, officers found Lowe armed with a 12-inch butcher knife. Officials said Lowe ignored commands and "threatened to advance and throw the knife" at them.
Officers used Tasers to try to subdue him but failed, HPPD said in a statement. At that point, one of the officers opened fire and struck Lowe. He was declared dead at the scene.
"Surely, there were non-deadly options. He was going nowhere," attorney Eric Dubin said during Monday's press conference. 
His family says the 36-year-old was shot in the back and was distraught over losing both his legs and his condition could not have been a real threat to the officers, who were armed with guns. The family added Lowe was having a mental health crisis at the time of the shooting.
"Three's no explanation or excuse for what happened before police got there," Dubin said. "We're here to discuss what happened after police got there."
Anthony Lowe's mother, Dorothy Lowe, sent his deepest sympathy to Ramiro who she said was assaulted by her son. "I never raised my kids to be violent and to only protect themselves," she said.
"I wouldn't wish this feeling for no mother to bear," Dorothy Lowe said. She fought back tears saying it's been hard to go to sleep at night knowing her son isn't going through the door again.
Lowe's aunt said he ran from officers because he was scared.
Last week, the family filed a claim against the city of Huntington Park on behalf of Lowe's 15-year-old son. 
Huntington Park is a city located in southeastern Los Angeles County, about six miles south of downtown LA.
The Los Angeles County Sheriff's Department is conducting the investigation of the deadly shooting and its findings will be reviewed by LA County District Attorney George Gascón's office.