Anthony Lowe stabbing victim speaks out: 'I'm the victim'
HUNTINGTON PARK, Calif. - Anthony Lowe was a double-amputee who was shot and killed by police in Huntington Park, sparking protests against use of force against a person with a disability. But what led up to that fatal encounter is a story that has never been told, until now.
Ramiro, who asked to only be identified by his first name, was crossing the street when he and police say Lowe jumped out of his wheelchair and stabbed him.
"I mean, I felt my heart literally come out of my chest. That's a scary moment for me," he exclusively told FOX 11.
"Did you think you were going to die?" asked FOX 11's Gigi Graciette.
RELATED:
"Yes, I did. Yes, I did. Yes, I did. Towards my injuries. Yes, I did. Seeing that blood gushing out of you. Yes, I did. I thought I was a doctor right there."
Ramiro spoke to FOX 11 from his hospital bed in a trauma unit where he remains today, he talked about that fateful day. He almost died at the hands of a stranger with a butcher knife, a man that he had never seen before, a man he now knows is Anthony Lowe."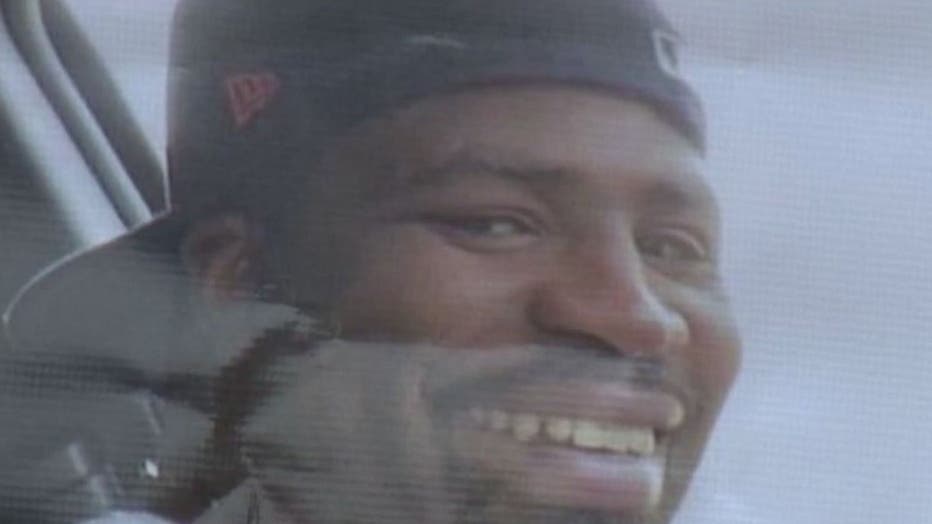 "Now, I understand him being in a wheelchair and everything. But why would he attack somebody like that? What's the reason for?" asked Ramiro as he still tries to come to grips with what happened.
Since the horrific incident, a GoFundMe page has been launched for Ramiro.
The violent encounter was caught on a surveillance camera. In the video obtained by FOX 11, you can see Lowe in his wheelchair, moving up and down the street at the corner of Slauson and Santa Fe in Huntington Park. Moments later, Ramiro, in a white T-shirt, crosses the street. And in seconds, he says, his life forever changed.
"As I was crossing the street, I noticed halfway down the crossing… when the green light was on for me to cross the street. I know that he got off his wheelchair and had to stop and takes about three or four steps and looks at me, but I think nothing of it, right? So when we were at the same level – me and him – on the side, he just told me, 'Are you all right?' And I had my hand as well because I carried a black duffel bag. I try and look at it and I go, 'Yes.' And at that time, he just punched me. But I did see the knife on him. And I took two steps forward. And that's when I noticed the blood gushing out of [the] bottom of my armpit," Ramiro recalled.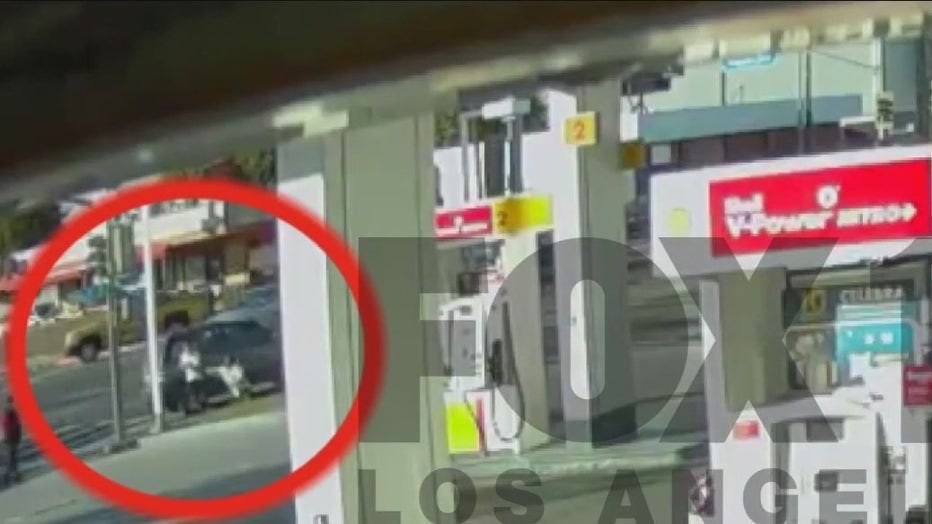 Ramiro thought he had been punched, but quickly realized he'd been stabbed with what turned out to be a 12-inch butcher knife, which punctured and collapsed his lung. But doctors feared the knife had also hit his heart.
"Those 4 hours [were] excruciating for me because it was either life or death or surgery. Big surgery, major surgery. So when he came in, he was just a punctured lung. It was a blessing for me," he said.
Ramiro, a man of faith, thanked God for what he calls a miracle. He also credits a kind stranger for calling 911. And the Huntington Park police officer, he says, saved his life by applying pressure to his wound and reassuring him he was going to be okay.
"I think he did save my life by putting pressure on it and giving me those words of hope," Ramiro recalled. "He said that everything's gonna be all right. You're going to make it. So I think those words are hope that he had faith in me, that I was going to survive. And that gave me the spirit to fight. And I think negative and think positive in a way that I'm going to make it through this. I'm going to make it through. So I think he did save my life."
That is the physical part. Emotionally, it is another story. The warehouse worker and father of four struggles to understand why it is something he says he did not deserve.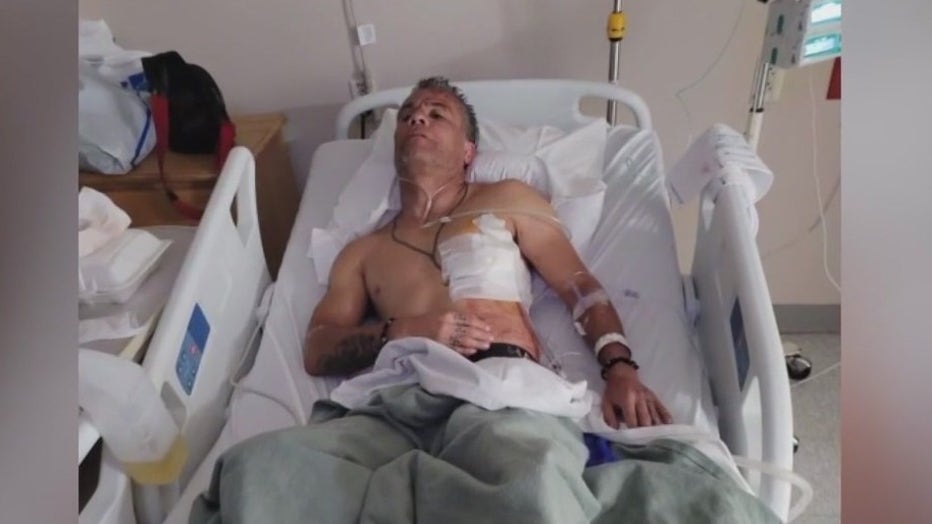 Ramiro says he was stabbed by Anthony Lowe on the afternoon of Jan. 26. (FOX 11)
"Just walking down the street, coming from looking for a job to try to survive and put money in my place, pray for my family and get struck by a knife and I would lose my life," he said.
Ramiro says he holds no hate in his heart for Lowe, but while he feels sorry for his attacker's family, he says has no compassion for the man he says almost killed him.
"I'm the victim. I did not provoke him," he explained. "Why should I feel compassion to someone that does things like that?"
Ramiro says he had never seen Anthony Lowe before the stabbing. 
His road to recovery is going to be a long one. Those looking to help can click the GoFundMe page here for more information.