13th atmospheric river passing through SoCal after historic drought
LOS ANGELES - A cold spring storm system from the Gulf of Alaska made its way into Southern California Wednesday, bringing another round of rain and mountain snow to an area that's been battered by storms in recent months.
The latest storm marks the 13th atmospheric river to pass through the area.
The National Weather Service said the storm was expected to pull a plume of Pacific moisture into California as it tracked south, but the rainfall was not expected to be as intense as the atmospheric rivers that impacted the state in recent weeks.
Southern California residents dealt with light to moderate rainfall and Thursday with pockets of heavy downpours. Although there were concerns about possible tornadoes, there were no reports of funnel clouds or extreme winds Thursday. 
RELATED: Tornado rips through Montebello; strongest tornado to hit Los Angeles-area in 40 years
Residents living in hillside homes were on alert as the storm added to the already saturated soil. A family of eight in the Pacific Palisades was displaced Sunday after a hillside began sliding down behind their home. 
RELATED: Hillside slips away behind Pacific Palisades home
More snow for the SoCal mountain communities
A Winter Weather Advisory went into effect early Wednesday morning and remains in place through 2 p.m. Thursday for the San Bernardino County Mountains, including Crestline, Lake Arrowhead, Big Bear City, Big Bear Lake, Running Springs and Wrightwood.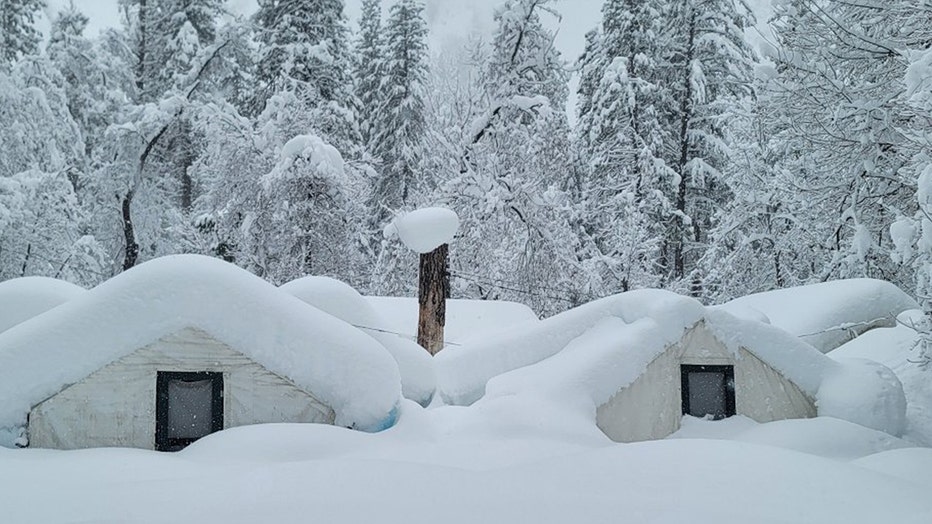 Curry Village rooftops covered in snow. (Credit: Yosemite National Park)
Earlier in the week, NWS said between 6 and 10 inches of snow is possible for elevations above 5,000 feet and up to 18 inches could fall on higher peaks. In addition to snowfall, winds were expected to reach over 60 mph.
The advisory also applied to the 14 and 5 Freeway corridors, and the western San Gabriel Mountains. Communities between 4,000 and 5,000 feet could see up to 12 inches of snow.
A Winter Storm Warning is in place for the eastern San Gabriel Mountain, which Includes Mt. Wilson and Mt. Baldy with heavy snow and strong winds expected in the area.
The storm ultimately tapered off Thursday night, making for cooler temperatures, but also mostly sunny skies and dry conditions Friday and into the weekend. 
Storms ease California's drought 
On the positive side, the storms have brought much-needed water. The state's two largest reservoirs, Shasta and Oroville, have risen above their historical averages to date after being significantly depleted.
RELATED: 
Cities and farmers that rely on the Central Valley Project, the federally managed water system, got a big boost in their allocations Tuesday.
More than 250 agencies — mostly irrigation districts — contract with the federal government for certain amounts of water each year, and the U.S. Bureau of Reclamation announces each February how much of those contracts can be filled, updating as conditions change.
The storm boost in supply means that many providers of irrigation water supplied by the CVP will see the amount they can draw jump from as little as 35% of their contracted total to 80%. Providers for city and industrial uses will be allowed 100% of their historic use instead of just 75%, the bureau said.
In Southern California, the Metropolitan Water District is bringing water from the north to fill its massive Diamond Valley Lake, a reservoir that had diminished to 60% of capacity after three years of drought. It's expected to be full again by year's end.
The Associated Press contributed to this report.