Atmospheric river storms tremendously help California's drought conditions
LOS ANGELES - The first three months of the year have been stormy in California, and earlier this week, the Golden State was slammed with its eleventh atmospheric river of the season. 
The area has been continuously drenched by rain, causing flooding and mudslides up and down the coast. And at one point, SoCal's mountain communities were under a Blizzard Warning for the first time in decades. The San Bernardino Mountains were dumped with several feet of snow, which left residents and tourists trapped for over a week. Still, residents in Lake Arrowhead, Running Springs, and more communities in the higher elevations have a long road to recovery. 
While many Southern California residents long for the dry conditions and sunshine the area is known for, the good news is that the storms have made a tremendous impact on the state's drought conditions.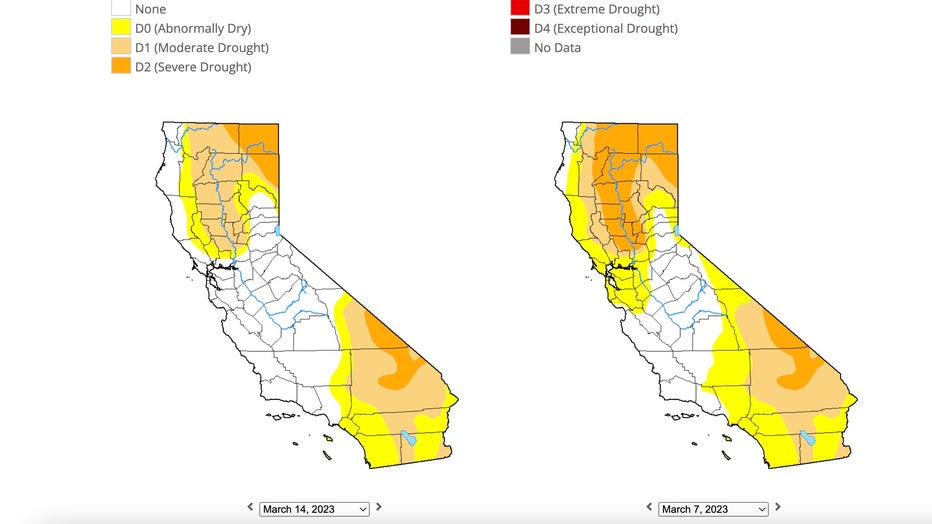 California's drought conditions on March 14 compared to March 7. (U.S. Drought Monitor)
Two weeks ago, data from the U.S. Drought Monitor showed parts of the state were drought-free and now, that applies to more sections of the state. The latest figure shows the greater majority of Central California is no longer experiencing a drought and only a small section of Northern California remains in a "severe drought."
RELATED: Parts of California now drought-free amid recent storms, data shows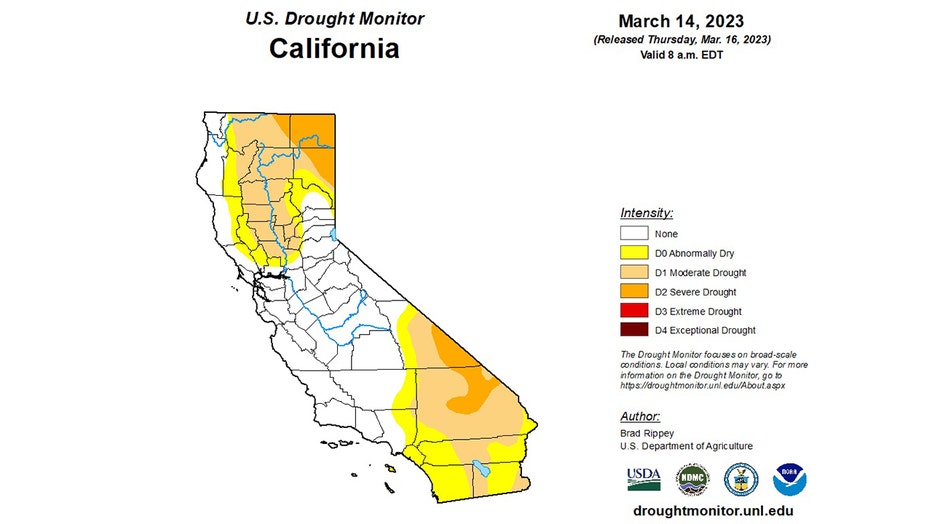 California Drought Monitor as of March 16, 2023. (U.S. Drought Monitor).
For the Southland, Ventura County is now drought-free. Most of Los Angeles County is no longer in a drought, prompting officials to lift watering restrictions. Orange County remains "abnormally dry," and the majority of Riverside and San Bernardino counties remain in a "moderate drought." 
What makes the latest data even more impressive is when you consider most of the state was in a "severe drought," in Oct. 2022 and in December, the Metropolitan Water District's Board of Directors declared a regional drought emergency for the Southern California region. As of this week, the severe drought only applies to just under 9% of the state.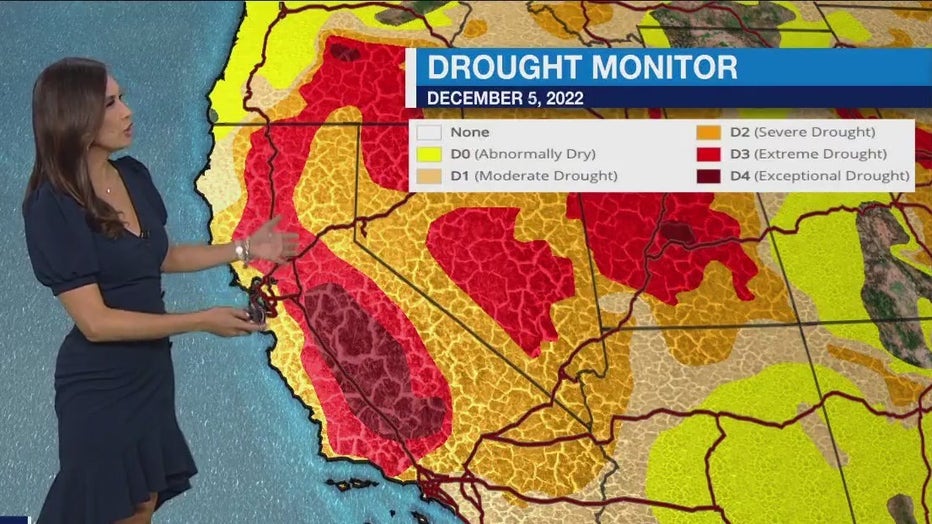 The rainy season isn't quite finished as another storm is set to make its way to the region this weekend into next week.