Beverly Crest mudslide prompts temporary evacuations, days-long road closure along Mulholland Drive
BEVERLY HILLS, Calif. - Terrifying moments unfolded near Beverly Hills in Los Angeles' Beverly Crest neighborhood on Tuesday morning after a mudflow led to temporary evacuations.
Southern California was already soaked due to a historic storm, and a new storm system would bring even more rain and mountain snow to the region.
Officials with the Los Angeles Fire Department said the mudflow was reported in the 13100 block of Mulholland Drive by a security guard around 8:30 a.m. The hillside collapse was impacting at least one home in the area. In addition, officials said at least one power utility pole was compromised.
The home was yellow-tagged and at least two residents were evacuated as a precaution. LAFD officials said later in the morning the residents would be able to return home.
SkyFOX flew over the impacted home and showed parts of the terrace and backyard came crashing down. The LAFD is using drones to fly the area and look for cracks and damage.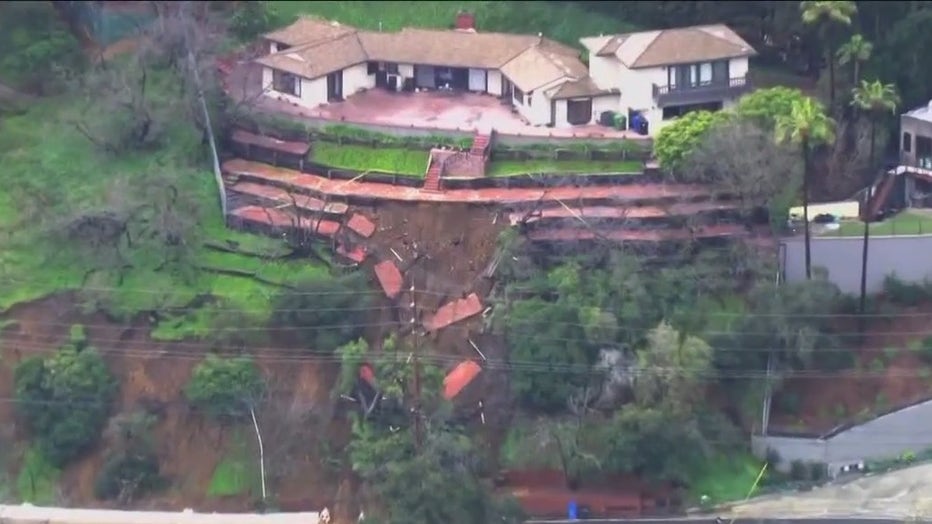 Despite a power pole being struck, no power was disrupted in the area.
Fire authorities said no injuries have been reported. The area has seen strong rainstorm activity in the past few days, but officials said the fire department could not determine the specific cause of the debris flow.
RELATED:
Mulholland Drive is closed in both directions between Deep Canyon Drive and Coldwater Canyon Avenue and motorists are asked to find alternative routes. Officials said the roadway would be closed over the next several days, even weeks.