Protest shuts down 170 Fwy. bringing attention to Armenia/Azerbaijan conflict
NORTH HOLLYWOOD, Calif. - Protesters in support of Armenia in its continuing conflict with Azerbaijan shut down both sides of the Hollywood (170) Freeway just north of the Hollywood (101) Freeway and Ventura (134) Freeway interchange on Sunday evening.
RELATED: Heavy fighting continues between Armenia and Azerbaijan despite ceasefire talks
Drivers were advised to avoid the area and expect delays.
The protest, which did not produce a SigAlert, came on the heels of pro-Armenian demonstrations that began Saturday night.
Protesters in Hollywood supporting Armenia in its conflict with Azerbaijan over the disputed Nagorno-Karabakh region blocked the 101 in both directions at Bronson Avenue for nearly three hours.
The protests have become more frequent as a decades-long dispute between Armenia and Azerbaijan intensifies overseas.
Mayor Eric Garcetti tweeted on Sunday:
"L.A. is proud to be home to the largest Armenian diaspora. We stand with the people of Armenia. I urge our leaders in Washington to conduct the sustained and rigorous diplomacy necessary to bring peace to the Artsakh region. Turkey must disengage."
The protesters were highlighting the ongoing fighting in a breakaway region of Azerbaijan that observers fear could escalate into a proxy war between Russia and Turkey -- and even Iran, all of whom are vying for control.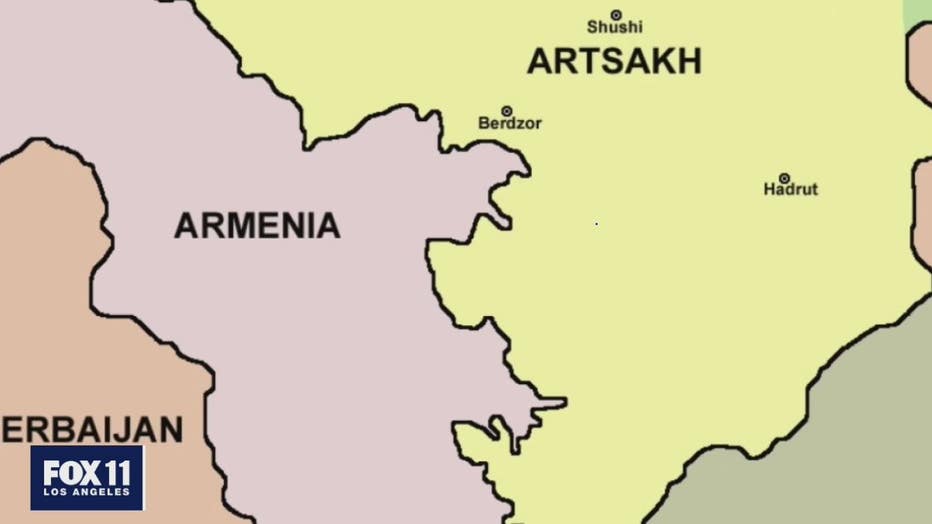 Although tensions in the area date back to the Soviet era, things heated up Sept. 27, when Armenia established martial law and Azerbaijan declared war.
At least 230 people have been killed since the clashes began, the highest casualty rate in the region since 2016.
Get breaking news alerts in the FOX 11 News app. Download for iOS or Android.