LA County nears indoor mask mandate as it enters 'high' COVID category
LOS ANGELES - Los Angeles County has officially landed back into the "high" COVID-19 transmission category, which would prompt the return of a universal indoor mask mandate as early as July 29 if the county remains in this category for two straight weeks, the county's Department of Public Health announced Thursday.
The mask mandate will expire when the transmission level goes back down to medium.  
During a press conference, LA County Public Health director Dr. Barbara Ferrer noted that the daily death figure has begun rising, averaging 14 per day over the past week. As of Thursday, there were 1,202 virus-positive patients in county hospitals, up from 1,170 on Wednesday. Of those patients, 122 were being treated in intensive care, down slightly from 123 a day earlier.
The county reported 8,535 new COVID infections on Thursday -- a number that is likely much lower than the true number of cases, since many residents now rely on over-the-counter tests they take at home, often without reporting the results to the county.
Ferrer also announced 14 more virus-related deaths on Thursday. 
The "high" category is reached when the seven-day average of new COVID-related hospital admissions hit 10 per 100,000 residents. On Tuesday that rate was at 8.8 per 100,000 residents and by Thursday it reached 10.5 per 100,000 residents. The rate of 10.5 hospitalizations represents an 88% increase over the past month.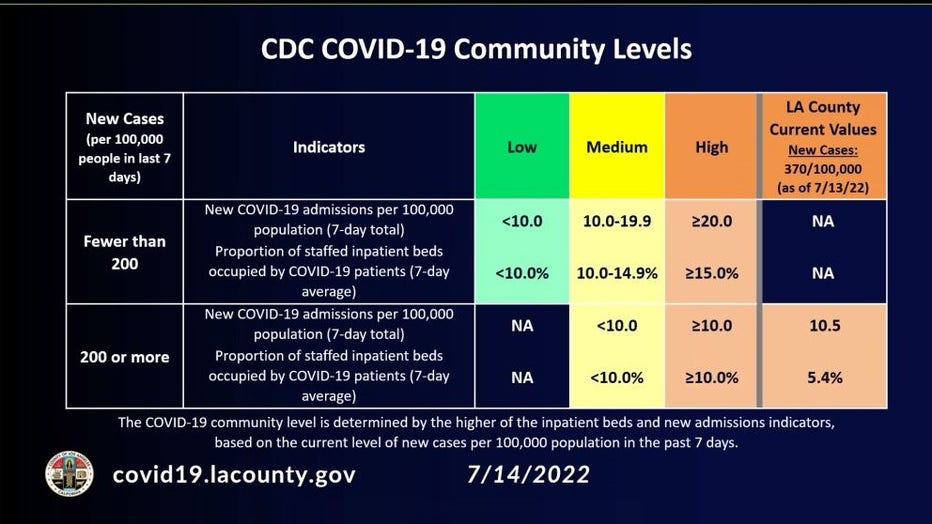 Los Angeles County's virus-related death toll has risen to 32,478, with health officials noting the majority of deaths have occurred in people with at least one underlying health condition.
Infection numbers have also been on the rise, thanks to the growing prevalence of the BA.4 and BA.5 variants, which health officials say are dramatically more infectious than previous strains and can sicken even people who were previously infected with other variants. Dr. Ferrer says BA.5 is currently the dominant variant. 
Dr. Ferrer noted the daily infection number released by the county is still an undercount of actual case numbers since many people now use at-home testing kits that are not reported to the health department.
Public health officials have continued to stress the reduction in infection risk for people who were face masks, particular for those who wear higher-grade masks such as N95 or KN95 masks.
In Los Angeles County, masks are already required in some indoor spaces - healthcare facilities, transit hubs, on transit vehicles, airports, correctional facilities and shelters.
The return of a universal mask mandate would extend the requirement to all indoor public spaces, including shared office spaces, manufacturing facilities, retail stores, indoor events, indoor restaurants and bars and schools, and child care. Masks are not required in outdoor settings. 
"It's sad, because small businesses are hurting," says the owner of Rise N Shine Cafe. Many people are upset about the possible return of the mask mandate. 
"You put your pants on in the morning, put on the mask! What's the big deal?" said one customer at East Valley Feed and Tack, where the owner explains everyone should have a right to wear them, but he doesn't want to force anyone to do it.
"I won't go anywhere where you are forced to wear a mask," said another one of his customers. That's the kind of statement that scares so many small business owners who are still trying to recuperate from COVID closures and getting badly affected by inflation reduced public spending.
"Just you wait, here come the partitions again, and the spacing out tables and only outside eating" says Ratz, "It's all about control, at this point." 
Small business owners can receive free PPE by visiting ppeunite.org. 
City News Service contributed to this report.