1 dead, 12 displaced in El Monte apartment fire
EL MONTE, Calif. - Fire authorities said a man was found dead and at least 12 people were displaced after a fire erupted at an apartment complex in El Monte early Monday morning.
Officials with the Los Angeles County Fire Department said the blaze was reported around 3 a.m. at the apartment building located in the 11400 block of Magnolia Street, near the intersection of Garvey Avenue and Peck Road.
Neighbors said they heard sounds of an explosion and glass breaking and when they looked outside, they discovered their apartment complex was on fire.
"I thought it was an earthquake," said tenant Alberto Chavez.
SUGGESTED: North Hollywood apartment building damaged by massive fire
There are multiple buildings inside the apartment complex and the fire was limited to a single, two-story building. Once the fire was knocked down, firefighters found a man's body while canvassing the scene. 
The firefight was dangerous for crews because when they arrived, they could hear the sound of exploding ammunition. Investigators said they found multiple weapons and ammunition inside the fire victim's apartment.
SUGGESTED: At least 2 injured in Sun Valley apartment fire
Firefighters remain at the scene to take down hot spots that flare up and the Red Cross was assisting the displaced families.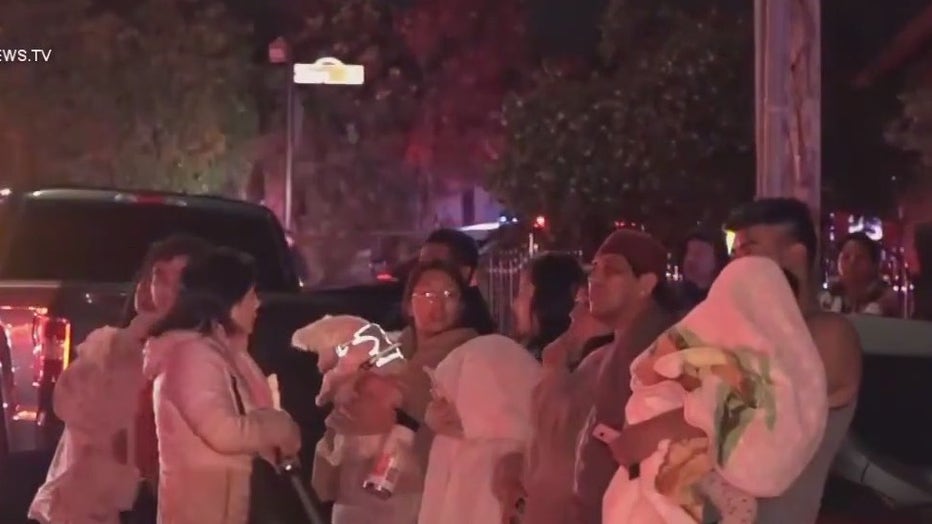 The cause of the fire is under investigation.