North Hollywood apartment building damaged by massive fire
LOS ANGELES - An apartment building in North Hollywood that was under construction was damaged in a fire Tuesday morning, fire officials said.
A crew of 100 Los Angeles City firefighters responded to the building at around 5:45 a.m. located in the 11400 block of Cumpston Street, near the intersection of Tujunga Avenue and Chandler Boulevard. Firefighters went into defensive mode and were concerned about the surrounding homes in the area and called for temporary evacuations.
Authorities said the construction project was in the framing stages of the would-be condominiums. The amount of wood on the property fueled the massive flames and after the declared knockdown, firefighters stayed at the scene to mop up the emerging hot spots.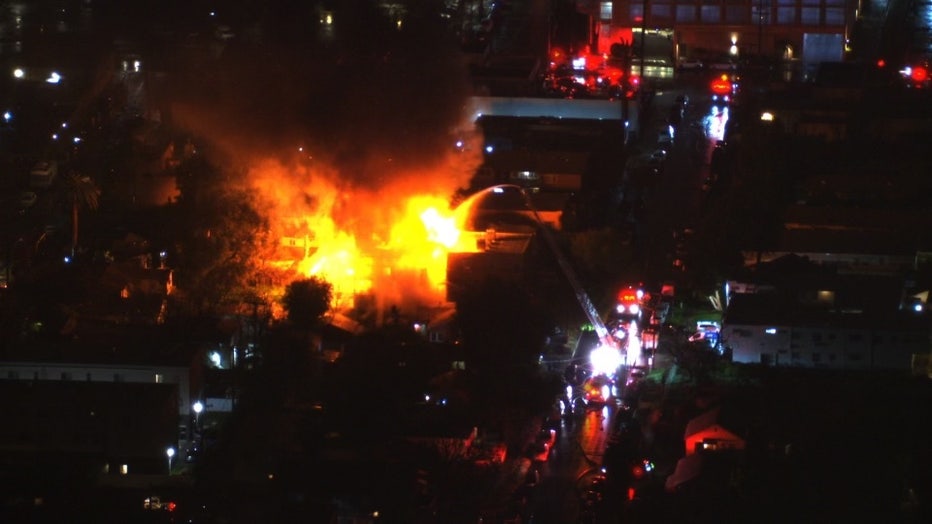 A fire broke out at a condo complex in North Hollywood on Tuesday, March 21. (Stu Mundel KTTV)
SUGGESTED: At least 11 injured in Panorama City apartment complex fire
By 7 a.m., the residents were allowed back into their homes.
Fire authorities said the weather did impact the fire due to the strong winds, adding flames and embers were being blown in every direction.
No injuries were reported.