Pedestrian killed, car splits in half on PCH in Long Beach
LONG BEACH, Calif. - A horrific multiple-vehicle crash that caused one car to split in half left one man dead and two others injured on Pacific Coast Highway in Long Beach.
The Long Beach Police Department responded to a call on the Pacific Coast Highway near Martin Luther King Jr. Boulevard around 5:50 p.m. Monday. Officers arrived to find a two-vehicle collision and a pedestrian had also been struck at the scene. 
A short time after paramedics arrived, the pedestrian was pronounced dead at the scene. He was identified by the Los Angeles County Department of Medical Examiner as 50-year-old Carlos Ceron of Long Beach.
Investigators said speed appeared to be a factor, and it does not appear impairment was involved.
SUGGESTED: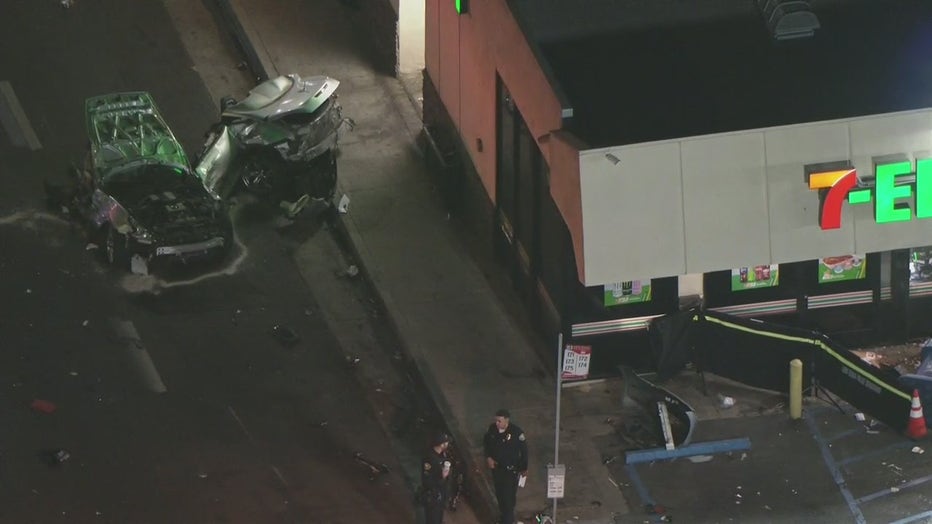 "The preliminary investigation revealed a 2010 Nissan 350Z driven by a 20-year-old male resident of Long Beach, was traveling eastbound Pacific Coast Highway at a high rate of a speed," police said in a statement.
"A 2017 Jeep Cherokee driven by a 50-year-old female resident of Long Beach, made a left turn from westbound Pacific Coast Highway to southbound Martin Luther King Jr. Avenue in front of the Nissan," police said.
"The Nissan collided with the Jeep and then struck a traffic signal pole," police said. "The force of the collision caused the Nissan to strike a pedestrian who was on the south sidewalk of Pacific Coast Highway, east of Martin Luther King Jr. Avenue."
The driver of the Nissan was taken to a hospital for treatment of minor injuries, police said. The driver of the Jeep complained of pain, but refused medical treatment at the scene, according to police.
The investigation is ongoing.
City News Service contributed to this report.