12th atmospheric river approaches California
LOS ANGELES - Get ready for more rain and snow to impact Southern California as spring begins. 
The latest storm marks the first atmospheric of spring and the 12th including the storms that hit the region in the winter. 
"This will be a soggy first half of the week, with many hours of light to moderate steady rain," the National Weather Service said. "Expect plenty of water, rocks, mud on roads, and minor and urban creek flooding." 
According to the NWS, forecasters said early predictions for the storm Tuesday through Wednesday are between an inch and two of rain, with isolated amounts of up to three inches in the mountains. 
Right now, Tuesday is looking to be the "main day for precipitation," but light rain will begin Monday with scattered showers on Wednesday, officials said.
SUGGESTED:
Here's a look at the rain timing and intensity, per the NWS:
Los Angeles: Heaviest rain Tuesday morning through 6 p.m.
Ventura: Heaviest rain Tuesday morning through 6 p.m.
Santa Barbara: Heaviest rain Tuesday morning through noon
San Luis Obispo: Heaviest rain Tuesday morning through noon
Snow levels will start out at about 5,000 feet but will quickly fall to 4,000 feet Tuesday afternoon and then to 3,000 feet Tuesday evening and Wednesday morning -- low enough to bring accumulating snow to the major mountain passes. The weather service said 2 inches of snow is possible with this system.
"At resort level and above, 1-2 feet of snow is expected," the NWS said. "Light snow up to 2" is possible over the Tejon Pass, so travel will likely be impacted." 
Strong and possibly damaging winds will also accompany this storm on Tuesday, forecasters warned. The NWS said there will be potential for widespread "gale force winds and hazardous seas," so boaters were advised to heed all precautions.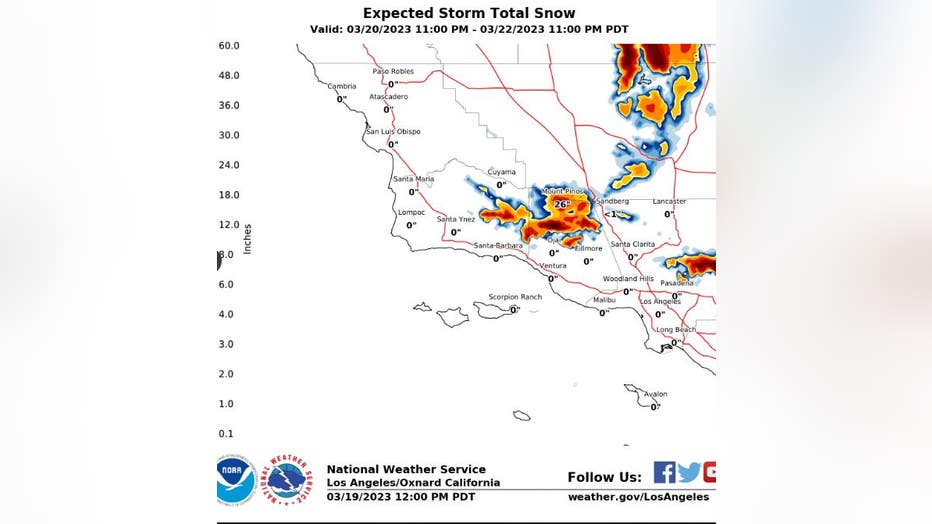 You'll want to bundle up, too! Temperatures are also expected to drop in the region, with daytime highs dropping into the low 60s on Monday and the mid-50s on Tuesday and Wednesday, according to the NWS. 
City News Service contributed to this report.