California storm: Atmospheric river unleashes flooding, mudslides, strong winds
LOS ANGELES - Californians were hit by another round in a series of relentless storms Tuesday, bringing heavy rain, howling winds, and high surf, with some residents remaining under evacuation orders.
Areas hit by wildfires in recent years faced the possibility of mud and debris slewing off denuded hillsides that have yet to fully recover their protective layer of vegetation.
At least 17 people have died in the storms battering the state. The figure is likely to rise, Gov. Gavin Newsom said Tuesday during a visit to the scenic town of Capitola on the Santa Cruz coast that was hard hit by high surf and flooding creek waters last week.
Authorities said  Monday night that parts of U.S. and state highways were closed because of flooding, mud or rockslides, heavy snow or car spinouts, and truck crashes. The closures included northbound lanes of the 101 Freeway, a key coastal route, and sections of U.S. 6 and Highway 168.
For the mountain communities, snow levels are expected at 8,000 feet before dropping to 6,000 feet. 
On Sunday, President Joe Biden approved an emergency declaration for the entire state of California and authorized the Federal Emergency Management Agency to coordinate disaster relief efforts and provide emergency resources, the White House said in a statement.
RELATED:
Below is what's expected in Southern California on Tuesday by county. 
Los Angeles County
Torrential rain has forced several road closures throughout Los Angeles County as mud and debris have blocked roadways, created sinkholes and other dangerous hazards.
The torrential rain led to flooding in the pedestrian walkway leading to train platforms on the main level of Union Station in downtown Los Angeles. Metro says people who need to go from one end of the station to the other can go downstairs and use the subway platform, which has entrances on each side of Union Station.
About 3,500 customers, and over 1,200 in Fairfax, have been affected by power outages throughout Los Angeles County. There were 695 outages in Pacific Palisades, 272 in Studio City, 129 in Sherman Oaks, 841 in Echo Park, and 376 in Palms, according to media reports.
A mudslide as deep as 3 to 5 feet made contact with seven houses in Studio City and prompted firefighters to clear North Fredonia Drive of debris. (Mario Ramirez KTTV)
Steady rainfall fell in the San Fernando Valley overnight. The heavy rainfall triggered a mudslide in a Studio City neighborhood as vehicles remained trapped in the mud. Officials said 17 residents had to shelter in place since they were unable to evacuate. 
Also in the SFV, two people were rescued Monday after their vehicle became trapped at the bottom of a large sinkhole in Chatsworth. 
RELATED: Chatsworth sinkhole traps 2 cars, 4 people
The heaviest rainfall is expected to hit LA County between 10 a.m. and 4 p.m. Tuesday with breezy conditions. Winds will come from the south at 15 to 20 mph, with gusts reaching up to 25 mph.
Weather Alerts
A High Surf Advisory was in place from 6 a.m. Tuesday to 10 p.m. Wednesday.
The NWS warns of dangerous rip currents with high surf of 5 to 8 feet through Wednesday. This applies to the Malibu Coast and all LA County beaches.
In addition, a Flood Watch kicked into effect before it was eventually lifted Tuesday, 7 p.m. 
Health officials issued a cold weather alert for Lancaster and Mt. Wilson, where near-freezing or sub-freezing temperatures are expected. The alert will be in effect Tuesday through Friday in Lancaster, and Wednesday in Mt. Wilson, according to the Los Angeles County Department of Public Health.
Evacuations
Earlier in the week, an Evacuation Warning was issued for the Lake Hughes and Kings Canyon areas due to possible mud and debris flow.
The city of Duarte issued a "yellow alert" for residents of roughly 25 homes near the Fish Fire burn area before expiring Tuesday evening. The alert, before expiring, had imposed restrictions for on-street parking on Mel Canyon Road between Brookridge and Fish Canyon roads, and on Deerlane Road between Mel Canyon and Greenbank Avenue.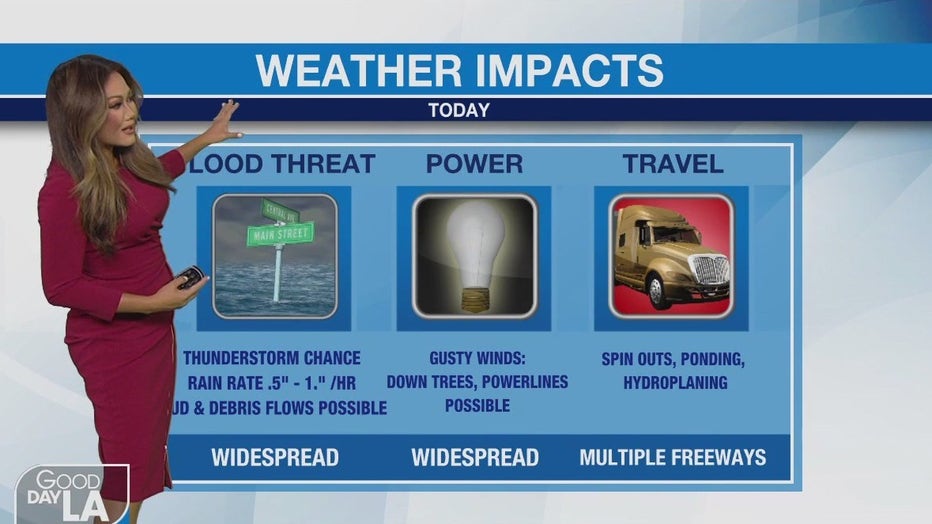 Road Closures
5 Freeway near the Templin Highway in northern LA County – two northbound lanes closed
27 Freeway in Topanga from PCH to Viewridge Road
5 Freeway south to 110 Freeway south connector – closed through Wednesday morning
5 Freeway south to northbound State Route 14 truck connector in Newhall
Around 10 a.m., officials said parts of Coldwater Canyon Drive will be reduced to a single lane in Beverly Hills due to storm debris. Crews were working to clear the area and reroute northbound traffic away from Beverly and Rexford drives. 
After facing a days-long closure, officials said on Wednesday morning Laurel Canyon Boulevard was open to traffic with some restrictions. 
School closures
All Malibu schools were closed Tuesday but are expected to reopen Wednesday.
"Students, teachers and support staff are being re-routed to Canyon Charter Elementary School, 421 Entrada Drive in Santa Monica for the day Tuesday. For more information, call 310-545-7510.
Santa Barbara and Ventura counties
Santa Barbara and Ventura counties were hammered by heavy rainfall Monday, triggering mudslides and prompting residents to evacuate. 
Ventura County deputies were stationed overnight and first responders continued to keep a close eye on the La Conchita community. Tuesday marked 18 years since the area was hit by landslides, sending 400,000 tons of mud down the mountain, which killed ten people.
Five years ago, a similar storm with nonstop rain caused a major debris overflow that destroyed homes and left 23 dead.
RELATED: Ellen DeGeneres documents Montecito flooding 5 years after mudslide killed 23
Both Ventura and Santa Barbara counties continue to deal with flooded streets and highways. 
Authorities announced the Santa Barbara Airport was closed Monday night. All commercial flights are canceled until further notice.
Evacuations
Prior to lifting orders by Tuesday afternoon, officials ordered an evacuation order for all of Montecito, including all 15 zones of the Montecito Community, all Toro Canyon & Padaro Lane residents in the Carpinteria-Summerland Fire Protection District, and all residents of Sycamore Canyon in the City of SB and Montecito.
An evacuation order was also issued for the Serena Park area in Carpinteria before eventually lifting the mandate.
Weather Alerts
A High Surf Advisory was in effect from 6 a.m. Tuesday to 10 p.m. Wednesday
Road Closures
The following road closures remain in place:
Highway 154 is closed in both directions due to major rock slide
Highway 192 is closed due to several spots with running water
Sycamore Canyon Rd. is closed around Westmont College in Montecito
Highway 150 is closed due to a rock slide
SR-33 at mile marker 12 due to a rock slide
Northbound 5 Fwy closed at Lankershim Boulevard in Sun Valley
Two right lanes are blocked on the 5 Fwy/Templin Hwy in northern Los Angeles County
Both directions of SR-2 are closed from Pacific Coast Highway to Viewridge Road in the Topanga area
Southbound 5 Fwy connector to the southbound 110 Freeway is closed due to mud and debris
Angeles Crest Hwy is closed in both directions two miles north of the 210 Fwy to Angeles Forest Highway
San Bernardino and Riverside counties
For the mountain communities, including Big Bear, Lake Arrowhead, and Wrightwood, rain showers were expected early before becoming mixed with snow. In Big Bear, southwest winds are expected at 30 to 35 mph ramping up to 45 mph in the afternoon, and gusting up to 65 mph.
Evacuations
A shelter-in-place order was issued for the Forest Falls community before the mandate was lifted Tuesday evening.
Weather Alerts
A Flood Watch was in effect through 10 p.m. and a Wind Advisory was also in effect before expiring at 4 p.m.
Orange County
Orange County was also hit by heavy rainfall and strong winds.
Knott's Berry Farm was closed Tuesday but is scheduled to reopen Wednesday.
Weather Alerts
A High Surf Advisory was in effect from 6 a.m. Tuesday through 10 p.m. Wednesday  
The storm tapered off Wednesday and made for mostly sunny skies with light winds. However, another storm is expected to hit by the weekend.
City News Service and the Associated Press contributed to this report.