Russell Westbrook excels, but Clippers fall 109-123 in Game 2 against Phoenix
PHOENIX - Despite a remarkable 28-point performance by Russell Westbrook that could have been his redemption game, the Los Angeles Clippers fell 123-109 against the Phoenix Suns Tuesday night. 
In addition to Westbrook, Kawhi Leonard was also excellent with 31 points, 7 rebounds, and 7 assists.  "The Klaw" has now reached 20+ points in 12-straight playoff games dating back to May 22, 2021. 
In Game 2 of the first-round playoff series, the Suns wasted no time letting the Clippers know the Footprint Center was their house, going on a quick 5-0 run to start the game.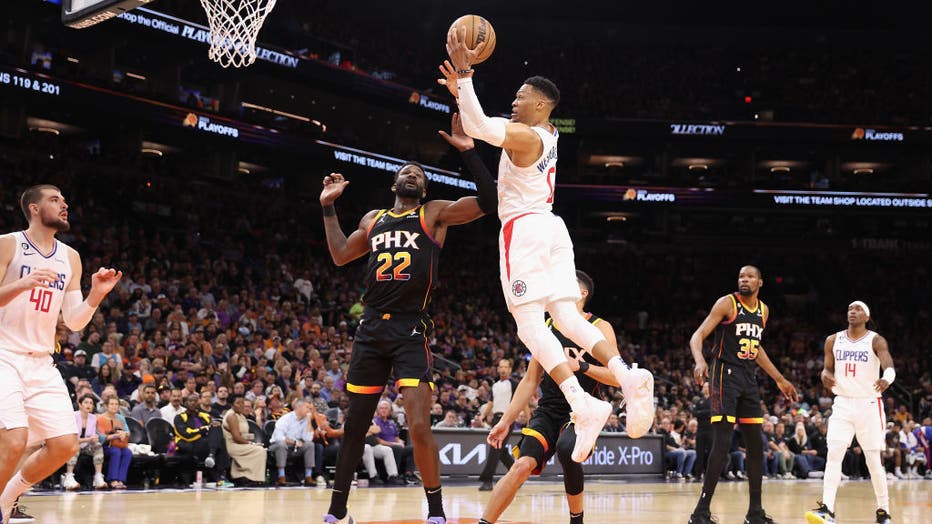 Ahead of the game, it was announced Scott Foster would officiate the game, which was not welcome news for Phoenix. The Suns' guard and former Clipper Chris Paul is 0-13 in the past 13 playoff games Foster had officiated. Now, that record is 1-13.
RELATED: NBA Playoffs: LA Clippers aiming to keep intensity and confidence in Game 2 against Phoenix
As if Sunday's crowd wasn't blaring enough, Tuesday's crowd was seemingly louder as fans looked for the Suns to even the series before going to Los Angeles for Games 3 and 4. Built for moments like this in a city that's practically painted in purple and gold, the Clippers remained calm, cool, collected, and most importantly – confident.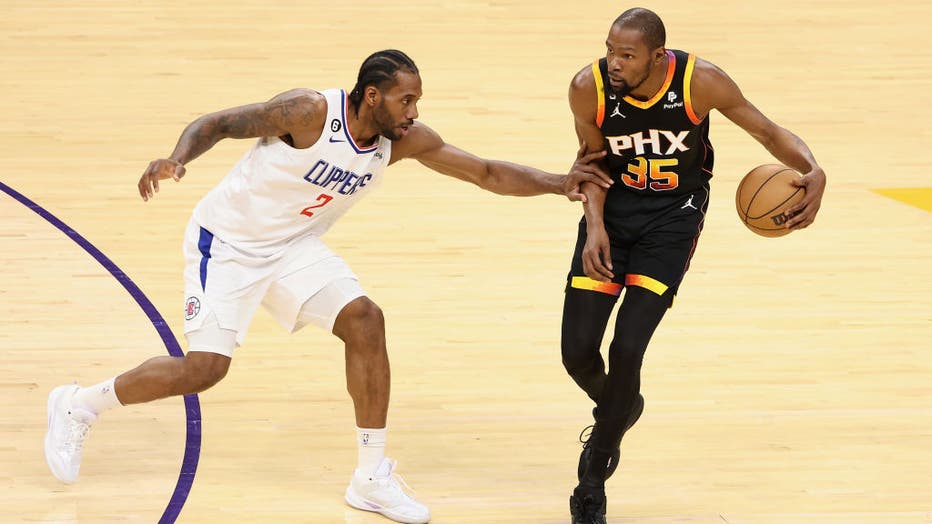 Kevin Durant #35 of the Phoenix Suns handles the ball against Kawhi Leonard #2 of the LA Clippers. (Photo by Christian Petersen/Getty Images) (Getty Images)
Westbrook has been dynamic on both sides of the floor in the series, going 6-for-9 from the floor with 17 points in the first half. Playing with passion and doing whatever it takes to keep the Clippers alive, he picked up his second foul in the first quarter forcing head coach Ty Lue to make adjustments early. 
However, the Clippers had no answer for Devin Booker. Tuesday night's game showed the Clippers struggled to find offensive solutions in the absence of Paul George, who remains out with a sprained knee. 
PREVIOUS COVERAGE: NBA Playoffs: Kawhi Leonard fuels Clippers to Game 1 win against Phoenix
Even after being ahead by as much as 10 points in the second quarter, Phoenix went on a red-hot run and the two teams were tied at 59 at the half. For Phoenix, they managed to sustain that momentum through the rest of the game, while Los Angeles could not claw their way back in what became a disastrous fourth quarter. 
Game 3 is scheduled in downtown Los Angeles at the Crypto.com Arena on Thursday at 7:30 PT.