NBA Playoffs: LA Clippers aiming to keep intensity and confidence in Game 2 against Phoenix
PHOENIX - The Los Angeles Clippers stunned the sports world when they took Game 1 of the first-round playoff series against the Phoenix Suns Sunday night and remain prepared and confident going into Game 2 Tuesday.
For anyone who witnesses a game inside the Footprint Center, it's clear the Suns have a hometown advantage with its roaring crowd who root equally loud against the opponent. 
"I dreamt of moments like this to play in front of all these types of people in environments, so it's fun," said Clippers guard Terance Mann on Monday. 
The second half of Game 1 was filled with twists, turns and different rotations on both sides.
RELATED: NBA Playoffs: Kawhi Leonard fuels Clippers to Game 1 win against Phoenix
"I thought the most important thing was Kawhi [Leonard] starting that fourth quarter and bringing Russ [ell Westbrook] back in to hold it down after that. It's just different combinations, different rotations, just a feel for the game," Clippers head coach Ty Lue told reporters Monday.
"I think we executed really well. We knew what we had to do coming out of those last-second timeouts," Mann added.
Game 1 came down to the final seconds when Westbrook performed outstanding defense against the Suns' lethal shooter, Devin Booker. 
Despite a relatively quiet night offensively, "Mr. Triple Double" had a near triple-double and stepped up when it mattered most. He kept his intensity and helped the team in other ways, including 11 rebounds and 8 assists.
It's Westbrook's passion that's making a difference in the locker room, giving the Clippers a new voice, which is something they haven't had before. 
When asked about Brodie's relentless energy, Mann contributes it to his passion and love for the game. 
"He's played like that his whole career ever since college. That's just how he plays, and it's fun to match it."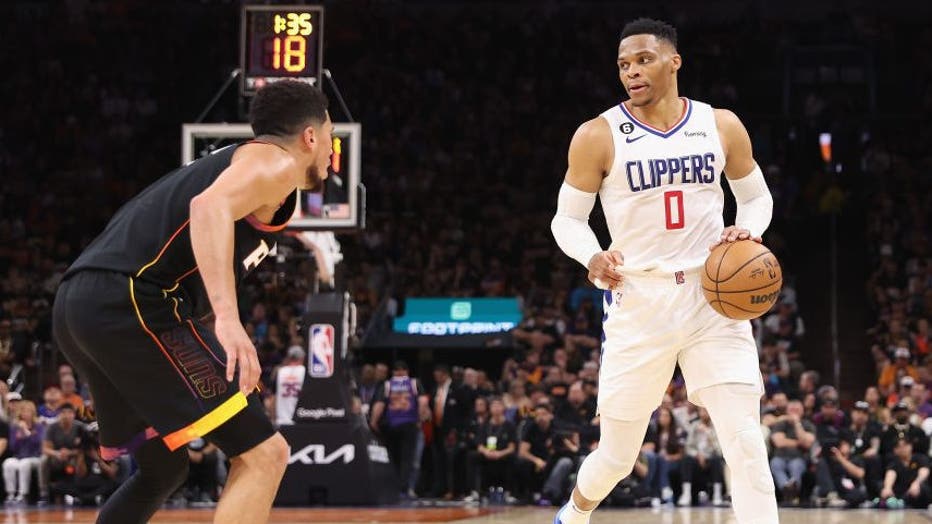 Russell Westbrook #0 of the LA Clippers. (Photo by Christian Petersen/Getty Images)
After helping seal the win, a video began circulating on social media of Westbrook getting into a heated exchange with a fan at halftime when he took a shortcut between locker rooms.  It remains unclear what the fan said that got under Westbrook's skin, but the Clippers are standing behind him.
RELATED: Clippers' Russell Westbrook, Suns fan have intense exchange at halftime: 'Watch your mouth motherf---er'
"I think he does a good job addressing the situation. He's not going to put his hands on anybody or anything like that. Just gotta be smart about it. People are going to say whatever they gotta say," Ty Lue said, adding he will advise his team not to take that route at the Footprint Center moving forward. 
With Game 1 behind them, confidence has been a theme that's kept them staying the course. 
"These guys know how to play. I just think the biggest part is the communication, keeping guys confident…especially in the playoffs. You never want one guy's confidence to waver," said Lue.
Both the Clippers and Suns are working with players that haven't had much time together since making moves at the February trade deadline. The Suns acquired 13-time NBA All-Star Kevin Durant, while the Clippers added guards Westbrook, Eric Gordon, and Bones Hyland, along with center Mason Plumlee.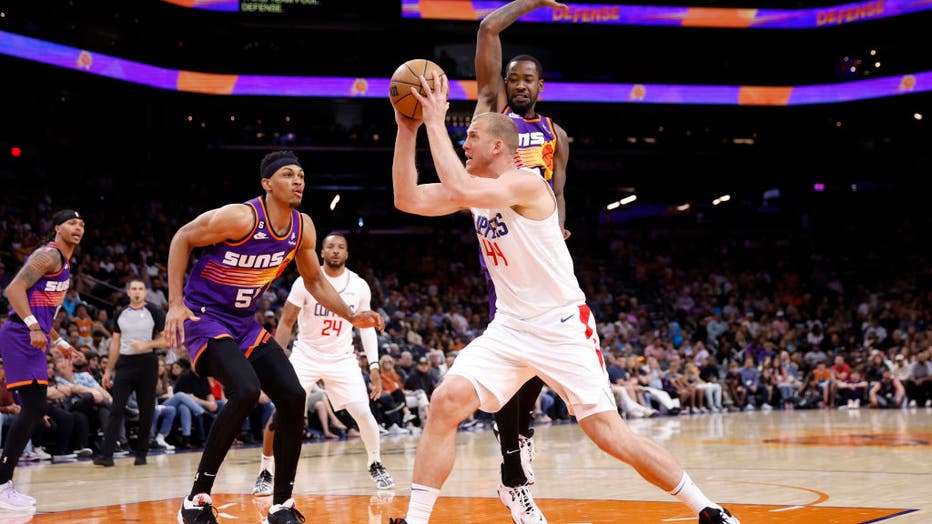 Mason Plumlee #44 of the Los Angeles Clippers. (Photo by Chris Coduto/Getty Images) (Getty Images)
 "It's different having a backup center. A guy who can rebound, box out, and just be a presence down there. That's kind of what we needed and we got that from Mason."
In addition to Westbrook, Mann said Hyland has been a force off the bench.
"Bones brings a lot of energy," he said. There's not a lot of players like Bones out there right now… he's almost one-of-one. Almost."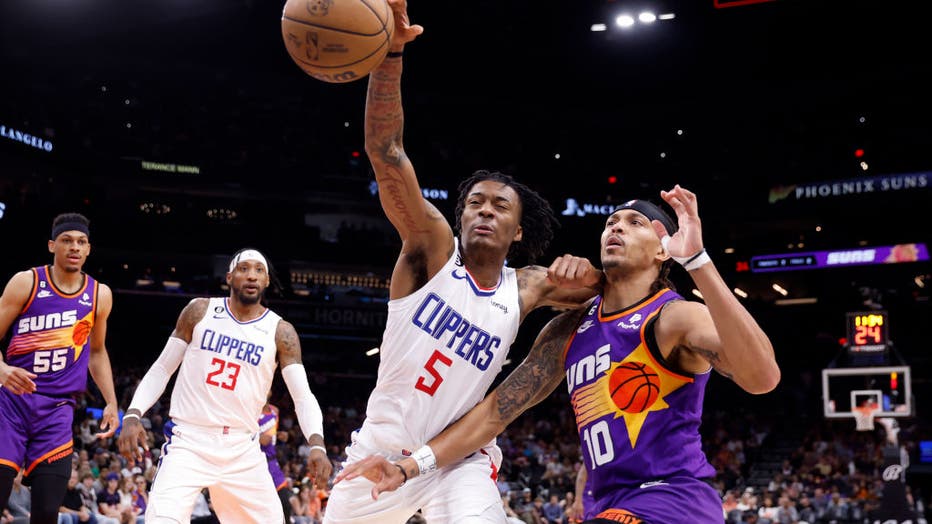 Bones Hyland #5 of the Los Angeles Clippers. (Photo by Chris Coduto/Getty Images) (Getty Images)
"We have a deep team. I think we could play up to 11 if we wanted to but they're deep too so we'll just see how it goes," Mann said. 
Going into Game 2, the Clippers aim to continue making improvements.
"We did some good things [in Game 1] but we definitely need to be better," said Lue, adding he wasn't pleased with the number of turnovers. 
"Playoff Kawhi" has been activated and had a remarkable 38-game performance to keep the Clippers alive, but to stay competitive, the Clippers will need more from everyone else on the offensive end. 
"We have shooters all over the floor. We had like six or seven guys shooting 40%, so that's what we talked about. Just making sure our spacing is right, so we get into our right spots," said Lue.
Mann said even in the playoffs, Lue keeps a calm demeanor, which is impressive considering his effortless ability to adjust rotations. 
The Clippers are prepared for the Suns to come in ready to even the series.
"I'm going to assume they're going to make a lot of adjustments so we gotta see what it is and adjust on the fly," Mann said.