LeBron's historic night: Kareem Abdul-Jabbar, sports world react
LOS ANGELES - Tuesday night's Lake Show will go down in the history books after LeBron James passed fellow legendary Laker Kareem Abdul-Jabbar to become the NBA's all-time scoring leader.
RELATED: LeBron James shatters NBA record books as top scorer in history, surpassing Kareem Abdul-Jabbar 
"King James" put on a spectacular 38-game performance in a packed Los Angeles Lakers home game against Oklahoma City at the Crypto.com Arena. Going into the game, he needed 36 points to break the record. Unfortunately, his monumental performance wasn't enough to propel the Lakers to a win.
James was surrounded by love as his family was out in full force for the historic game. His two sons, Bronny and Bryce, who are also rising basketball stars, were in attendance to see history in the making, along with his daughter Zhuri James, wife Savannah James, his mother Gloria Marie James, and his mother-in-law Jennifer Brinson.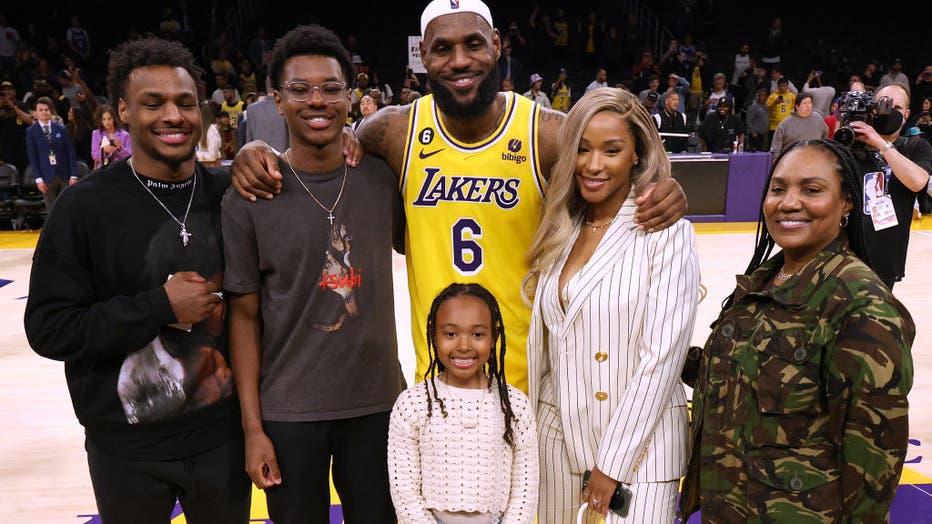 Celebrity Row did not disappoint as Jay-Z, Denzel Washington, Bad Bunny, LL Cool J, Usher, Woody Harrelson, Floyd Mayweather also witnessed James' remarkable milestone. 
LL Cool J attends the game between the Los Angeles Lakers and the Oklahoma City Thunder at Crypto.com Arena on February 07, 2023 in Los Angeles. (Photo by Ronald Martinez/Getty Images)
Perhaps the most important person in attendance was Kareem Abdul-Jabbar.
Following the nationally-televised game, Adam Lefkoe with "Inside the NBA" acknowledged Abdul-Jabbar's legacy, calling him a "true titan of this game," who held the scoring record for nearly 39 years. 
While many didn't think Abdul-Jabbar's record would be touched, he said "I thought it had every chance of being broken."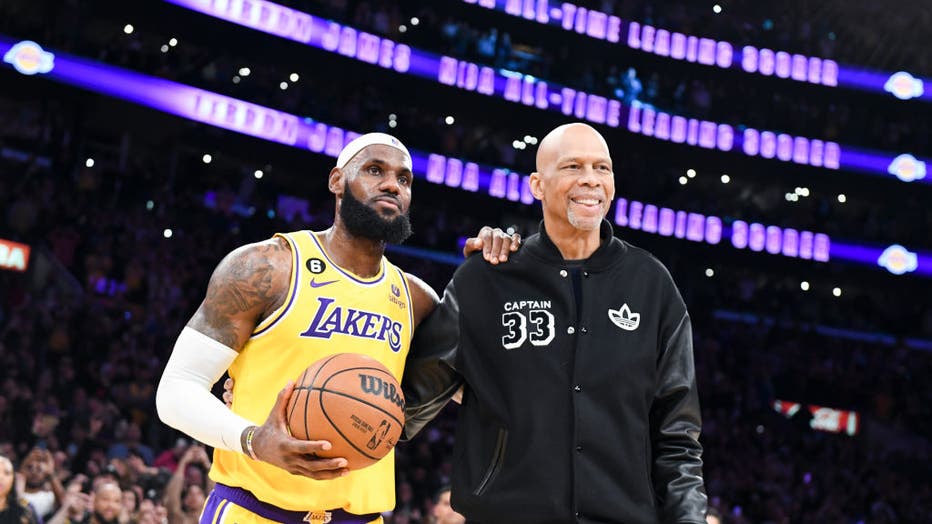 During the post-game interview, the iconic NBA star and social justice champion described James as "someone who planned to dominate this game."
In addition, Abdul-Jabbar praised James for his leadership skills that have led to four NBA championships. 
While he's usually a man of few words in on-camera interviews, Abdul-Jabbar expresses himself best through writing.
In his latest Substack released Wednesday titled "What I Think About LeBron Breaking My NBA Scoring Record," he wrote that he is happy James broke his record, and that "LeBron makes me love the game again. And he makes me proud to be part of an ever-widening group of athletes who actively care about their community."
"LeBron led them. He has that undefinable essence that they call leadership. He gets out there on the court and tries to get things done."
Here is how the sports world and Hollywood reacted on social media:
Magic Johnson
Dwyane Wade
Stephen Curry
Kevin Durant
Chris Paul
Jalen Brunson
Bogdan Bogdanovic
Patrick Mahomes
Todd Gurley
Kevin Love
DeMar DeRozan
Emmit Smith
Nicolas Batum
Robert Covington
Lou Williams
Usher
Lil Wayne
Justin Timberlake