LeBron James shatters NBA record books as top scorer in history, surpassing Kareem Abdul-Jabbar
LOS ANGELES - On Tuesday night, sports fans witnessed history as NBA superstar LeBron James broke the legendary Kareem Abdul-Jabbar's record and became the NBA's all-time scoring leader. 
In true Hollywood fashion, the moment was like something out of a movie. With 11 seconds remaining in the third quarter, the four-time NBA champion and 19-time All-Star broke the coveted record in a Los Angeles Lakers home game against the Oklahoma City Thunder at the Crypto.com Arena in downtown LA.
James finished the game with 38 points in the Lakers' 133-130 loss to the Thunder Tuesday night. "King James" ended the night with 38,390 career points.
The record was previously held by Abdul-Jabbar, who passed Wilt Chamberlain in style with his signature sky-hook on April 5, 1984. It was one of the ultimate highlights of his outstanding 21-year career as a player and social justice champion, and it's a record many believed wouldn't be surpassed.
Although James and Abdul-Jabbar have had their disagreements through the years, the legendary Laker was in attendance for Tuesday night's game to show his support.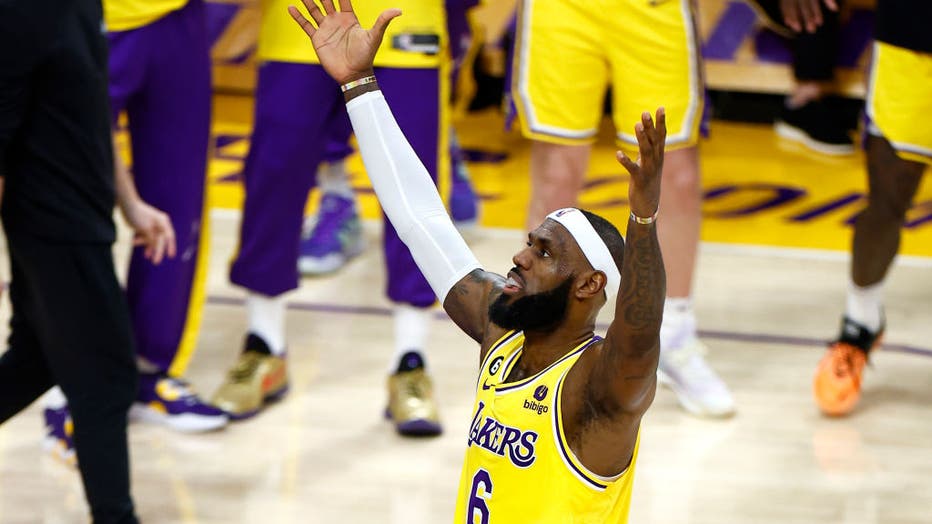 LeBron James of the Los Angeles Lakers scores to pass Kareem Abdul-Jabbar to become the NBA's all-time leading scorer. (Photo by Ronald Martinez/Getty Images)
RELATED: What LeBron passing Kareem means to NBA, 'greatest ever' debate
In a sit-down interview released earlier this week, James told ESPN's Mike Wilbon he's had many goals in his career but continues to wrap his head around holding the scoring title.
"It's still mind-boggling to [me] because I've said throughout my whole career I've wanted to be Rookie of the Year. I've wanted to be MVP in this league. I wanted to win championships, be an All-Star. I wanted to lead the league in assists and make All-Defensive Team and be Defensive Player of the Year."
He continued to say, "I never wanted to lead the league in scoring or for sure never said I wanted to be the all-time leader in scoring. That's never been a dream of mine and to sit here and actually be on the brink of it happening, this is a uh…it's pretty crazy." 
Going into the 2022-23 NBA season, James had 37,062 career points, meaning he needed 1,326 points to pass the fellow Lakers legend. 
"For me to be in the company of such a prominent, dominant force like Kareem was, it's an honor," he said in the ESPN interview.
At 38 years old and in his 20th NBA season, the four-time NBA MVP has proven he's still in his prime and won't be retiring anytime soon, averaging a phenomenal 30 points per game.
The LA Lakers are one of the most successful franchises in sports history with 17 NBA championships. With team success often comes individual success and Laker fans sure do have a lot of bragging rights. Along with Kareem and LeBron, other players to don a Laker uniform on the top 10 scoring list are:
No. 4 Kobe Bryant (48,643 career points)
No. 8 Shaquille O'Neal (41,917 career points)
No. 9 Carmelo Anthony (43,513 career points)
A native of Akron, Ohio, the high school phenom was christened as the NBA's "Chosen One" by Sports Illustrated at the age of 16, and it's a title he's lived up to ever since, never allowing the naysayers to dim his shine. 
After high school, James was selected first in the 2003 NBA Draft ahead of Darko Miličić and Carmelo Anthony, by his hometown team, the Cleveland Cavaliers. In his debut NBA performance against the Sacramento Kings on Oct. 29, 2003, he had an impressive stat line of 25 points, 9 assists, 6 rebounds, and 4 steals in 42 minutes.
At the conclusion of his first season, he proved he was the real deal and was not a bust. James was then named the 2004 NBA Rookie of the Year. He spent his first seven seasons in the league with Cleveland and made his first NBA Finals appearance in 2007 at 22 years old. 
SUGGESTED: LeBron Watch: Memorable 'King James' moments as he closes in on NBA record
On his path to greatness, he rocked the sports world in 2010 when he announced his decision to leave his hometown team and would be taking his talents to South Beach, joining Dwyane Wade and Chris Bosh on the Miami Heat.
To date, his highest-scoring game occurred on March 3, 2014, dropping 61 against Charlotte during his time playing in Miami. 
He found what he was looking for, and the Heat captured back-to-back titles in his four seasons.
After his tenure in the Sunshine State, he returned to Cleveland and won the city's first major sports championship since the Cleveland Guardians won the World Series in 1948, beating the Golden State Warriors in dramatic fashion in the seventh game of the series.
In 2018, LeBron made a blockbuster move to Hollywood and became a Los Angeles Laker. 
In an unprecedented season that included the tragic death of Kobe Bryant, the start of the COVID-19 pandemic, and a social justice movement, James led the Lakers to their 17th championship in 2020 in the league's COVID bubble. 
Earlier this season, the two-time Olympic Gold medalist also passed Steve Nash and became No. 4 on the league's career assists list.
So, what's next?
In late January, "King James" and Giannis "Greek Freak" Antetokounmpo were named as captains for the two All-Star teams during the upcoming 2023 All-Star weekend in Salt Lake City. As fans may recall, the NBA ditched the traditional East vs. West team format during the 2017-18 season.
James' record is set to be celebrated throughout the All-Star weekend beginning Friday, Feb. 17. 
Following the All-Star break, it's back to work. Lakers head coach Darvin Ham said in a recent interview that as a team, their primary focus is to make it to the postseason. As of Tuesday night, the Lakers are 12 games behind the Denver Nuggets and sit at 13th place in the Western Conference with a 25-29 record. 
It remains to be seen whether Laker Nation as a whole will fully embrace LeBron, but there is no denying his greatness and contributions to the game.