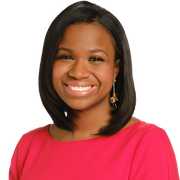 Koco McAboy is an Emmy-award winning journalist who knew she wanted to pursue a career in broadcasting since she was five years old. Koco joined the Fox 11 team in March 2020. Koco previously worked in Grand Rapids and Detroit where she reported on crime, wrongful convictions, and used her ability to speak Spanish to tell stories about undocumented immigrants, refugees, and people seeking asylum. She is passionate about people and is looking forward to sharing important stories of triumph and fortitude in the Los Angeles area. Koco attended Central Michigan University, and her work has been recognized by the National Association of Television Arts & Sciences, and the Michigan Association of Broadcasters. 
The latest from Koco McAboy
Southern California is bracing for a winter storm that could bring heavy rainfall and possible mudslides in burn scar areas.
Newsom said the state projects Southern California ICU capacity will improve to about 33% in February.
The duo's food truck offers soul food with an Asian twist.
Mayor Garcetti said at the current pace with the current supply, the vaccinations for all seniors and medical workers will not be completed until summer.
Beginning Tuesday, Los Angeles County expanded its COVID-19 vaccine distribution by opening five large-scale vaccination sites. 
Two Los Angeles City Council members introduced a motion to replace the city's current mandatory encampment cleanup system with a voluntary one.
Dozens of rallies took place across California on Friday to protest pandemic-related restrictions on youth sports.
"The officers, as you'll see in the video were as calm as can be expected," the witness said.
A Simi Valley family is grieving after 15-year-old Braden Wilson, passed away from MIS-C, a rare condition in children linked to COVID-19.