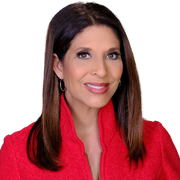 Christine Devine is a veteran television news anchor in Los Angeles. She anchors the weeknight newscasts at 5 and 10 p.m. on FOX 11 News. 
Christine has 16 Emmys including the Academy's prestigious Governors Award. In 2018 she received the Golden Mic for Lifetime Achievement. In 2012, she was named in Los Angeles Magazine among the "50 Women Changing LA."
Christine is most recognized as FOX 11's host of Wednesday's Child. The adoption segment has aired on FOX 11 since 1995, with more than 500 children from the LA County foster care system finding adoptive homes.
In Hollywood, Christine has played a reporter on TV and in film in the following: American Horror Story, 24, Melrose Place, 90210, Prison Break, Wag the Dog, Independence Day, and The Cable Guy.
Christine is a graduate of Arizona State University. She was inducted into the Hall of Fame at ASU's Walter Cronkite School of Broadcast Journalism. Christine sits on the prestigious Board of Trustees. She attended ASU on an academic Leadership Scholarship and was Valedictorian of her Arizona high school.
Christine's reporting on women's issues earned two Gracie Awards from American Women in Radio and Television (now, Alliance for Women in Media). FOX 11 News won Best Anchor Team by the Associated Press.
Christin's parents were foster and adoptive parents, so she is most proud of the Wednesday's Child legacy. She was honored in Washington, DC by the Child Welfare League of America, and by The Society of Professional Journalists. Christine received the Angel in Adoption award from Congress and its Congressional Coalition on Adoption Institute.
Active in the community, Christine has been honored by Los Angeles City Council, LA County Board of Supervisors, the Los Angeles Police Department and LA County Sheriff's Department, Century City Chamber of Commerce, Volunteers of America, the YWCA, and Didi Hirsch Mental Health Services.
Christine also hosts FOX 11's podcast Olympic & Bundy and a podcast series called Voices of the People: Kobe Bryant Remembered.
Christine is married to musician/actor Sean McNabb.
The latest from Christine Devine