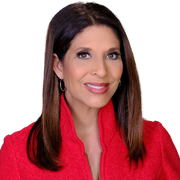 Christine Devine is a veteran television news anchor in Los Angeles. Christine anchors the 5, 6, and 10 pm weeknight newscasts on FOX 11 News.
Christine has 16 Emmys and has received with the highest of LA news honors: Governors Award from the Television Academy, Golden Mic for Lifetime Achievement from the Radio & Television News Association (RTNA), and in 2022, the Presidential Award for Impact on Media from the LA Press Club.
For nearly 30 years Wednesday's Child on FOX 11 News with more than 500 children in foster care finding adoptive families. 
In 2012, Christine was named in Los Angeles Magazine among the "50 Women Changing LA" for her work with foster care. She received an honorary doctorate degree from Cal State LA in the school of social work.
Christine was honored in Washington DC as a Congressional "Angel in Adoption" and by the Child Welfare League of America.
Christine is a proud Sun Devil graduate from Arizona State University. She is in ASU's Hall of Fame at the Walter Cronkite School of Broadcast Journalism and has funded a scholarship. Christine is a member of the high-level Board of Trustees and the ASU Leadership Council-Los Angeles.
In Hollywood, Christine has played reporter roles in movies like Cable Guy, Wag The Dog, and on TV series like 90210 and American Horror Story. She has a love of design and is a regular at LA Fashion Week.
Among her other news honors: Two Gracie Awards from AWRT-American Women in Radio and Lifetime Achievement from Century City Chamber of Commerce. A frequent emcee, Christine has been honored before the LA City Council, LA County Board of Supervisors, LAPD and LA County Sheriff's Department.
The latest from Christine Devine