'Wall Street Whiz Kid' David Bloom charged with running financial scams in LA County
LOS ANGELES - A con man who was convicted twice in New York for bilking victims out of millions of dollars through financial fraud schemes has been charged with 18 felony counts for allegedly running a similar scam locally, with Los Angeles County District Attorney George Gascón calling him "a predator."
David Bloom, 59, is accused of committing crimes in Los Angeles County that netted nearly $250,000 from nine alleged victims, according to the district attorney.
"This is an individual who's a predator," Gascón told reporters. "He's been preying on victims, vulnerable people all of his life, and he came to L.A. to do the same thing here."
The district attorney said that the defendant approaches people in a way that is "very endearing" and that "he's not immediately trying to take your money."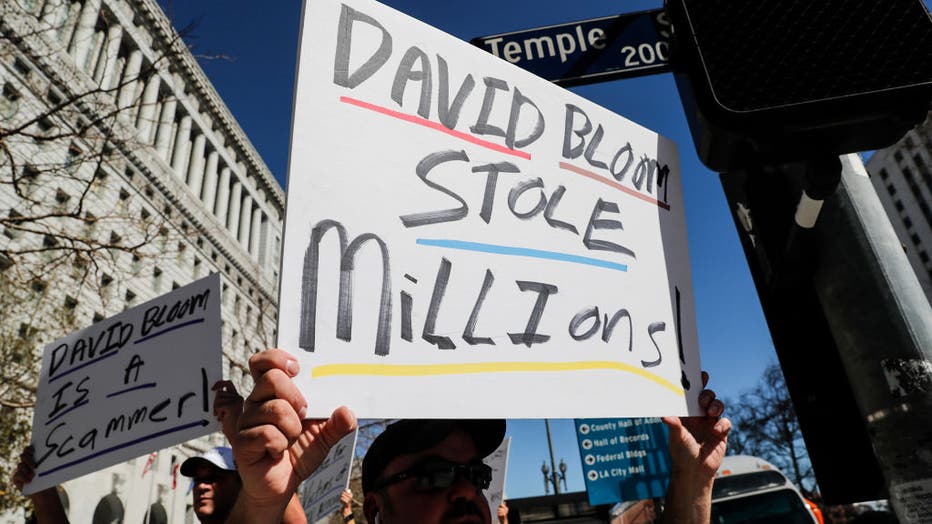 Victims of David Bloom, the one-time Wall Street Whiz Kid financial scammer, protest outside D.A. Gascon's office demanding that charges be filed. (Robert Gauthier/Los Angeles Times via Getty Images) (Getty Images)
"He first comes to you to become a friend. He tries to become almost part of your family," Gascón said.
One of the alleged victims -- who said she had her heart set on becoming a businesswoman in the food industry -- told reporters that Bloom lived in her building, "pretended to be a business mentor" who wanted to help her and "became like family to me."
"... This man has no boundaries that he will not cross to scam you," she said. "Literally, he will go to your child's birthday, your brother's funeral and hold your baby and say that everything's gonna be okay and `I'm doing this for you.' It took him months to actually pull off the scam with me. I think he worked on me for about six months so it's not an overnight thing."
She said it was "very upsetting" to learn about his past.
Bloom was arrested around 4 a.m. Monday by the Los Angeles Police Department, and he was being held in lieu of $505,000 bail, jail records show.
He is charged with nine counts each of securities fraud and grand theft with allegations of two or more prior felony convictions, according to the District Attorney's Office.
Prosecutors allege that Bloom convinced the alleged victims to give him money in exchange for investments and other financial opportunities and that he never delivered on the investments and failed to return the bulk of the money.
About $60,000 has been returned, according to the district attorney.
"I absolutely believe there may be more victims," Gascón said, noting that the case remains under investigation by the Los Angeles Police Department.
The Los Angeles Times, which broke the news of his arrest, reported that Bloom allegedly targeted would-be victims at a luxury apartment complex and at bars, including the Frolic Room on Hollywood Boulevard, telling people he had an inside track on not-yet-public stocks and offering them a chance to get in on the ground floor of lucrative investment opportunities. But victims said they never saw any profits, despite giving Bloom thousands of dollars, the paper reported.
Bloom, once dubbed a Wall Street whiz kid, pleaded guilty to mail and securities fraud in New York in 1988 and was sentenced to eight years in federal prison for convincing people to give him financial investments totaling more than $15 million, but he instead spent the money on himself, The Times reported. He pleaded guilty again in the late 1990s for bilking 10 people out of at least $50,000 in a similar scheme that targeted various restaurant employees.
The Times reported last year that Bloom had been targeting victims locally, including several at the Frolic Room near Hollywood Boulevard and Vine Street. According to the paper, Bloom convinced multiple patrons he could get them tickets for the Super Bowl at SoFi Stadium, but he never came through. He convinced another that he was acquainted with Netflix CEO Ted Sarandos and could pass along a screenplay the bar patron was writing, The Times reported.
Another woman told the paper that Bloom would target people at a high- end apartment in the Franklin Village area, offering them opportunities to purchase shares of stock that were not yet available to the public. But after collecting their money, he disappeared.
Police told The Times some victims eventually got partial refunds, but investigators suspect he merely repaid them with money bilked from other victims. Bloom was initially arrested last August but was not immediately charged, so he was released from custody.