'I'm here with you today to act': President Biden visits LA to discuss gun violence
LOS ANGELES - President Joe Biden arrived in Southern California Tuesday afternoon to discuss gun violence and announce his new executive order to strengthen gun background checks. 
Air Force One landed around 12:30 p.m. at LAX. Once on the tarmac, Biden was greeted by LA Mayor Karen Bass, Supervisor Janice Han and Brandon Tsay, the man who unarmed the Monterey Park mass shooter.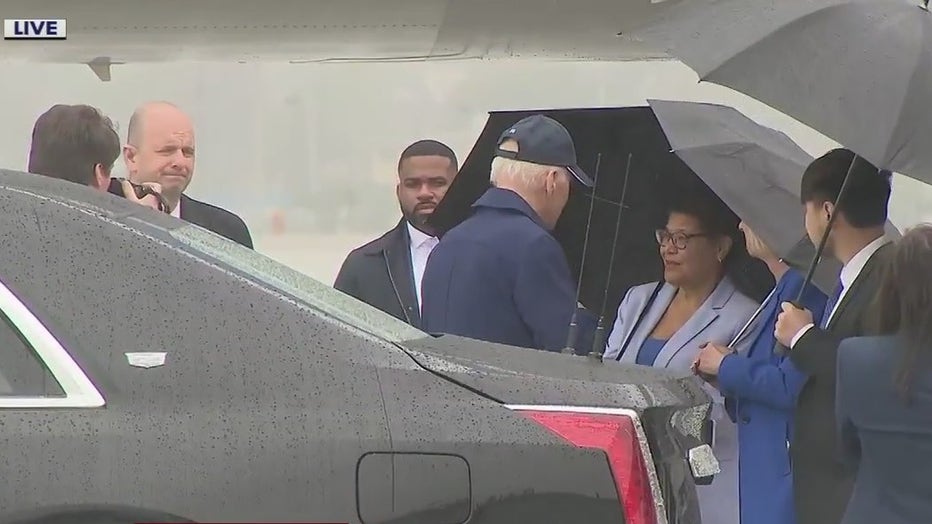 Shortly after landing, Biden visited Monterey Park to discuss his efforts to reduce gun violence, just months after a mass shooting left 11 dead.   
Biden made reference to the Jan. 21 mass shooting in his State of the Union address on Feb. 7, calling for a ban on assault weapons and saluting Tsay, who wrestled a gun away from the shooter and likely prevented a second tragedy from occurring in nearby Alhambra.
RELATED COVERAGE: 
When he arrived, Biden announced the executive order, which the White House said had the "goal of increasing the number of background checks conducted before firearm sales, moving the U.S. as close to universal background checks as possible without additional legislation." The order instructs the attorney general to ensure that firearm sellers who are ignorant of background check requirements or ignoring them to come in compliance, according to the White House.
"I'm here with you today to act," Biden told the crowd at the Boys & Girls Club of West San Gabriel Valley.
He said the executive order "will accelerate and intensify this work to save more lives more quickly," adding that it will help "keep firearms out of dangerous hands as I continue to call on Congress to require background checks for all firearm sales."
The order also directs members of the Cabinet to work with local communities and law enforcement where "red flag" laws are in effect allowing residents to petition a court to determine if a person presents a public danger, allowing weapons to be temporarily removed from the person's possession.
Biden's order also directs the departments of Transportation and Justice to work on a plan to reduce the loss or theft of firearms during shipment and bolster the reporting of such losses and thefts. According to the White House, there has been a 250% increase in the number of firearms reported lost or stolen during shipment between federally licensed firearms dealers between 2018 and 2022.
The order also includes various other provisions, including authorizing the public release of inspection records for firearms dealers cited for violating federal firearms laws; accelerating federal law enforcement reporting of ballistics data in hopes of catching shooters; improving federal support for gun violence survivors; and advancing efforts to prevent the proliferation of weapons that are undetectable by metal detectors.
Biden, during his remarks in Monterey Park, again said he is "determined once again to ban assault weapons and high-capacity magazines."
"I led that fight in 1994. The 10 years that law was in place, mass shootings went down. Our Republican friends let it expire 10 years later, and mass shootings tripled since then. Tripled. So let's finish the job. Ban assault weapons. Ban them again, do it now. Enough. Do something. Do something big."
He concluded his roughly 18-minute speech by offering comfort to the victims of the January shooting in Monterey Park.
"I know your hearts are broken, but I know your spirits are strong," he said. "... It takes time, but I promise you -- I promise you -- the day will come when the memory of your loved one brings a smile to your lips before it brings a tear to your eye. The tear will never fully go away, but when you have that smile first ... that's when you know, that's when you know you're going to make it.
Vice President Kamala Harris visited Monterey Park three days after the shooting took place.
The trip was Biden's first to the Los Angeles area since Oct. 12- 14 when he visited a Metro construction site and spoke at a political fundraiser and at Irvine Valley College.
Biden's stop in Monterey Park comes a day after a scheduled meeting in San Diego with Prime Minister Rishier Rishi Sunak of the United Kingdom and Australian Prime Minister Anthony Albanese to discuss the Australia-United Kingdom-United States partnership known as AUKUS.
Road closures/no parking: 
Garfield Ave between Newmark Ave and Grandridge Ave/Graves Ave
Newmark Ave between Garfield Ave and Mcpherrin Ave
Ramona Ave between Garvey Ave and Garfield Ave
Harding Ave between Ramona Ave and Mcpherrin
Mcpherrin Ave between Newmark Ave and Graves Ave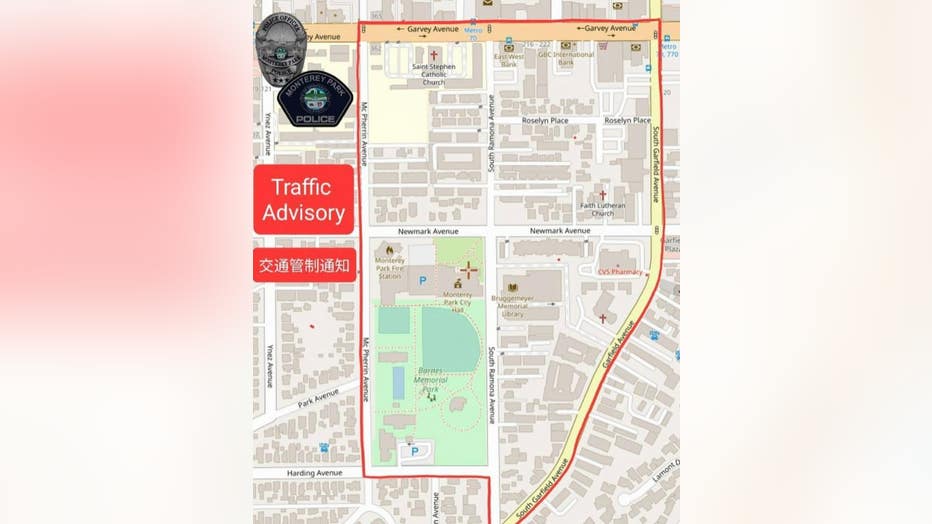 Monterey Park road closures announced ahead of President Joe Biden's visit. / Monterey Park Police Department
City News Service contributed to this report.