Lunar New Year shooting: VP Kamala Harris meets with families of victims in Monterey Park mass shooting
LOS ANGELES - Vice President Kamala Harris was in Monterey Park, California Wednesday night following a mass shooting that claimed 11 lives at a Lunar New Year celebration Saturday.
Her plane landed at LAX around 4 p.m., where she met with Mayor Karen Bass, Sheriff Robert Luna, and members of the county board of supervisors.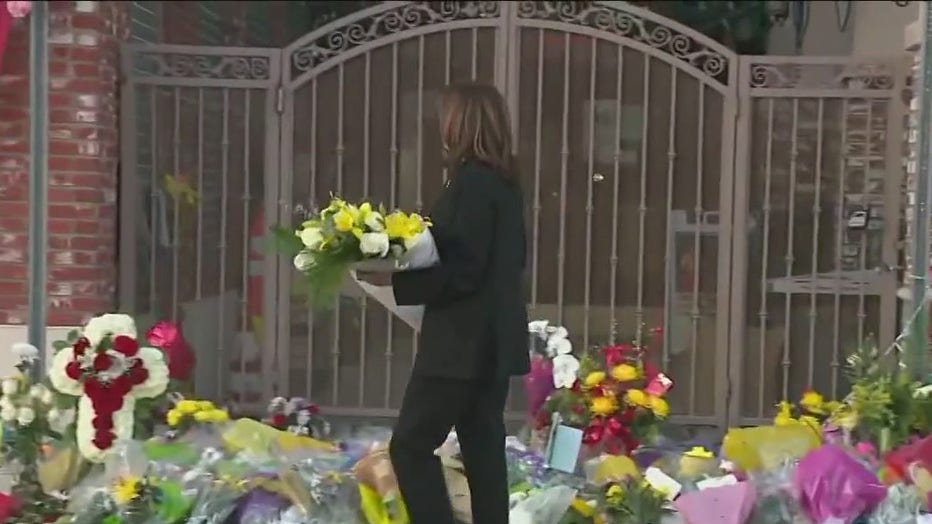 From LAX, she traveled to the Star Dance Studio in Monterey Park where she laid flowers down at a makeshift memorial for the victims killed. 
"California has been courageous as a leader on the issue of smart gun safety laws, but we also need Congress to act because truly if we were to have a uniform approach that is a statement on where we are as a nation, where we are on these issues, so that we can at least get one step closer to what is right and what is reasonable. Understanding that to do so is to fully support the Second Amendment but to understand we need reasonable gun safety laws in our country," Harris told reporters. 
She called on Congress to enact reasonable gun-control measures.
Harris then traveled to a victim-support facility that has been established at the Langley Senior Center, spending more than two hours meeting with families of six of the victims and first responders, an aide said.
"Doug and I continue to pray for healing and recovery for all those impacted," the vice president wrote on Twitter. 
Harris spoke out about the Monterey Park shooting during a Sunday appearance in Florida, saying "yet another community has been torn apart by senseless gun violence."
President Joe Biden said he has been having discussions with local officials including county Supervisor Hilda Solis and Rep. Judy Chu, D-Claremont, in addition to Gov. Gavin Newsom.
A vigil -- the third in three nights in the city -- was also held Wednesday night outside the Star Ballroom Dance Studio. The vigil was organized by the group Compassion in SGV, and followed vigils on Monday and Tuesday nights outside Monterey Park City Hall.
The shooting happened around 10:30 p.m. Saturday at the Star Ballroom Dance Studio. In total, 10 people were declared dead at the scene. The eleventh victim died at an area hospital from injuries the following day.
PREVIOUS COVERAGE: 
Lunar New Year massacre: All victims of the Monterey Park mass shooting identified
Monterey Park shooting: How to help the victims
Lunar New Year massacre: Sheriff reveals gunman's criminal history, IDs civilian who stopped suspect
The gunman, identified as 72-year-old Huu Can Tran, died Sunday afternoon from an apparent self-inflicted gunshot wound following a SWAT standoff in Torrance. A handgun was recovered from the van, along with other potential evidence linking him to the killings at the dance studio, Sheriff Robert Luna said.
A motive for the shooting is unknown. 
This is the worst mass shooting in Los Angeles County since a disgruntled ex-husband killed 10 people in Covina in 2008.