Reggie Bush files defamation lawsuit against NCAA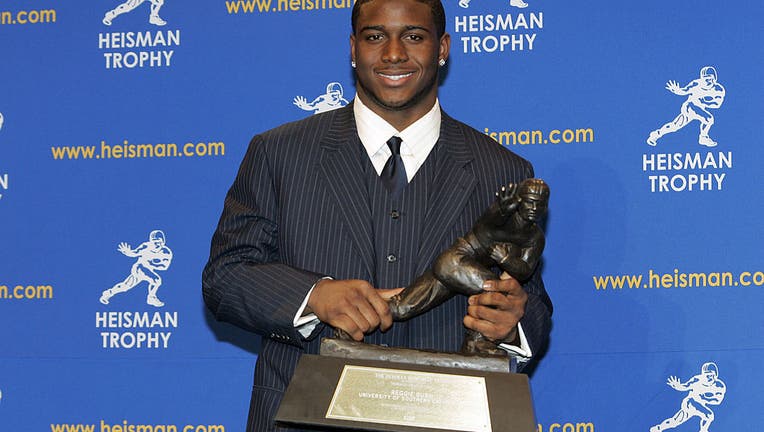 article
LOS ANGELES - Former USC running back Reggie Bush announced a defamation lawsuit against the NCAA on Wednesday, accusing the collegiate athletic oversight organization of falsely claiming he had a "pay-to-play" arrangement while starring for the Trojans, according to the suit. The NCAA's claims of Bush's arrangement led to the stripping of his football records and the Heisman Trophy.
The lawsuit was announced at a news conference at the Los Angeles Memorial Coliseum, and focuses on a statement issued by the NCAA on July 28, 2021. In this statement, the organization declined to reinstate Bush's collegiate records due to his alleged involvement in a "pay-for-play arrangement."
Bush's attorneys called the allegation false, saying that Bush was never paid by USC, or any other entity, to play for the university.
"Reggie Bush played for USC out of devotion; devotion that earned him many collegiate records and awards including the Heisman Trophy," said Bush's attorney Ben Crump. "And it was Reggie's devotion, and the other players in college football, that earned the NCAA billions of dollars — billions of dollars."
SUGGESTED:
According to reports, Bush has dreams of coming back to the Coliseum and running out of the tunnel with the Trojan football team, but he said that he can't "rightfully do that" without his Heisman Trophy.
Bush alleged that his collegiate career, and the success of his Trojans, "was all torn down so easily with no factual evidence behind any of these claims."
"Not only is [the pay-for-play arrangement] not true, but there's no evidence to support that claim," said Bush, "It wasn't even part of the initial NCAA investigation."
There was no immediate response to a request for comment from the NCAA.
Officials with the Heisman Trust indicated they would be willing to consider a return of Bush's award if the NCAA reinstated him, according to reports. But the NCAA has so far declined to do so, issuing the 2021 statement that referred to "pay-to-play."
According to the NCAA investigation, Bush, his mother and stepfather accepted thousands of dollars in cash and free housing from a would-be marketer while Bush was playing for USC, beginning in December 2004. He and his family were also given an automobile, air travel, hotel lodging, transportation and other benefits, according to the NCAA's 67-page report.
On Wednesday, Bush and his attorneys again refuted the results of that NCAA investigation.
"One misconception is [Bush] was paid by USC to play football. Some schools did that. USC did not, and Reggie never got a dime from USC. A second popular misconception is Reggie was somehow paid by a sponsor, alumni, someone at the school. No one ever paid him," said attorney Levi McCathern. "The violations that they found, which were based on shoddy evidence, a sloppy investigation, terrible work by the NCAA, were very marginal violations at best."
In addition to the defamation lawsuit, Bush's attorneys also filed a renewed petition with the NCAA to reconsider its decision and reinstate Bush's collegiate records and honors.
Bush played for USC from 2003 to 2005, assisting the Trojans to a 2004 national championship, which it vacated in connection with the NCAA investigation.
City News Service contributed to this report.