New details released in Andres Guardado investigation, fatally shot by LA County sheriff's deputy
article
LOS ANGELES - Authorities Wednesday released information on two "parallel investigations" related to the location where Andres Guardado, 18, was fatally shot by a Los Angeles County sheriff's deputy. However, they did not release any new information as to why Guardado was shot in the back five times or what the deputies involved said during their interviews.
Los Angeles County Sheriff Alex Villanueva opened Wednesday morning's press conference by offering condolences to Guardado's family over the loss of their son.
"As a father myself, I can't imagine losing my son," he said.
Villanueva also promised the family a thorough investigation and transparency throughout the process.
"I can assure you we're moving forward with this investigation, one that focuses on accuracy and not speed," the sheriff said. "We only have one chance to get it right."
Guardado was shot around 6 p.m. June 18 near the 400 block of West Redondo Beach Boulevard by Deputy Miguel Vega, whose partner, Deputy Chris Hernandez, was also at the scene but did not open fire. Sheriff's officials said an unregistered gun was discovered at the scene but said they have no evidence Guardado fired any shots.
Both deputies involved in the shooting have been interviewed by homicide investigators and answered all questions, but no information is being released at this time about their statements, sheriff's officials said.
RELATED: 
• Protests outside the home of deputy who shot Andres Guardado in Covina turns ugly
• FBI says it will review killing of Andres Guardado, shot in back 5 times by sheriff's deputy
• Defying sheriff's order, LA County coroner's office releases Andres Guardado autopsy
• Andres Guardado, 18, was shot in the back five times by sheriff's deputy, family autopsy finds
• Deputy who fatally shot Andres Guardado has declined to provide voluntary statement about shooting
In July, against Sheriff Alex Villanueva's wishes, the Los Angeles County coroner's office released an autopsy report confirming that Guardado was shot five times in the back, and ruling the death a homicide. The official autopsy report confirmed details included in an independent medical examination commissioned by the young man's family.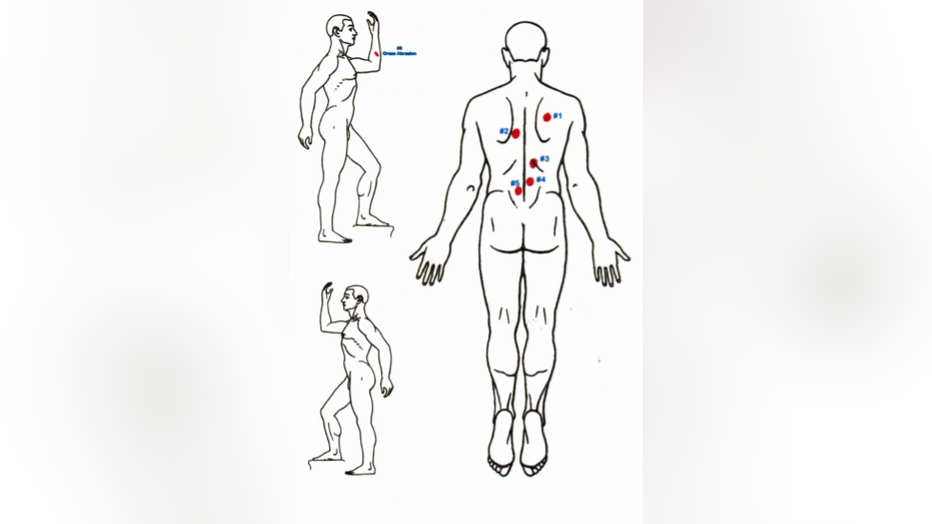 Andres Guardado verified diagram from independent autopsy performed on June 26, 2020. (Provided by PANISH SHEA & BOYLE LLP)
The department Wednesday released a few pieces of new information relating to Guardado's case, including video showing Guardado standing in front of the Gardena body shop before the deputy-involved shooting occurred.
In the video, sheriff's officials said Guardado can be seen speaking with the occupants of a white Lexus sedan outside of the body shop. Authorities said that the people in the vehicle have not been identified or located and they are still hoping to speak with them. Anyone with information was asked to call the Sheriff's Homicide Bureau at 323-890-5500.
LASD Commander Chris Marks said that no cameras seized throughout the investigation contained any memory cards or recorded video of the shooting itself.
Another piece of new evidence was photographs of the gun recovered at the scene, which investigators said was Guardado's. The .40-caliber handgun recovered at the scene next to Guardado was determined to be fully functional and was loaded with a 14-round magazine. Through a serology test, investigators said they determined that the firearm had Guardado's DNA on the trigger, trigger guard and magazine, although no identifiable finger printers were discovered on the gun itself.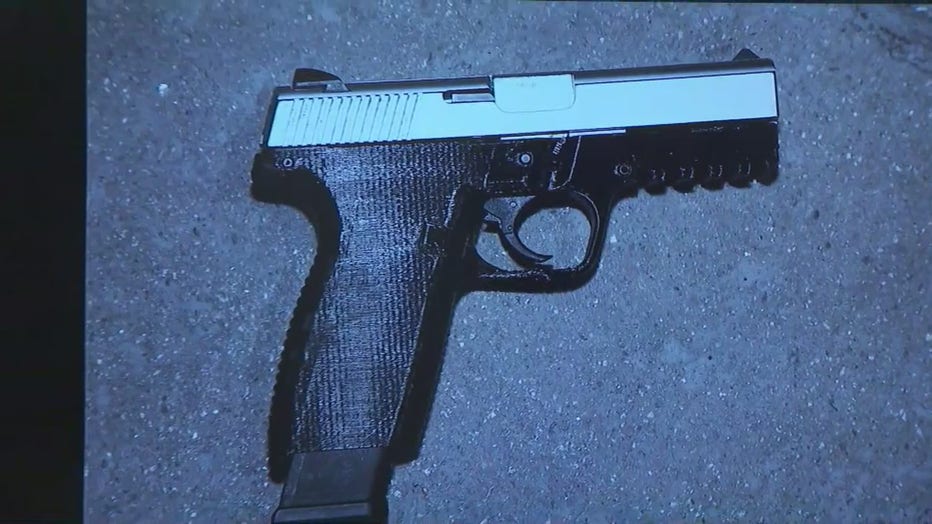 Firearm recovered at scene in Andres Guardado investigation.
Marks also said that the department has no evidence that Guardado was working as a security guard for the body shop the night he was killed, despite reports made by the media.
"Mr. Guardado was not wearing a security uniform or clothing, nor wearing any type of gun belt. He was not yet 21 years old, therefore he was unable to be legally employed as an armed security guard," said Marks. 
Marks said that there is no record that Guardado was licensed to be a security guard in California. He was also not in procession of handcuffs, extra magazines or a holster for the firearm.
"No person interviewed to date has admitted to hiring Mr. Guardado as a security guard at that location," Marks added.
Get breaking news alerts in the FOX 11 News app. Download for iOS or Android.
The sheriff's department released the findings of the two parallel investigations related to the location of the case but reiterated multiple times that they have no evidence linking Guardado to those cases.
"At this time, there is no information linking the second and third areas of this briefing to Mr. Guardado," said Marks. "The information in the second and third areas are being provided to provide better understanding of the overall investigation, which is ongoing."
The first investigation sheriff's officials spoke about was a non-fatal shooting that took place on June 7, at the same location Guardado would be killed 11 days later.
Deputies responded to the 400 block of West Redondo Beach Boulevard where they located a gunshot victim and observed a blood trail leading to the interior of the business.
A search warrant was obtained and inside the business, investigators located numerous tanks of Nitrous oxide gas, commonly referred to as Noz. Investigators also found a significant amount of methamphetamine, a shotgun and the DVR connected to the security cameras that captured the June 7 shooting.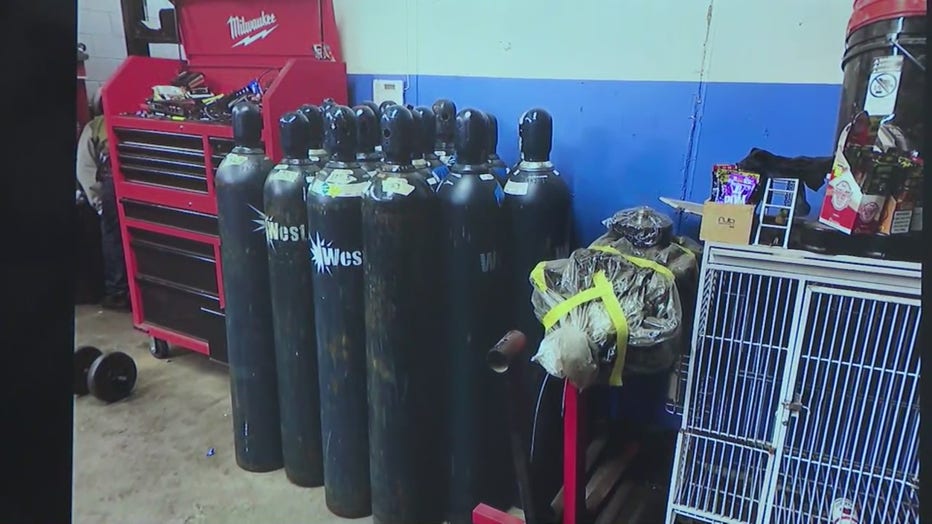 Tanks of Nitrous oxide discovered as part of June 7 investigation.
"So that DVR that recorded everything, as of June 7th stopped recording, because we took the memory away from it," Marks said. "So there is no recording of the deputy-involved shooting that happened a week and a half later."
Security video shared related to that incident showed two individuals running from the location with tanks of Nitrous oxide.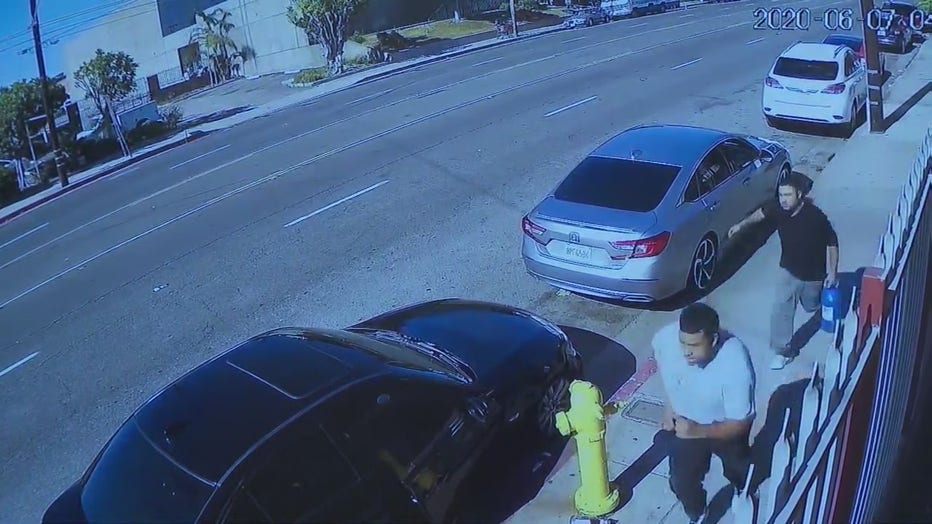 Suspects flee location in relation to June 7 incident.
Since that incident, investigators have arrested five people, on various charges, Marks said without elaborating on the charges. They also recovered several firearms, illegal narcotics and approximately $100,000 in cash.
"This parallel investigation is ongoing related to the criminal activities of this business," said Marks.
The department also released information on additional incidents that have occurred at the location of the shooting, in an apparent attempt to provide information as to why the deputies were at the location the day Guardado was fatally shot.
"Since January 1, 2015, there have been 23 calls for service to 420 W. Redondo Beach Boulevard," said Marks.
On June 9, nine days before Guardado's shooting death, deputies conducted a traffic stop at the same location for a vehicle blocking the driveway at the same location. Deputies smelled marijuana and detained the two occupants of the vehicle. Deputies recovered narcotics and an unregistered firearm. Both occupants of the vehicle were arrested.
On June 11, deputies approached a vehicle parked in front of the red zone in front of the business at the same location. Marks said that deputies ultimately detained an occupant of the vehicle and arrested that person for the procession of methamphetamine. 
Both of those incidents remained under investigation.
"There's obviously a pattern of criminal activity occurring at this location, which is why the deputies were probably drawn to that location, being proactive and trying to address a problem," said Marks. "As we know, if Nitrous oxide is being sold out of there, illegally, for personal consumption… many of your stations have done reports on the dangers of Noz and people that have been killed because drivers inhale the Noz and pass out and crash into people."
Marks said the department has no information linking Guardado to any of the previous incidents at the location. He said he provided the information so that the public would understand that the parallel investigations impact what information they are able to release about the case.
The criminal investigation into Guardado's shooting death remains ongoing, and the results will not be made public until it is submitted to the Los Angeles County District Attorney's Office for review, Marks said. An administrative investigation by the sheriff's department will not be initiated until the criminal investigation is complete.
CNS contributed to this report.