FBI says it will review killing of Andres Guardado, shot in back 5 times by sheriff's deputy
article
LOS ANGELES - The FBI announced Friday that it will review the killing of 18-year-old Andres Guardado, who was shot by a Los Angeles County sheriff's deputy in the Gardena area.
"FBI Los Angeles is aware of the death of Andres Guardado and will review all available evidence to determine what federal response is warranted," the federal law enforcement agency said in a statement.
A week ago, against Sheriff Alex Villanueva's wishes, the Los Angeles County coroner's office released an autopsy report confirming that Guardado was shot five times in the back, and ruling the death a homicide. The official autopsy report confirmed details included in an independent medical examination commissioned by the young man's family.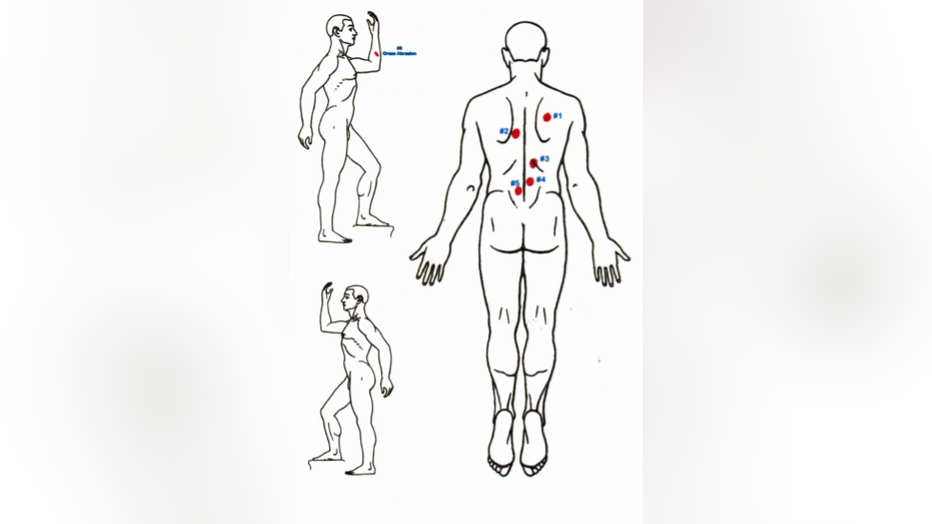 Andres Guardado verified diagram from independent autopsy performed on June 26, 2020. (Provided by PANISH SHEA & BOYLE LLP)
Guardado was shot around 6 p.m. June 18 near the 400 block of West Redondo Beach Boulevard by Deputy Miguel Vega, whose partner, Deputy Chris Hernandez, was also at the scene but did not open fire.
Sheriff's officials have said the patrol deputies were at the scene in a marked vehicle and saw Guardado speaking to someone in a car blocking the entrance to a body shop. Investigators allege Guardado pulled out a handgun, then began running. Deputies chased him and caught up with him in an alley, where the shooting occurred.
RELATED: 
• Defying sheriff's order, LA County coroner's office releases Andres Guardado autopsy
• Andres Guardado, 18, was shot in the back five times by sheriff's deputy, family autopsy finds
• Deputy who fatally shot Andres Guardado has declined to provide voluntary statement about shooting
Sheriff's officials said a weapon was discovered at the scene -- an unregistered .40-caliber semi-automatic pistol with a polymer frame and no serial number, a Smith & Wesson slide and a prohibited 15-round Glock magazine. Officials have said there is no evidence Guardado fired any shots.
Vega was interviewed Monday, nearly a month after Guardado's death. The deputy's attorney, Adam Marangell, said Wednesday that Guardado reached for his gun while face-down on the ground and that the shooting was justified.
"During this interview he made clear that he did everything possible that night to avoid firing his weapon, including repeated commands to `not reach for the gun,"' Marangell said. "Deputy Vega went to work that day to protect the citizens of the community and, unfortunately, was forced to take action which resulted in a loss of life."
RELATED: 
• New details released on the deputy-involved shooting of 18-year-old security guard in Garden
• Community outraged after 18-year-old man killed in deputy-involved shooting in Gardena
• Family outraged after teenager shot by deputies in Gardena
The shooting has generated large protests, demands for the firing and prosecution of Vega and widespread calls for an outside inquiry into the death.
Earlier this week, sheriff's officials announced that Villanueva's chief of staff, Capt. John Burcher, was being reassigned after facing criticism for social media posts in which he said Guardado "chose his fate."
An attorney representing Guardado's family said Burcher's comments show the sheriff's department "is incapable of conducting a thorough and independent investigation" into the shooting and "has no interest whatsoever in finding the truth."
"It is deeply troubling that on the same day Sheriff Villanueva issues a statement that the Sheriff's Department would not be providing any commentary on the Andres Guardado case until the investigation has completed, the sheriff's own chief of staff took to social media and did exactly just that," attorney Nicholas Yoka told the Los Angeles Times on Wednesday.
"Not only did Capt. Burcher personally vilify a young man who was shot and killed by one of his own deputies, he did so in a public forum and in the middle of a homicide investigation conducted by his own department," Yoka said. "How can Captain Burcher continue to wear the uniform, let alone be chief of staff of the largest sheriff's department in the country?"
Villanueva has said he could not offer an opinion on the shooting until the homicide investigation is completed.
Get breaking news alerts in the FOX 11 News app. Download for iOS or Android.
Cmdr. Chris Marks, who oversees the sheriff's Detective Division Headquarters, said last week that investigators determined that the deputy fired a total of six shots. Cameras seized at the scene did not contain any video recording of the shooting, Marks said.
Vega's attorney told The Times that Guardado ignored multiple commands to stop while he was running from the deputies, and pulled out a gun during the chase. Marangell said Guardado eventually turned around and raised both arms, still holding the weapon. Under orders from Vega, Guardado put the firearm down then got on the ground, face-down, but the gun was still near his right hand, the attorney said.
According to Marangell, Vega holstered his weapon and approached Guaradado to put him in handcuffs, warning him, "Don't reach for the gun." But Guardado reached for the gun near his hand, prompting Vega to open fire, Marangell said.
The attorney told The Times that the findings of the family's autopsy "do not alter in any way the ultimate fact that Deputy Vega acted properly and lawfully."
Tom Yu, an attorney for the second deputy, told the newspaper that his client saw Guardado pull out a weapon while running and eventually saw him start to get on the ground under orders from Vega. When the shots rang out, Hernandez had only a partial view of Guardado, Yu said.
Relatives have said Guardado was working as an informal security guard for an auto body shop in the area, and was doing so when he was approached by the deputies.