Mike Bohn, USC athletic director, resigns
LOS ANGELES - Mike Bohn, USC's athletic director since 2019, has resigned his position, university President Carol L. Folt announced Friday.
"I am writing to let you know that I have accepted Mike Bohn's resignation as director of athletics, effective today," Folt wrote in a letter addressed to the "Trojan community."
"On behalf of the Trojan Family, I thank Mike for his contributions to our athletics department during a time of rapid transformation and growth."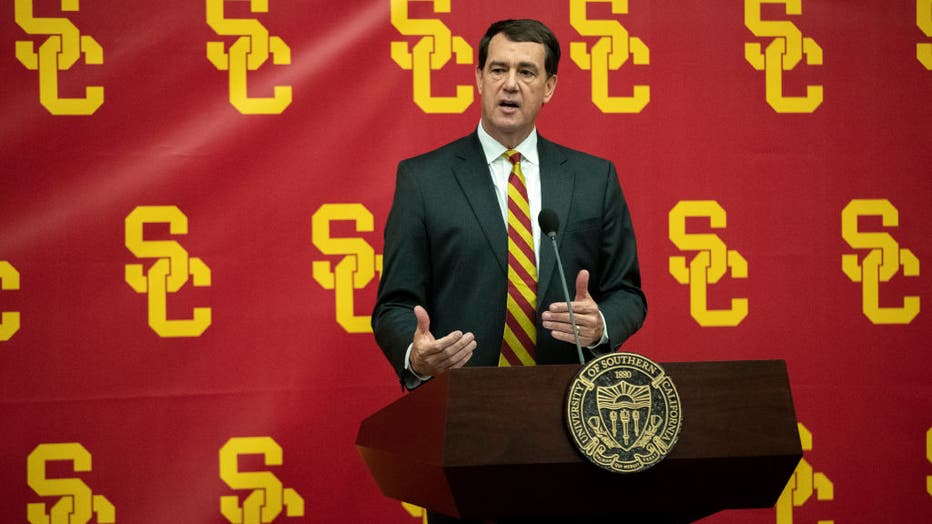 LOS ANGELES, CALIF. -- THURSDAY, NOVEMBER 7, 2019: New USC athletic director Mike Bohn speaks during news conference on the USC campus in Los Angeles, Calif., on Nov. 7, 2019. (Brian van der Brug / Los Angeles Times via Getty Images)
No word was given on the reason for the sudden and unexpected resignation.
Folt's statement said only that, "Over the last four years, the USC athletics department has transformed into a national powerhouse. In our singular pursuit of excellence, I am committed to ensuring we have the right leadership in place to achieve our goals.
"As part of that commitment and as we prepare to move to the Big Ten, we conducted a thorough review of the athletics department, including its operations, culture, and strategy. Having built a strong foundation over the last few years, now is the time for new direction grounded in our values and in expertise needed to fulfill our aspirational vision for Trojan athletics."
In a statement to the Los Angeles Times, Bohn noted "ongoing health challenges," but gave no specifics.
Folt said the university will undertake a national search for Bohn's successor shortly, and that a transition team "comprising both internal and external leaders" will be formed in the coming days.
"I'm proud of how far we have come, and I know we can go even further," Folt's statement said. "We are laser-focused on positioning USC and our student-athletes for success and continuing the momentum of our student-centric athletics programs with excellence on and off the field. We will keep you updated on our progress."
The Times first reported Bohn's resignation. The Times said the resignation came one day after the paper asked him and USC about internal criticism of his management of the athletics department.
According to the newspaper, USC retained attorney Gina Maisto Smith of the Philadelphia law firm Cozen O'Connor earlier this year to conduct the athletics department review.
Smith's biography on the Cozen O'Connor website says she is chair of the firm's Institutional Response Group "and the founder of the nation's first practice dedicated to the institutional response to sexual and gender-based harassment, violence, child abuse, elder abuse, other forms of discrimination and harassment, workplace misconduct, and criminal conduct."
According to the Times, "four current and former USC employees said that staffers inside the athletics department had raised concerns to the law firm about Bohn."
In a statement to the Times, Bohn said that, after more than 40 years of college athletics leadership, "it is the right time to step away from my position as Director of Athletics at the University of Southern California."
"I have dedicated my life to serving student-athletes and advancing the enterprise of intercollegiate athletics," he added. "I will always be proud of leading the program out of the most tumultuous times in the history of the profession and at USC with a restored reputation and national milestone accomplishments."
In the statement, Bohn touted his accomplishments since his hiring, saying, "I led the process to join the Big Ten Conference, hired marquee head coaches, produced the highest graduation rate in school history and won numerous national and conference championships."
He added, "In moving on, it is important now that I focus on being present with my treasured family, addressing ongoing health challenges, and reflecting on how I can be impactful in the future."