40 arrests made in LA street takeover crackdown: LAPD
LOS ANGELES - Forty people were arrested and dozens of cars impounded as part of a two-day operation to crack down on illegal street takeovers, according to the Los Angeles Police Department. 
It happened on Friday and Saturday at various locations across Southern California, the LAPD said. 
In addition to the arrests, 43 cars were impounded, 82 citations were made, and "numerous" street takeovers shut down before they even started, according to police. LAPD says that they've stopped 22 street takeovers in less than a week.
One of the people arrested was a felony suspect on an attempted murder warrant, another was suspected of felony hit and run, and four people were arrested for gun charges.
The arrests come just a day after the LAPD announced enhanced enforcement measures to crack down on street takeovers.
SUGGESTED:
"We really want to stop this from becoming a new trend where they think they can show up and take over a street, freeway or any part of the city," said LAPD Detective Ryan Moreno during a press conference last week.
Anyone participating or attending a street takeover will have their vehicle impounded for up to 30 days, police said.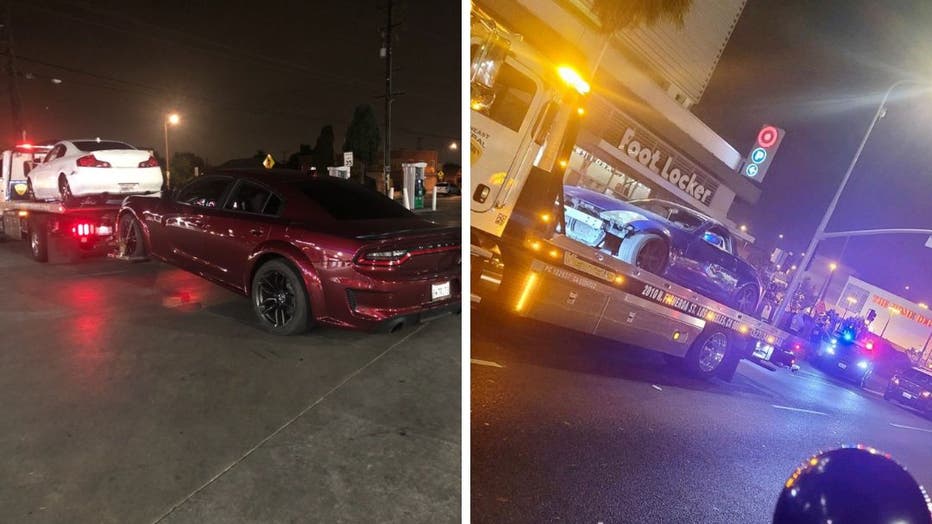 The new enforcement comes just days after a large street takeover in Harbor Gateway led to a flash mob looting and vandalizing a 7-Eleven store. 
But car enthusiasts say the people arrested aren't representative of everyone involved. 
"It's all different people sometimes you get certain groups you don't always know who's going to be there,"said street racing enthusiast Fabian Arroyo, "A lot of people from different backgrounds."
Arroyo says don't judge the many by the few and that everyone would benefit if the culture had more support.
"There's no defending them, but they just need a place to go that's the biggest problem," said Arroyo. "If you give them a place to go they won't have all the incidents they have."