Police chase turns deadly: Two bystanders killed in pursuit crash in Panorama City
LOS ANGELES - A police chase across Los Angeles' San Fernando Valley took a horrific turn – ending with the deaths of two innocent bystanders Tuesday night.
SkyFOX was over a multiple-vehicle wreck around 8 p.m. near the intersection of Woodman Avenue and Lanark Street in Panorama City.
Prior to the crash, the Los Angeles Police Department was in pursuit of a suspected stolen Toyota pickup truck. During the pursuit, the suspect's truck slammed into the victim's vehicle. According to LAPD, officers were in tracking mode and had handed over the chase to their airship prior to the crash occurring. 
Authorities declared the two innocent people in the Honda Civic dead at the scene. The coroner and family members have since identified the two victims as 46-year-old Christopher Teagardin and 49-year-old Timothy Schultz. The two men were best friends.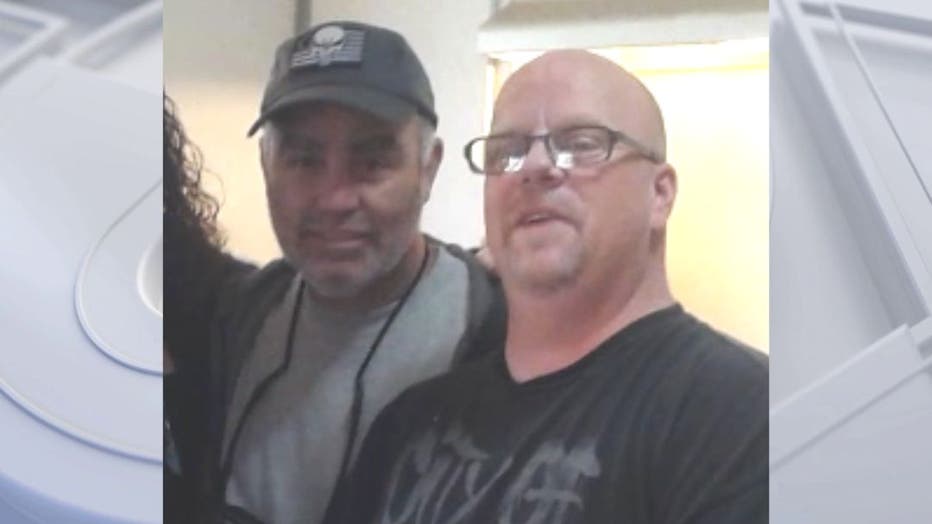 Timothy Schultz (left) and Christopher Teagardin (right) / Family-provided photos
"My son's life was not over, it was taken. He did not deserve to go like this," Laura Teagardin, Christopher's mother told FOX 11. 
Laura, who is blind, said her whole life is now destroyed. 
"Chris was a kind loving easy going spirit. My whole life depended upon him," she added. 
Family and friends say the two were getting tacos and picking up a car when they were killed.
 "They were going to pick up Chris' car from the U-Haul place and were on the side of the road and they never made it. It's the saddest day of our life. They were the best guys I've ever known in my life," said their best friend TY Aney. 
Teagardin's sister said he is the father to a son that just turned 18, while Schultz has a 16-year-old daughter.
The suspect has since been identified as 32-year-old Oscar Delacruz. He was booked into the LAPD Valley Jail on a felony murder charge.
A passenger in the suspect vehicle was treated at the scene and was also taken into police custody, LAPD officials said. That person has not yet been identified.
Surveillance video from a nearby restaurant captured the moment the stolen truck entered the intersection and struck the victim's vehicle.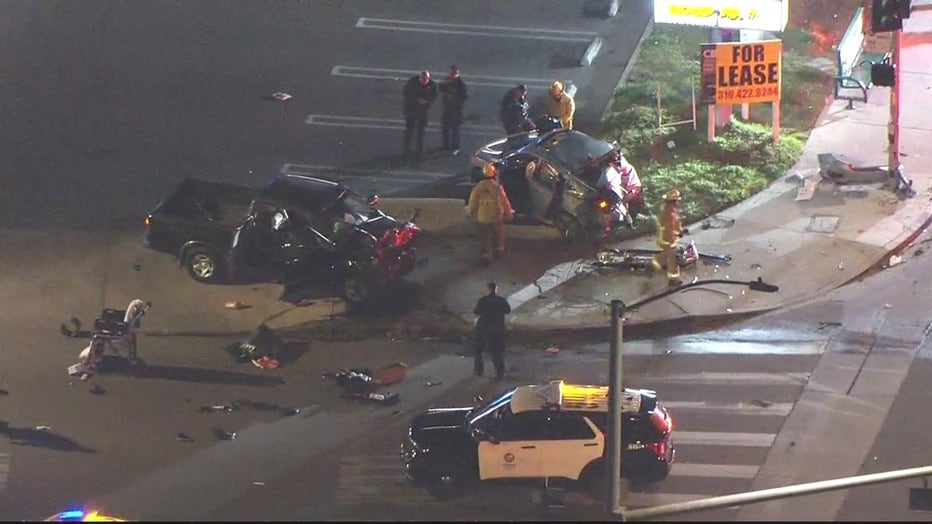 It is unknown where the pickup truck may have been stolen from.
Teagardin's family has set up a GoFundMe campaign to help with expenses while they mourn they're loss.