L.A. County Board passes motion to protect grocery store workers, delivery drivers amid COVID-19 pandemic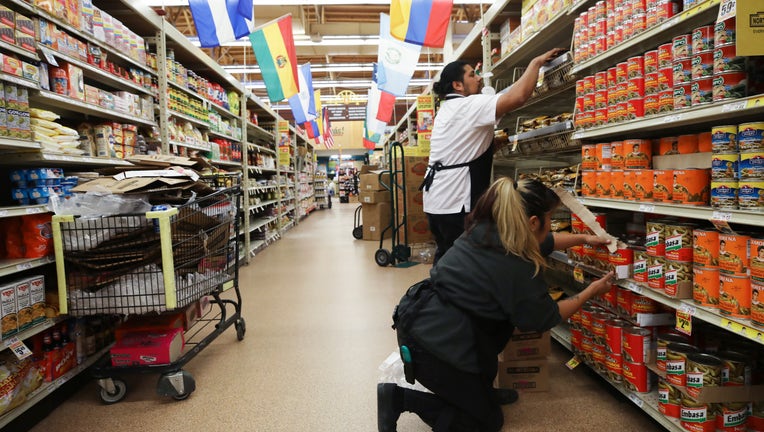 article
LOS ANGELES - On Tuesday, the Los Angeles Board of Supervisors approved a motion that they say is intended to protect retail grocery, drug store and food delivery workers amid the global coronavirus outbreak.
The motion works to provide the essential workers with the necessary supplies, tools and equipment such as gloves and masks while working.
RELATED: CoronavirusNOW.com, FOX launches national hub for COVID-19 news and updates. 
"As the necessary precautions to protect our most first responders and health care workers are being put in place across the country, we must not forget or workers in the delivery service industry"  Supervisor Mark Ridley-Thomas said in a statement. "In these difficult times, a visit to the grocery store makes extraordinarily clear that food and grocery delivery drivers are essential workers and we must do all that we can to protect them. This motion will provide these vital individuals with the fundamental items that will protect their health and well-being."
This comes the same day the board unanimously voted to replace L.A. County Sheriff Alex Villanueva as head of emergency operations. 
RELATED: Sheriff Villanueva ousted as as head of emergency operations in midst of coronavirus pandemic
Earlier this month, the county board declared a local emergency and weeks later, the state was under a stay-at-home order issued by Gov. Gavin Newsom.
RELATED: 
• Governor Newsom issues statewide order for people to stay at home amid virus outbreak
The motion will also calls for:
• Uniform standards across all grocery stores and pharmacies.
• Employers will be required to sanitize and stock bathrooms with necessary supplies.
•Workers will be required to clean shopping carts between uses.
• Employees will be required to wash their hands every 30 minutes.
•Sanitization stations to be provided at the entrance of all stores.
• Stores will provide security to enforce social distancing.
• Stores will be required to establish restock hours.
• Provide access to COVID-19 testing.
• Employees will be supported so that can address childcare and family needs.
It was unknown when the new policies would potentially go into effect. 
Get breaking news alerts in the FOX 11 News app. Download for iOS or Android.