Festival of Lights returns to Mission Inn Riverside
RIVERSIDE, Calif. - A treasured holiday tradition returned to the Inland Empire this weekend. 
The 31st annual Festival of Lights at Mission Inn Hotel & Spa in Riverside kicked off on Saturday, Nov. 18, which is earlier than the usual timing of having it on the Friday after Thanksgiving.
The Switch-on Ceremony was held at Orange Street and Mission Inn Avenue right outside the hotel, followed by the fireworks show.
"With children on vacation and so many families visiting, why not kick off the Thanksgiving holiday with this celebration?" said Riverside Mayor Patricia Lock Dawson.
The extra time gave visitors a chance to enjoy the displays and spend money on businesses that depend on it and are recuperating from the financial fallout from the COVID-19 shutdowns.
Another change is the return of the ice rink, which is now next to the Cheech Marin Center for Chicano Art & Culture of the Riverside Art Museum.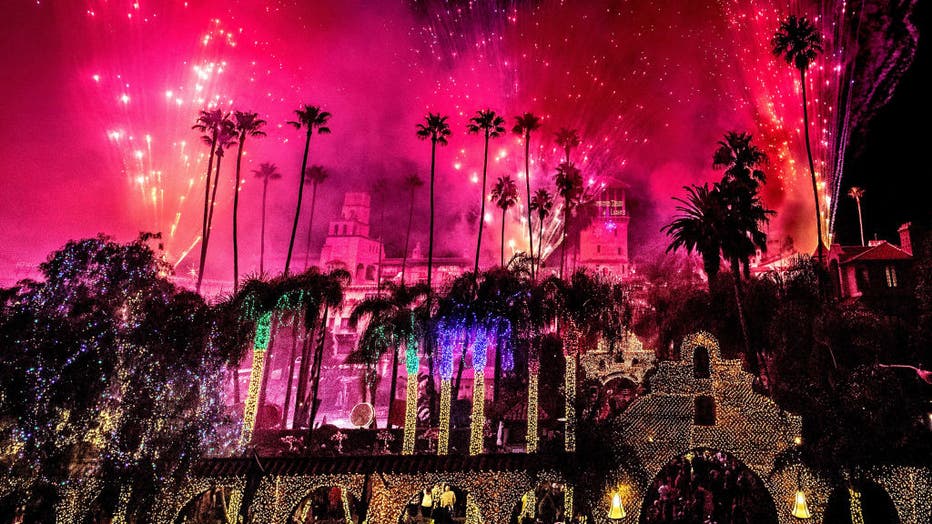 Fireworks light up the sky during the Riverside Festival of Lights switch-on ceremony at the Mission Inn in Riverside. (Photo by Watchara Phomicinda/Digital First Media/The Press-Enterprise via Getty Images) (Getty Images)
SUGGESTED: Learn about the rich history of Riverside's Mission Inn Hotel & Spa
The festival in Riverside is one of the nation's most popular holiday events and light displays. The Festival of Lights draws in tens of thousands of people each year and this season, the festivities will continue through January 7.