'Bomb cyclone' brings rain, damaging winds to Southern California
LOS ANGELES - Residents in Southern California braced as a powerful Pacific storm hit its peak on Thursday, bringing heavy rainfall and howling winds to the area typically known for its sunny skies.
Meteorologists warned the Golden State was facing a life-threatening double whammy of a bomb cyclone and a "Pineapple Express."
By Thursday morning, the storm had knocked out power to tens of thousands, caused flooding, and contributed to the deaths of at least two people, including a young child in Sonoma County after a tree fell onto their family's Occidental home.
RELATED: Bomb Cyclone Watch: California child dies after tree falls into home
Northern California authorities continued to provide grim updates. A 19-year-old was killed after she encountered a patch of standing water and hydroplaned, while others died in car crashes and flooding. 
RELATED: Small child, teen driver, others killed across Northern California during deadly storm
Gov. Gavin Newsom declared a state of emergency to protect Californians by supporting emergency relief efforts and essentially keeping an "all hands on deck," mentality. 
Numerous weather alerts were in effect Thursday, including a Winter Storm Warning, High Surf Advisory and a High Wind Warning. In fact, the surf could reach the highest it's been in 15 years. Due to the high surf, officials announced the Manhattan Beach Pier will be closed from noon Thursday to Saturday at 10 a.m. 
RELATED: California storm timeline: Tracking 'bomb cyclone,' heaviest rain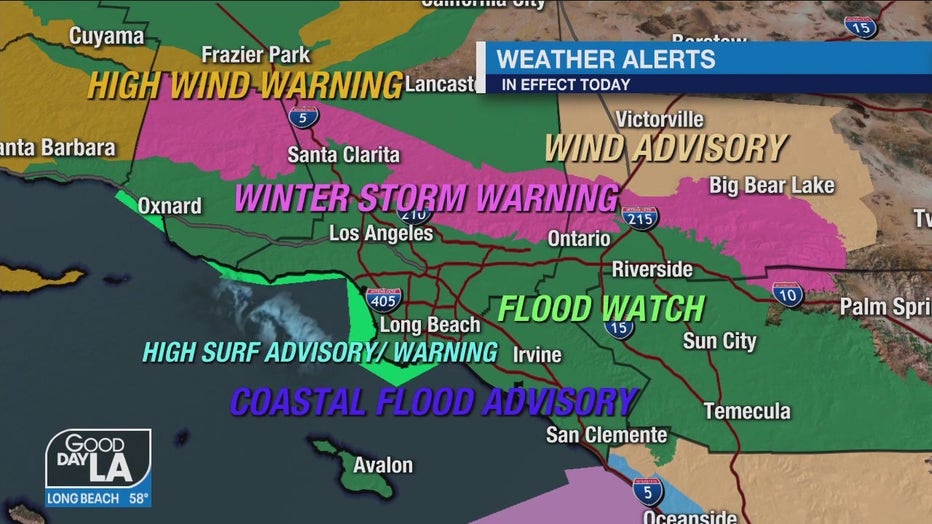 In addition, officials ordered evacuation warnings for residents in the Bobcat and Fish Fire burn scar areas as a precaution due to possible flooding and debris flows.
Los Angeles County
Angelenos experienced showers and breezy conditions through the morning hours Thursday. The NWS said the front was moving faster than anticipated, which helped tame the downpours. 
In terms of weather alerts, a flood watch was in effect before expiring around 6 p.m. Thursday. A high surf warning was issued for the LA Coast and will be in effect till 10 a.m. Friday.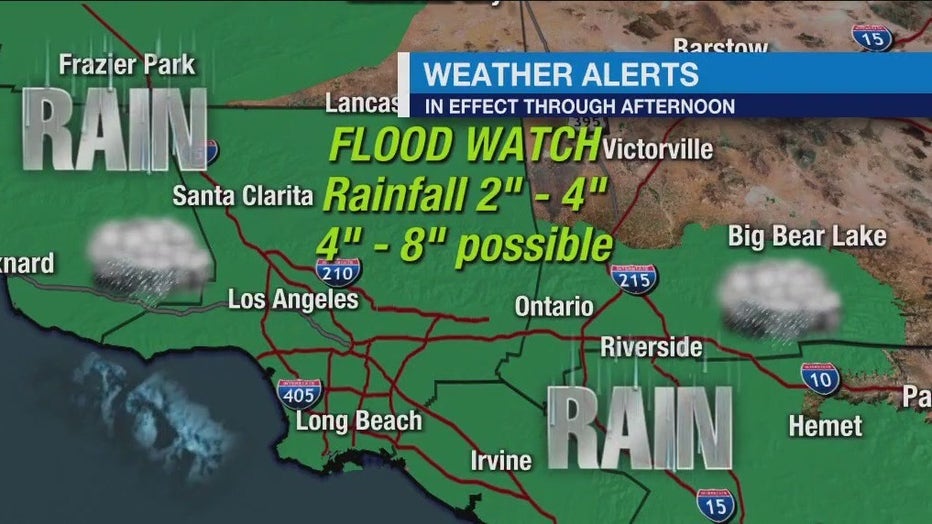 For the bulk of Southland, rainfall totals from Tuesday and Wednesday equate from about half an inch to three inches county-wide. Woodland Hills was one of the heaviest hit areas, getting 2.96 inches. Meanwhile, it stayed relatively dry in the Antelope Valley with Lancaster getting just .05 inches. 
Caltrans announced the full closure of Topanga Canyon Blvd. in both directions from Pacific Coast Highway to Grand View Drive due to a mudslide. The road is expected to be closed until Friday morning.
Mulholland Drive between Bowmont Dr. and Summit Circle closed to vehicles so crews can work on road repairs. 
In the City of Industry, two people became stuck after a car dangled over a wash on Wednesday.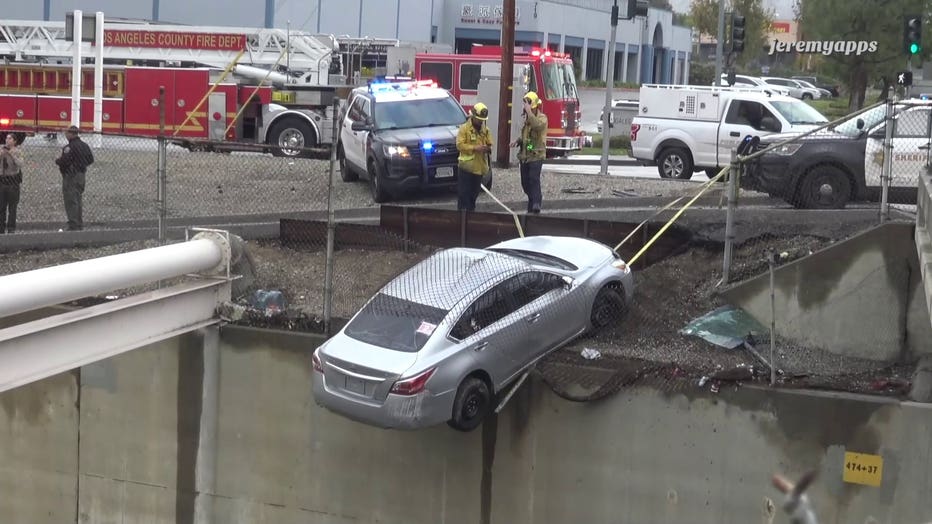 Thankfully, the two women trapped inside were rescued. 
RELATED: Car nearly falls off edge, hangs over wash in City of Industry
SkyFOX flew over Santa Clarita around noon and showed flooding in the Sand Canyon neighborhood.
For the mountain communities, snow levels will stay about 7,000 feet, but will lower to about 5,500 feet by Thursday afternoon.
The Santa Clarita Valley got hit with hurricane-force winds after gusts of 81 mph were reported along the Magic Mountain Truck Trail. 
In the City of Duarte, LA County Public Works is scheduled to lift the Phase 2 mudflow alert for the Fish Fire Impact Area by 6 a.m. Friday. The county will also move the Fish Fire Impact Area to a Green Alert Level at 6 a.m. Friday. 
Inland Empire
In the Inland Empire, heavy rain and strong winds slammed the area, with wind gusts reaching up to 25 mph.
Thursday morning brought a mix of rain and snow showers.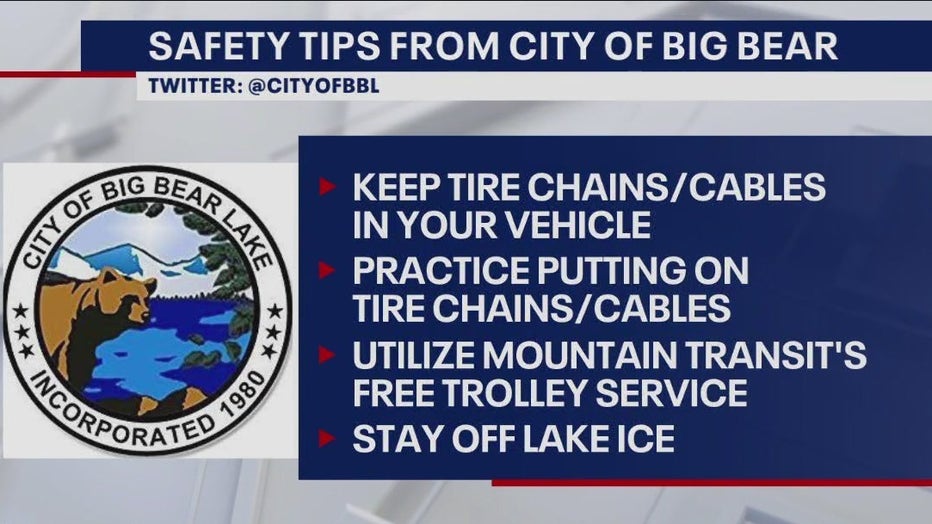 Orange County
FOX 11 Meteorologist Maria Quiban said the weather models indicate the heaviest storm cells hit Orange County. Numerous weather advisories in place including a coastal flood advisory, a high surf advisory, and a wind advisory have since expired.
The storm caused major damage to parts of Silverado Canyon. The burn scar area is prone to flooding, and by Thursday afternoon, residents were cleaning up mud and debris. At least one home was damaged during the storm.  
Knott's Berry Farm announced was shut down Thursday due to the "inclement weather."
Ventura County
Visitors packed up and moved out of the Ventura Beach RV Resort after an evacuation warning was issued along the coast. Boat owners were asked to make secure their vessels were secure as the storm packed roaring winds at the marina.
By 10 a.m., the evacuation warning was lifted. 
No coastal residents are seeing high tides, with waves up to 12 feet. 
The Ventura County mountains were soaked as the NWS recorded a combined 4.57 inches of rain at Old Man Mountain on Tuesday and Wednesday. 
In Ventura County, the brunt of the storm passed by mid-day. A coastal flood advisory is in effect through 1 p.m. Friday.
FOX 11's Travis Rice was in Ventura County as unsheltered residents were rescued along the Ventura River off Highway 33.
The storm is expected to taper off by Friday before another series of storms are expected to hit the area next week.