High surf batters Southern California beaches
VENTURA, Calif. - A dangerous bomb cyclone that drenched Southern California triggered dangerous surf and ocean conditions at local beaches, possibly delivering the largest westerly swell in more than 15 years.
On Thursday, the stormy conditions resulted in steep seas peaking between 12 and 25 feet, according to the National Weather Service.
The surf hit its peak Thursday at the largest west-facing shores, forecasters said. However, the dangerous conditions continue as residents who reside in coastal communities are dealing with flooding. 
UPDATE: Flooding issues linger after 'bomb cyclone' brings rain, damaging winds to Southern California
On Friday, the NWS said breaking waves could reach between 10 and 15 feet in Los Angeles County.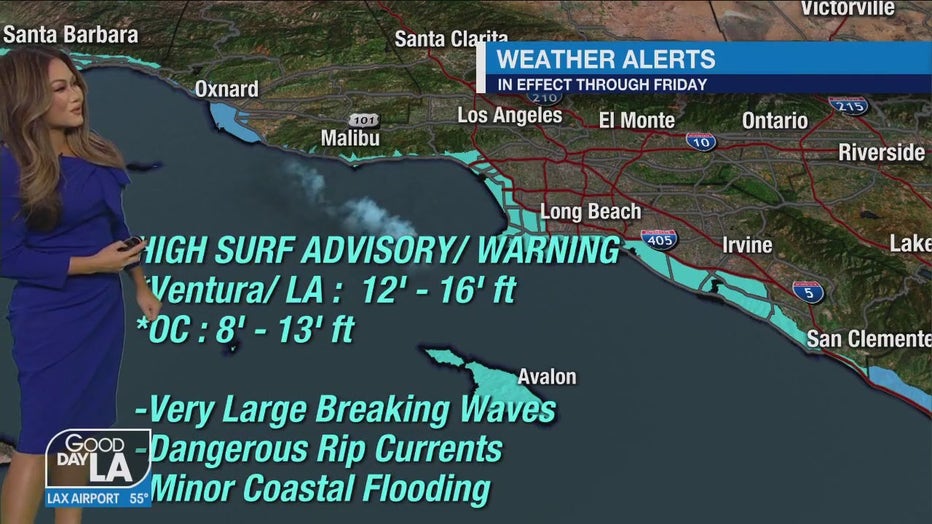 Possible breaking waves with dangerous rip currents at Morro Bay and Ventura Harbor entrances are also in the forecast.
Flooding and damage to local piers, beach roads, and parking lots is possible, officials said. 
RELATED STORM COVERAGE:
A High Surf Advisory is in effect through 6 p.m. Friday for Catalina and Santa Barbara islands, the Malibu coast, and Los Angeles County beaches. 
Beachgoers are advised to stay out of the water due to these dangerous surf conditions.