Raids target San Gabriel Valley gang allegedly tied to El Monte police officers' deaths
EL MONTE, Calif. - Federal and local law enforcement agencies carried out a series of raids Wednesday targeting a San Gabriel Valley gang as part of an investigation that began when a member of the gang killed two El Monte police officers in 2022.
Several agencies including the ATF, Los Angeles County Sheriff's Department, and the El Monte Police Department all worked together, targeting the San Gabriel Valley gang "Quiet Village" and its ally, the "Whittier Varrios Locos" that sources say had been terrorizing cities like El Monte. 
The gang members rounded up are all connected to one particular gang member - Justin Flores - the suspect accused of murdering El Monte police officers Michael Paredes and Joseph Santana.
RELATED: El Monte police officers killed in shootout near motel identified
Santana and Paredes responded to a report of a stabbing on June 14, 2022, at the Siesta Inn, where Flores was found holed up with his wife. The officers rescued the woman, but were subsequently shot to death by Flores, who later fatally shot himself in the head.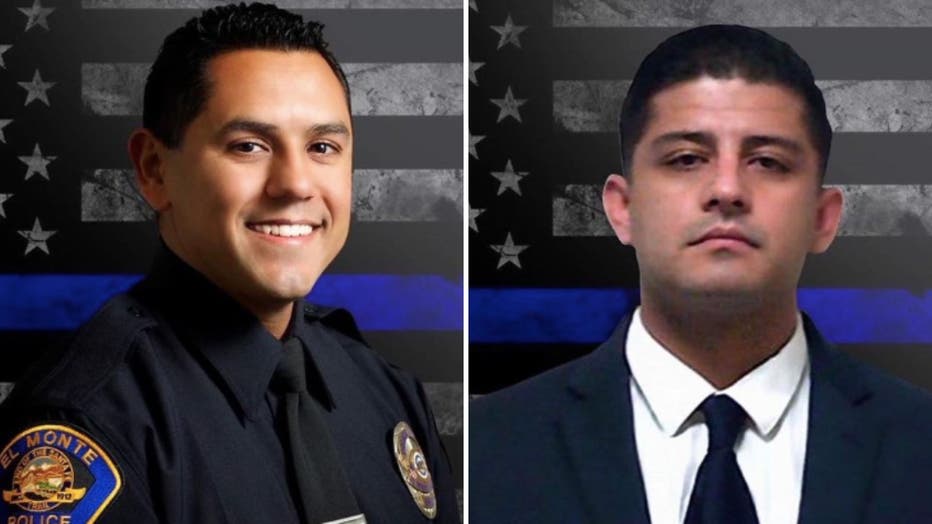 File photo of Corporal Michael Paredes (left) and Officer Joseph Santana (right). / El Monte Police Department
"Today's arrests and charges are also meant to send a message to those who engage in acts of violence. We federal authorities, state authorities, local authorities will not tolerate acts of violence. If you engage in this sort of activity, we will take action," U.S. Attorney Martin Estrada said during a press conference Wednesday.
According to the U.S. Attorneys Office, 10 members and associates of the gang were named in a series of federal indictments stemming from the probe that began with the officers' deaths. Among the crimes alleged in the indictment are the killing of a woman who was fatally shot when a member of the gang was trying to kill a person providing information to law enforcement.
Authorities said two of the 10 named defendants were arrested Wednesday morning, while four others were already in custody in unrelated cases. Four other defendants remain at large. Several other people arrested during the morning raids on separate local charges, officials said.
The main indictment announced Wednesday alleges two violations of the Racketeering Influenced and Corrupt Organization, or RICO, Act. The various indictments also include firearms and narcotics charges against members of the gang, which prosecutors contend is tied to the Mexican Mafia.
The indictments also allege attempted murder of a rival gang member, the death of the woman killed during an effort to kill an informant and the operation of a "casita" that was home to illegal gambling and narcotics operations.
At this time Quiet Village is estimated to have more than 40 active gang members, while the Whittier Varrios Locos is approximately double that size, according to Donald Wade, assistant director in charge for the FBI's Los Angeles field office.
"These two groups are known for wrecking violence and havoc on the streets of Whittier and El Monte and surrounding communities," Wade said.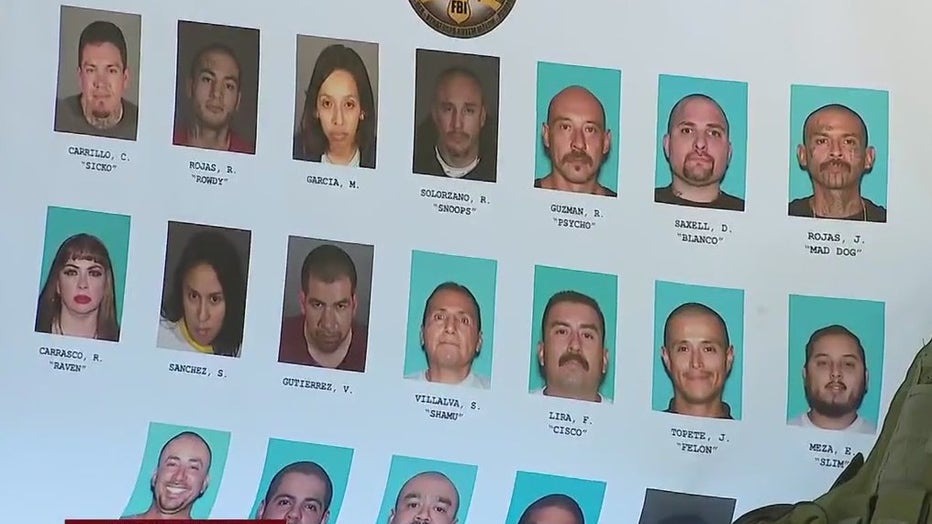 "But their brazen tactics and power over these neighborhoods will come to an end. In addition to the violent acts and drug trafficking allegations, the gangs are also known to generate money through other criminal activity means including stalking, theft, gambling and other means to support their operations. This revenue is done in furtherance of the criminal enterprise. And as you've heard, this gang has allegedly celebrated the deaths of the police officers who are simply carrying out their duties to protect these communities, which they honorably served," he added. 
"We expect the operation today and going forward to deal a blow to these criminal enterprises and their ability to maintain power in the neighborhood they control."
RELATED: Widow of slain El Monte sergeant files claim against Gascón, LA County
"The message is out there for anybody who thinks about committing an act of violence against us in law enforcement, who put our lives, our physical and mental well-being on the street every day, this is what you're going to get. We're going to come to your homes. We're going to impact your businesses. And it's not only going to be done by the Los Angeles County Sheriff's Department, but every agency represented here and those that were listed who were not here or unable to be with us today," Los Angeles County Sheriff Robert Luna said.
The 2022 killings of El Monte Officers Santana and Paredes has sparked lawsuits filed by the officers' families against the county, alleging mishandling of an earlier criminal case involving Flores that should have resulted him being behind bars.
According to the lawsuits, Flores, 35, was placed on probation in a plea deal in 2021 after he was arrested in 2020 for being a felon in possession of a firearm and methamphetamine. Even though Flores had a prior felony conviction for burglary, District Attorney George Gascón issued a directive barring the prosecutor handling Flores' case from filing a strike allegation against him, the suit states.
City News Service contributed to this report.