7-Eleven robberies: Suspects in deadly crime spree across SoCal arrested
ORANGE COUNTY, Calif. - Two suspects have been arrested in connection with a string of 7-Eleven robberies and three murders as part of a violent crime spree spanning four Southern California counties, officials announced Friday. 
The suspects were arrested July 15 around 1:10 p.m. in Los Angeles. They have been identified as 20-year-old Malik Patt from LA and 44-year-old Jason Payne, also from LA. 
Law enforcement agencies say the suspects went on a deadly crime spree Monday, July 11 targeting 7-Eleven stores in Ontario, Brea, La Habra, Santa Ana, Upland, and Riverside.
Los Angeles police Deputy Chief Alan Hamilton says a fatal shooting that occurred on July 9 near the intersection of Parthenia Street and Woodley Avenue in North Hills has been linked to the series of 7-Eleven store robberies that occurred two days later.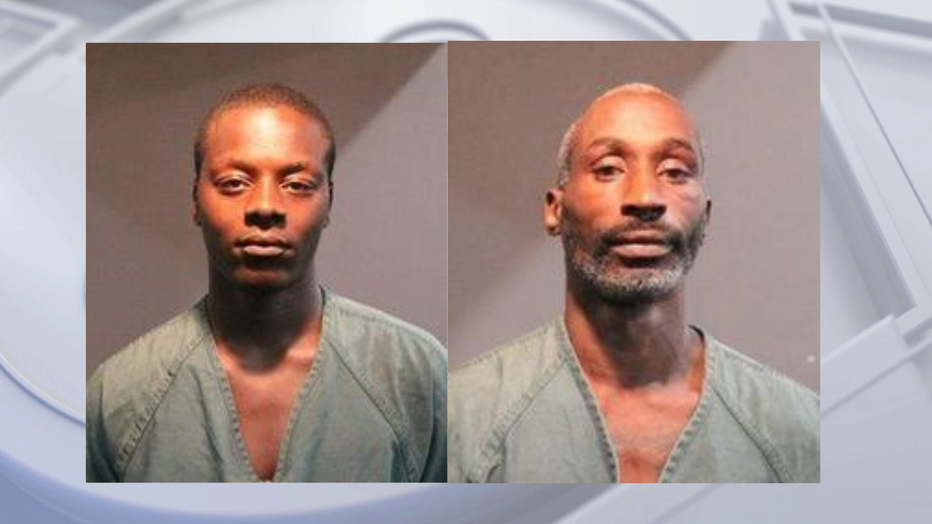 Malik Patt and Jason Payne
Officials believe the suspects may be tied to other crimes in the Los Angeles area. According to LAPD, four robberies happened in the early morning hours of July 9th at two convenience stores and two donut shops in the San Fernando Valley. 
Police said Patt is believed to be the suspect seen in surveillance images from the various stores; he is also believed to be the shooter.  
In total three people were killed, and three others injured during the crime spree.  
"This was a reign of terror, to be thinking you go to a convenience store, donut shop, sandwich shop, and to get shot in the face. To call your loved ones with your last gasp for breath. Or to be a clerk behind the cash register just helping another customer because you are working a job and trying to get back on your feet because you've been through the school of hard knocks, you've been an addict, and you're working at a 7-Eleven because they've given you a chance to resurrect your life and then somebody comes in and feigns a transaction and shoots you and kills you," said Orange County District Attorney Todd Spitzer. 
Timeline of events
The deadly string of armed robberies began early Monday morning just after midnight at a store in Ontario. Police say the suspect walked into the store with a gun and demanded money from the cashier, before fleeing. 
About 40 minutes later, another robbery occurred at the 7-Eleven on 2410 W. Arrow Route in Upland. No one was hurt in the first two incidents.  
But then things took a turn for the worse. Just before 2 a.m., another armed robbery was reported at a 7-Eleven on La Sierra Avenue in Riverside.  
According to police, a customer was shot in the head inside the convenience store. There is no indication the customer did anything to intervene in the robbery but was still shot by the suspect, police said.
At 3:03 a.m. a Yum Yum donuts shop on 2441 N. Tustin in Santa Ana was robbed. No injuries were reported in that incident.  
Around 3:23 a.m. another robbery was reported at the 7-Eleven in the 300 block of 17th Street in Santa Ana. 24-year-old Matthew Rule was found dead in the parking lot, suffering from a gunshot wound to his upper torso.
"This victim was not an intended victim. The suspect was looking to rob another person and this victim stepped in and tried to redirect the suspect. The suspect turns around and shoots our victim, kills him on the spot," said Santa Ana Police Chief David Valetin.  
RELATED:
About an hour later, the suspect hit again... this time at a 7-Eleven in Brea. Store clerk Matthew Hirsch was killed.
And just before 5 a.m. in La Habra, the robber shoots the store clerk and another man.
The shootings coincide with National 7/11 Day, when the national 7-Eleven brand celebrates its anniversary and gives customers a chance to receive a free Slurpee.
Officer Ryan Railsback from the Riverside Police Department said the date was no accident.
Orange County Supervisor, Doug Chaffee, said a victim's relief fund has been set up to help the families impacted. 
Charges against the two suspects are expected to be filed Monday. Both were booked at the Santa Ana Police Department.