4 on the 4th: Family welcomes quadruplets on 4th of July
LOS ANGELES - One SoCal family had plenty of their own fireworks this 4th of July. The NICU at Cedars-Sinai Hospital in Los Angeles reported that one family welcomed quadruplets to the world this Independence Day.
The babies — two boys and two girls — were delivered by c-section in the NICU on July 4 at 34 weeks, and are all doing well, the hospital reported. The children were born to parents Sara Kahengutovish and Rabbi Yisrael Gutovich. Each of the children weighed more than 4 pounds each.
According to the hospital, the family also has another boy, a 3-year-old, who just became a big brother and is waiting for his new siblings at home.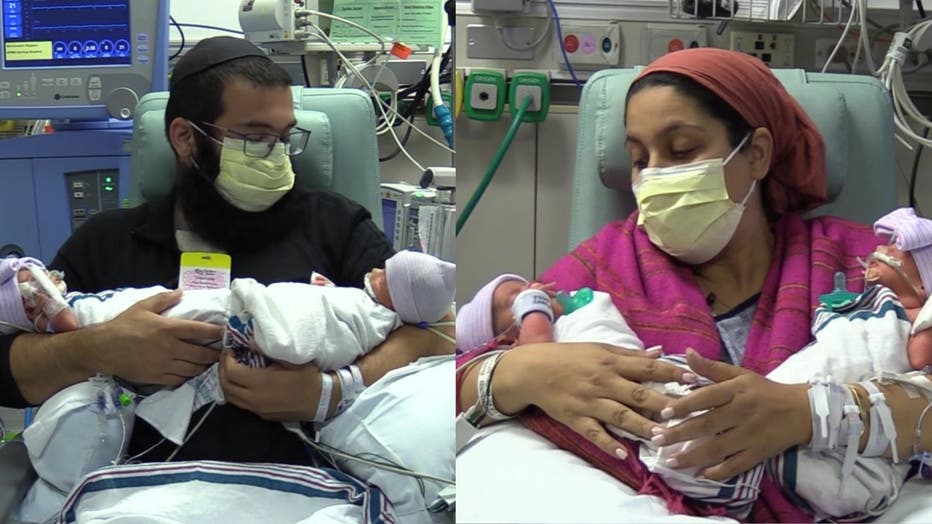 Sara Kahengutovish and Rabbi Yisrael Gutovich holding their baby quadruplets, who were born on July 4, 2023.
SUGGESTED: 'Twin boom': Nearly a dozen sets of twins born at Cedars-Sinai simultaneously
The news of the quadruplets comes just days after the hospital announced that the NICU recently had a "twin boom," delivering 10 sets of twins simultaneously. 
Congratulations to the family.