'Twin boom': Nearly a dozen sets of twins born at Cedars-Sinai simultaneously
LOS ANGELES - Talk about double the love! 
Cedars-Sinai is reporting a "twin boom" after a whopping 10 sets of twins were delivered in the Guerin Children's Neonatal Intensive Care Unit simultaneously. 
While health care workers aren't quite sure if it's an official record, it sure is close! 
"We are very excited," said Ashley Richardson, RN, NICU assistant nurse manager. "We are used to twins and multiples but not this many at once, so it's keeping us on our toes."
The birth weight of the twins ranges between 2 and 6 pounds, officials said.
Most of the sets are twin boys. 
New parents Diane and Jordan Edelstein said they were surprised when they found out they were having twins. 
"I had always envisioned having boy and girl twins, and somehow, by the grace of God, we were able to have that vision come true," Diana Edelstein said.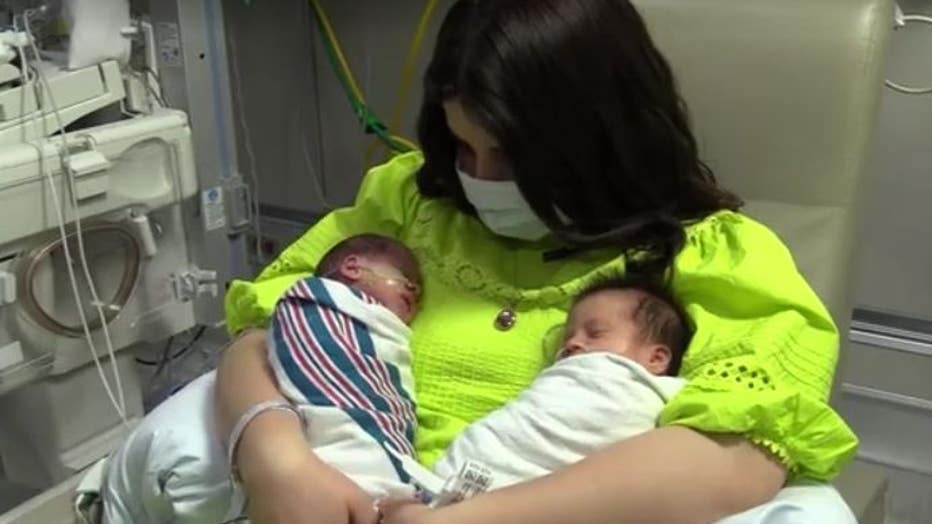 Rabbi Mendel and Hindi Mintz called it "a big shock and double blessing" to find out they were having twins.
"The staff has been amazing," said Rabbi Mintz. "It's been an amazing experience and it's only going to get better."
"Double blessed," said Malka Naomi Feldman.
A twin herself, Feldman was not surprised to learn she was carrying twins. She is counting the days until she and her husband can bring their two daughters home to meet their 2-year-old brother.
Having so many other twin parents in the NICU was a surprise to Samantha and Greg Pearlman.
Their two girls have been in the NICU for six weeks. 
"We've been keeping in touch, which is really wonderful, talking and exchanging numbers," Samantha Pearlman said.
"I was surprised there were two, let alone 10 sets of twins, but it's been great to connect with other parents and see their journey," he said. "It's comforting to see so many other families experiencing the same thing."