Winning $4M Powerball ticket sold at Fontana gas station
FONTANA, Calif. - Someone in the Inland Empire is waking up as California's newest millionaire.
California lottery officials said a Powerball ticket worth nearly $4 million was sold at a gas station in Fontana on Monday night.
The $3.98 million ticket was sold at the ARCO ampm gas station located at the intersection of Citrus and Slover avenues after the lucky winner selected 5 of the 6 winning numbers.
According to the California lottery website, the winning numbers from Monday night's drawing were 1, 4, 12, 36, 49, and 5.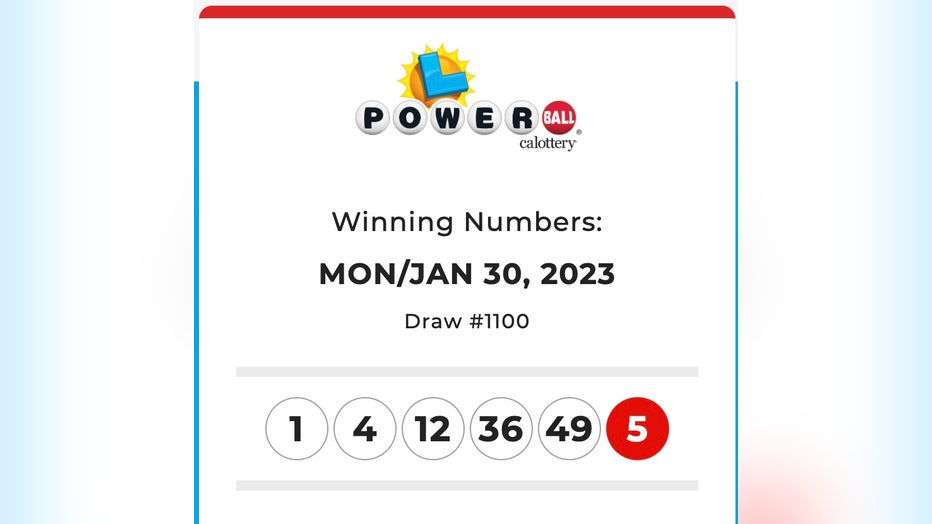 The winning Powerball numbers from Monday, Jan. 30, 2023.  (California Lottery)
The employees at the Fontana gas station told FOX 11 they hope the ticket was sold to one of its loyal customers. 
Before Monday night, there had been 31 drawings without a big jackpot winner in months. In early November, a Powerball ticket worth $2 billion was sold in Los Angeles County at Joe's Service Center in Altadena. 
RELATED: Powerball: Winning $2 billion ticket sold in California
As of Tuesday morning, the lucky winner has yet to come forward.