10 Freeway fire: Suspected cause released
LOS ANGELES - California Governor Gavin Newsom says arson is suspected as the preliminary cause of the 10 Freeway fire that broke out in Los Angeles over the weekend.
"There was malice intent that this fire occurred within the fence line of the facility you see behind me that it was arson and that it was done and set intentionally," Newsom said Monday afternoon.
The revelation came after a massive fire broke out just before 12:30 a.m. Saturday in a pallet yard in the 1700 block of East 14th Street in downtown Los Angeles.
As of Monday night, no arrests have been announced in connection to the 10 Freeway fire, but Newsom said that the fire was set within the fenceline of the storage business operating below the freeway, which was littered with vehicles, pallets and other materials.
Newsom said Cal Fire investigators who completed their initial probe Sunday night determined "that it was arson, and that it was done and set intentionally. The determination of who was responsible is an investigation that is ongoing."
PREVIOUS COVERAGE:
He said investigators had some preliminary tips, but he urged anyone with information about the start of the blaze to come forward and call a hotline at 800-468-4408.
"Arson appears to be the likely ignition for this fire," Newsom said. "That ignition (point and cause) was determined with precision by the fire marshal, Cal Fire and their teams."
Mayor Karen Bass stressed there was no initial information that would link the fire to homeless people in the area, and she urged the public not to jump to that conclusion. She said there were 16 homeless people living in the immediate vicinity of the fire area, and they have all since been placed in housing.
"There is no reason to assume the origin of this fire ... is because there were unhoused individuals nearby," Bass said.
Local and state officials are preparing for a potential long-term closure of the 10 Freeway, and over the weekend, Newsom proclaimed a state of emergency to help facilitate cleanup and repairs.
Detours
Until then, traffic through the area will be impacted heavily. Caltrans and the Los Angeles Department of Transportation have announced the following routes to avoid the 10 Freeway closure:
Driving through downtown:
For those traveling east:
Exit the freeway at Alameda Street and 16th Street. To get back on the freeway, head north on Alameda, east on Olympic Boulevard, and get back on the 10 East on the approach to Lemon Street.
Or, head north on Alameda, east on 7th and get on the 5 Freeway
For those traveling west: 
Get back on the 10 west by going west on Washington Boulevard, north on Central Avenue and west on 16th Street.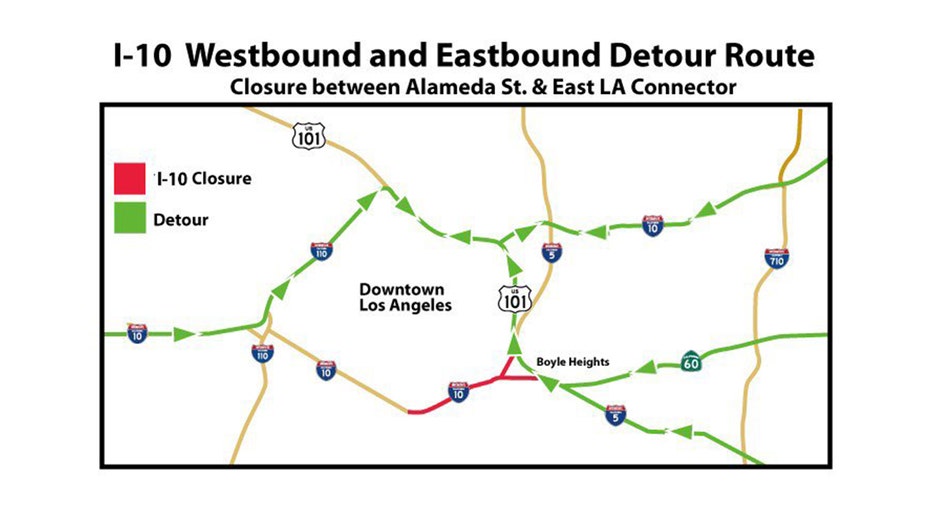 Driving into downtown:
Coming from the east:
The first exit into downtown is at 7th Street.
The last exit into downtown is at Mateo Street & Santa Fe Avenue
Coming from the west: 
Officials suggest changing over to the 110 before downtown
The last exit from the 10 Freeway into downtown will be Alameda Street